15 Amazing Facts about The Commonwealth Games
You might think the Commonwealth Games falls a little way behind the Olympics, but what would the sporting calendar be like without it? It's a great way to bring people from all 4 corners of the world together for a festival of sport, and as you'll see from these eye-opening facts there's a really rich history behind it.
The idea to host the games was first talked about as long ago as 1911.
11 countries and 400 athletes competed in the inaugural games.
Australia holds the record for most times hosting the games with 5.
Today there are 53 countries across 19 sports, with hundreds of different disciplines contested.
The Commonwealth covers 20% of the Earth's land mass and 32% of its population.
Only the Olympic Games and Asian Games feature more competitors than the Commonwealth Games.
Australia, Canada, England, New Zealand, Scotland and Wales are the only countries to have been present at every games since its inception.
The Queen's Baton Relay is a longstanding tradition that sees the baton carried nearly 200,000 km.
This adds up to more than 4 circumnavigations of the globe in the year building up to the games.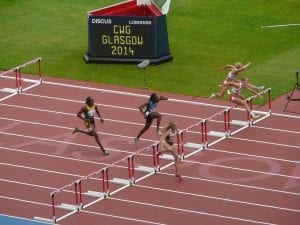 A precursor to the Commonwealth Games known as the 'Festival of Empire' was held in London in 1911 to mark the coronation of King George V.
Australia is the most successful nation in games history with more than 2,000 medals, more than 800 of which are gold!
In 2007 Marcus Stephen was elected president of Nauru. He'd previously won 7 gold medals for weightlifting.
1942 and 1946 are the only years in which the games has had to be cancelled.
Scotland has hosted the games on 3 occasions, most recently in Glasgow in 2014.
Do you know any fun or interesting facts about the Commonwealth Games that we've missed  Share them with us in the comments section below!
This page was last modified on August 28, 2020. Suggest an edit