11 Lovely Facts about The Lake District
The Lake District remains one of the largest and most popular national parks of its kind in the UK. Large, sprawling, and full of fantastic wildlife and scenic views, there's little wonder so many people travel here from all over the world. It's also become a real hotspot for new movers, too. But how much do you actually know about the Lakes? We've rounded up some interesting facts about The Lake District as a nice introduction to the wonderful waterways of England.
There are no national parks in England bigger than the Lake District. It's said to cover up to 912 square miles in total, which means that it covers around 2,362 square km.
It has plenty of peaks, too. According to the official Lake District website, the highest peak in the park is Scafell Pike, which measures 3,210 feet, or 978m. Scafell itself isn't too far behind at around 3,162 feet, or 964m.
The Lake District is, as you might expect, also home to the deepest lake of its kind in England. You'll find Wastwater here, which is flanked by Scafell Pike, and which is around 243 feet in depth. That's likely to be much deeper than even most experienced divers are willing to traverse!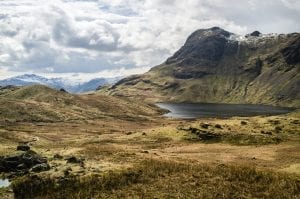 The Lake District is also home to some truly fabulous leisure facilities and sites of interest, and in particular, you will find several restaurants here which have received massive accolades. There are four restaurants and eateries here which have received the coveted Michelin Star, which is by no means an easy award to achieve.
The traditional English dessert, sticky toffee pudding, was dreamt up in the Lake District. It was the creation of Francis Coulson, who created a secret recipe based around traditional toffee sauce and flavoring, as well as figs, it's a popular treat which has become a Sunday staple for millions of people everywhere.
It's thought that the Lake District exists following two million years of natural, glacial action, meaning that it's been steadily evolving for all this time. Quite how the Lakes will look in another few million years remains to be seen.
Believe it or not, while people refer to the region as the 'Lakes', there's actually only one lake in the whole area. Some of the more popular bodies of water, such as Coniston Water and Windermere, aren't lakes at all, while the only 'lake' as such in the area is Bassenthwaite. The other bodies scattered around the District include waters and tarns.
Again – believe it or not – the very first pencils ever made were created in the Lake District. That's because there is a huge graphite mine in the region. Specifically, the mine is based at Seathwaite, and was first uncovered during the 16th Century.  Since then, manufacturers have been using graphite from the area to make millions of pencils. Beats using the old quill and ink!
Mass protest might not seem like anything new, but they're a newer concept than you might think. It's thought that the first-ever protest en masse in the UK took place in the Lake District in 1932. Specifically, the protest was about access rights to the Peak District – and specifically, it was ramblers who took to their hundreds to demand clearer pathways!
Cumbria, home to the Lake District, is of course known for its masses of wonderful wildlife. However, it's very likely you'll find more sheep here than any other animal. In fact, it's thought that – at last count – there are more sheep than people in the county. We only have rough figures to go on here, as people who count them keep falling asleep!! Ok – that one was a joke.
The Lake District has been home to many, many people over the years, including plenty of famous denizens. Among them was Beatrix Potter, who you may know as the famous author of children's stories such as Peter Rabbit and Tom Kitten. Potter lived, specifically, up in Hill Top House, having bought the property following the immediate success and financial triumph that was The Tale of Peter Rabbit. Therefore – if you really want a home in the Lakes – write a best-seller!
Do you know any fun facts about the Lake District?  Share them in the comments below!
This page was last modified on October 21, 2021. Suggest an edit