14 Regal Facts about Queen Elizabeth II
Queen Elizabeth II was, and remains to this day, one of the most famous people in the world! All over the world, people know her name, her face, and even a few fun facts about the great lady herself. But, as you can imagine, with such a long life lived and decades of service, there are plenty of interesting facts about the queen that many of us still do not know – despite the fact that most of us haven't known another British monarch until recently.
Here are some fun facts about Queen Elizabeth II you'll probably want to remember!
1. When was the Queen born?
Queen Elizabeth II was born on 21 April 1926. She was the first-born daughter of King George VI and the Queen Mother, Queen Elizabeth! They were the Duke and Duchess of York at the time of her birth.
2. A lengthy reign to say the least!
Queen Elizabeth became Queen on 2 June 1953. She was queen for over 70 years, and her reign only ended when she passed away on 8 September 2022.
3. She was the longest-reigning monarch in British history.
Queen Elizabeth II's reign was definitely something for the history books! As it stands, she was the longest-ever reigning monarch in British history – which certainly goes back some way. Will her record ever be beaten?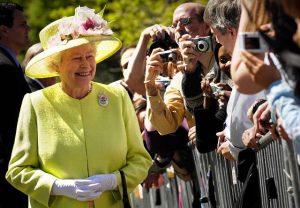 4. The Queen lived through many different leaderships.
To give you a better idea of how long Queen Elizabeth II was a monarch, let's put it like this – she was served by no fewer than 15 prime ministers during her reign! These include Winston Churchill, Tony Blair, Margaret Thatcher, Boris Johnson, and the last Prime Minister she oversaw, Liz Truss. She also saw 13 US presidents in office – and no less than seven popes! Wonder if she had a favorite?
5. All about the corgis!
If you know anything about Queen Elizabeth II, it's that she absolutely loved corgis! In fact, during her life, she owned over 30 different corgi dogs – and after she passed, ownership transferred to her son, Prince Andrew.
6. But… what about dorgis?
Aside from being Queen of the realm, Queen Elizabeth II also managed to invent an entirely new dog breed! When one of her corgis mated with a dachshund belonging to her sister, Princess Margaret, a new dog breed was created – the dorgi!
7. This Queen ain't for chauffeuring!
The Queen happened to also be very fond of driving. It was well-known that she loved driving her beloved Range Rover. And, as she was the Queen, she didn't even need to have a driver's license!
8. She had two birthdays.
As Queen, Elizabeth II also had two birthdays. She celebrated her real birthday on April 21st, and her 'official', publicly celebrated her birthday on a Saturday in June each year. This was indeed purely to avoid the rain spoiling her special day!
9. She was a homeowner from a very early age.
At the age of just six years old, Elizabeth II became a homeowner. Although she was not yet Queen, the home was gifted to her by the people of Wales. The cottage was named 'Y Bwthyn Bach', meaning 'little cottage'.
10. What was the Queen's full title?
Although we all know her as Queen Elizabeth II, her full title was actually something much longer. You might want to take a deep breath before reading this one (you really have been warned). Her full title was Elizabeth II, by the Grace of God, of the United Kingdom of Great Britain and Northern Ireland and of Her other Realms and Territories Queen, Head of the Commonwealth, and Defender of the Faith.
11. She sneaked into a non-royal party to mark the end of war.
When WWII ended in 1945, the Queen and her sister were among the revellers who chose to party the night away. They made sure to mask their identities. People did not realise that they were in the presence of royalty.
12. Her late husband was a distant relation.
The Queen was married to her third cousin. Both Elizabeth and the late Prince Philip are related to Queen Victoria.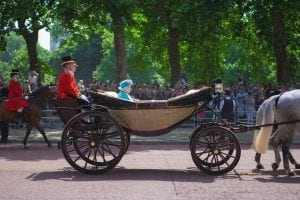 13. The Queen's words are in outer space.
She was among the many world leaders who wrote a message that was ultimately recorded on a silicone disc and placed at the foot of the American Flag on the Moon when Neil Armstrong and Buzz Aldrin made their legendary trip. As far as anyone knows, the disc is still there.
14. She became heir to the throne as a result of abdication.
Elizabeth II only became heir to the throne because King George V died, and Edward VIII abdicated the throne to marry an American. This allowed the Queen's father, George V to ascend to the throne. She was ten at the time.
FAQs about Queen Elizabeth II
Where did Queen Elizabeth II die?
How old was Queen Elizabeth II when she died?
Queen Elizabeth II was 96 years old when she passed away. She served as queen for over 70 years.
Who is Queen Elizabeth II's heir to the throne?
Further reading
https://factcity.com/tag/the-royal-family/
https://www.royal.uk/
https://www.history.com/topics/british-history/queen-elizabeth
Do you know any interesting facts about Queen Elizabeth II?  Share them in the comments below!