Ever travelled to the Red Sea before?  This fascinating body of water is likely to be one of the most travelled on the planet, however, there is plenty about the sea that many people may not be aware of.  Its shoreline shares between multiple countries across the Middle East, and as such, it's an important route for trade.  Here's 15 interesting facts about the Red Sea – time for you to clue up!
The Red Sea is home to some of the saltiest water on the planet, largely thanks to the sheer heat, as well as the evaporation levels in the region.
The Red Sea is thought to be around three times the size of Greece in total area! That's almost 440,000 square km.
The sea's volume, too, is impressive. It's thought to run around 7,250 feet deep, and it's around 233,000 cubic km in volume.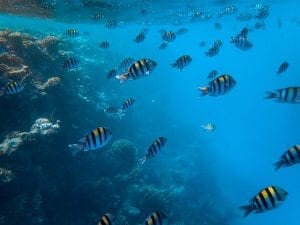 However, around a quarter of the Red Sea is actually less than 160 feet deep!
Despite its shallow parts, the Red Sea is hugely popular with divers and snorkellers from all over the world.
But why is the Red Sea called the Red Sea? No one's actually sure.  The origins of the name vary between theorists.  For example, some assume that the orangey flowers and algae beneath the waves are responsible.  Others believe that the reddish mountains towards Harei Edom are to blame.
The Red Sea is abundant with incredible aquatic life. For example, you are likely to find around 44 different species of shark in these waters alone, along with around 1,200 different fish species.
The Red Sea is generally seen as a useful sea route for trade, allowing shipments to sail from Eastern Asia towards mainland Europe. Therefore, it's likely to be one of the busiest waterways on the planet at any given moment.
Islands are still forming in the Red Sea! A number of new land masses emerged as part of the Zubair Archipelago at the start of the last decade.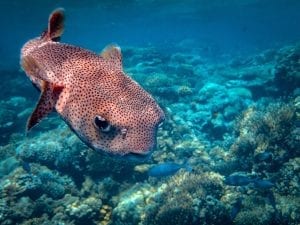 Do you have any interesting or fun facts about the Red Sea that we've missed? Share them here in the comments section below!