37 Regal Facts about the RNLI
The RNLI, or Royal National Lifeboat Institution, is relied upon by millions to help keep waters surrounding the UK safe. It has a fascinating history, and as a charity, it continues to thrive thanks to visitor and donator support. The RNLI is hugely important in helping to keep the seas and waterways of the UK safe. It was established to help ensure that people adrift at bay would have help and guidance from emergency services should they find themselves adrift.
But how much do you actually know about the work of the RNLI? We've rounded up  interesting facts about the RNLI seafaring squad who work so hard for us around the clock. Whether you are thinking of becoming a member, or already make donations, it's worth clueing yourself up on what the service offers.
The Head Office of the Royal National Lifeboat Institution is based in, Poole, Dorset. However, it has multiple locations across the UK.
Ex-Naval Officer Mark Dowie is in charge of the RNLI, and it has more than 3,000 office staff and crew.
In addition, more than 4,000 volunteers work for the RNLI throughout the UK.
As a charity, the RNLI is funded entirely by donations – it doesn't make a profit.
There are 238 lifeboat stations around the UK, and their extensive fleet consists of 444 Lifeboats of various types and sizes.
Sir William Hilary is known as the Father of the RNLI. He decided a sea-going rescue service was needed after seeing so many shipwrecks on his frequent voyages to and from the mainland, from his base in the Isle of Man.
Sir Hilary's first sea rescue institution was known as 'The National Institution for the Preservation of Life from Shipwreck. The charity was therefore founded in 1824.
Queen Victoria's husband, Prince Albert, was a keen supporter of the lifeboatmen and their bravery.
Albert supported the change of Sir Hillary's organization name to become the 'Royal National Lifeboat Institution' in 1854.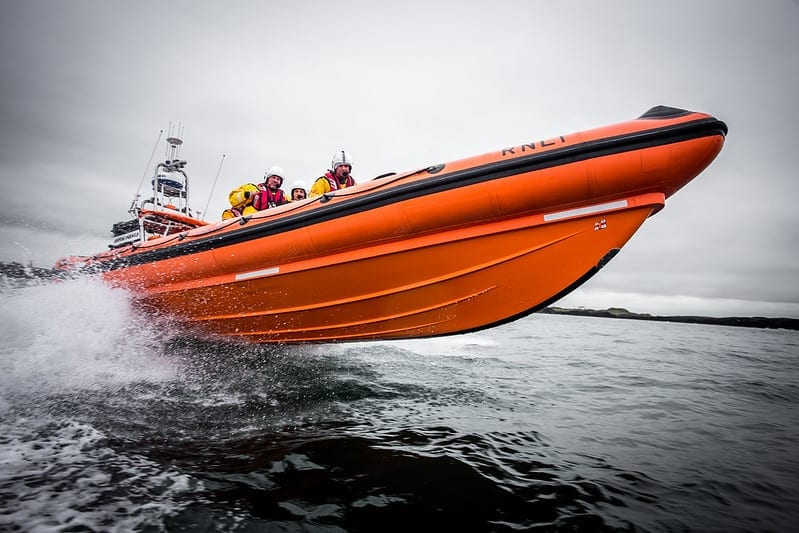 The greatest number of lives saved in a single sea rescue to date was in 1907,when 456 passengers were rescued from a ship near the Cornish coast at Lizard Point.
The first lifeboats specifically designed for inshore water rescue work were inflatable boats designed by the French and introduced in 1962.
The RNLI gives training and support for 'Coastal Beach Safety' with reference to a code displayed by using single or multiple flags. For example, red means 'danger, do not enter the water'.
Crews of lifeboats have specific tasks and skills. Crew members are often promoted through the ranks, too. Some join with no sailing experience, but all can swim!
The Coxswain is in charge of and commands the lifeboat, being responsible for the boat, crew, and passengers.
It costs £1,527 to initially train one crew member for a lifeboat.
All lifeboat crew members undergo regular training and obligatory annual training checks. Training and safety checks can incur extra costs.
There are lifeboat crews available for/on duty 24 hours per day, seven days per week. Lifeboat crew teams work shifts, and their hours will vary.
19 Lifeboats were famously involved in rescuing servicemen from Dunkirk beaches in World War II during the 1940 evacuation.
The RNLI flag was designed in 1884 by Leonard Preston. It is based on the design of the red and white George Cross flag.
Members of the RNLI may fly their flag to indicate their membership and support for the institution.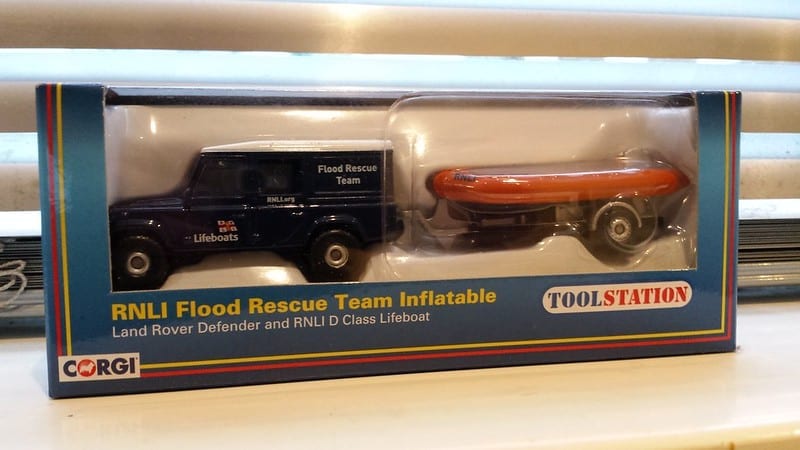 Members are also able to support/publicize the charity by purchasing RNLI equipment, ties, scarves, children's nautical-themed toys, models of various lifeboats, calendars, and Christmas cards.
The famous British cartoonist 'Giles' has, amongst other famous people, given his time freely to design cards to support the charity.
RNLI members are able to access all kinds of information and advice from co members and RNLI publications.
Being a well-informed and active sea-going organization with a presence in all UK waters, they are advocates of the rules of seamanship in UK and some international waters.
There are six museums in the UK, housing artefacts, publications, models, and photographs. Some, such as the museum in Whitby, North Yorkshire, even house vintage lifeboats!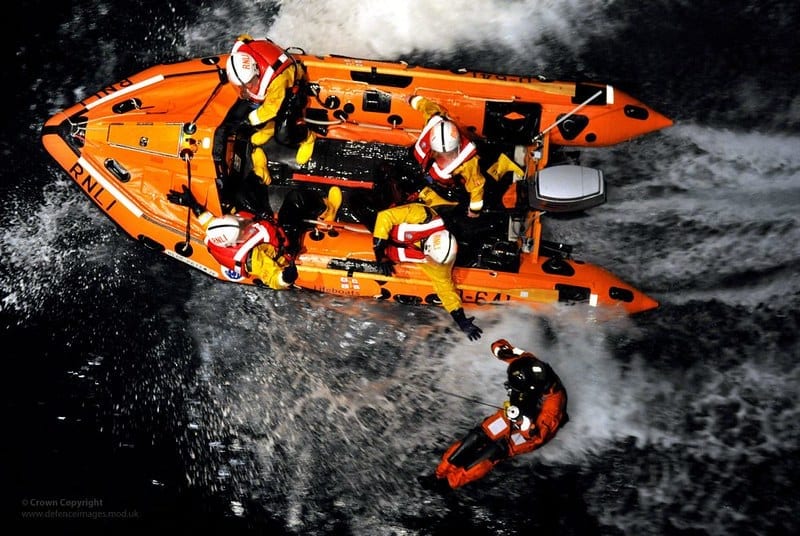 The RNLI hold rallies – usually during the summer months – to publicize their work and display the latest equipment.
They will also compete amongst themselves with 'older/retired' models at these events, too. Regular lists of events are published on the RNLI website and in local press.
Membership of the RNLI may vary in terms of costs. People can join from as little as £32 per year. There is a Governor membership, too, which is payable at £103.
Funds raised by the RNLI pay for the purchase and maintenance of lifeboats and rescue equipment, recruitment and training of personnel, office staff wages and more.
As mentioned, as a charity, the RNLI does not post a profit, meaning that everything that goes into its running comes from the public and its members.
RNLI volunteers run shops, gift catalogues, sell lapel badges and flags as fund raisers. They also generally increase public awareness about the activities of the Institution.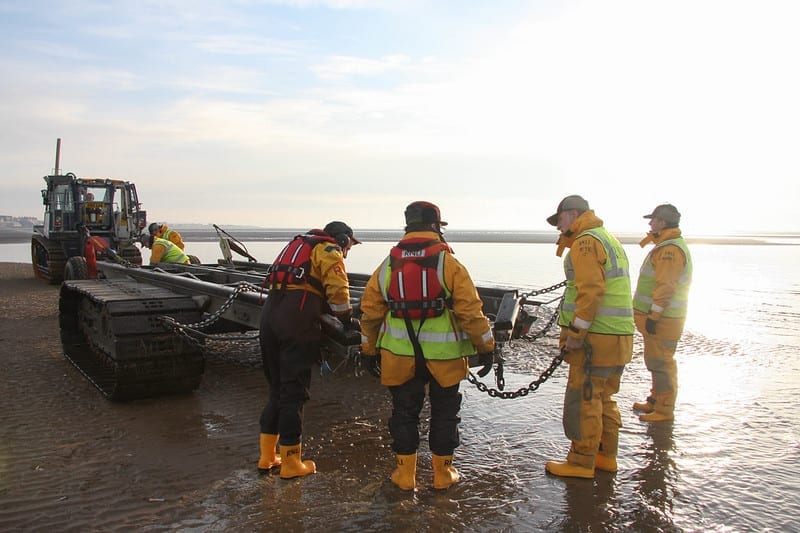 The RNLI has men and women, and people of all ages and many different backgrounds working together with the single aim of saving lives at sea. They work to promote a healthy respect for the sea and inland waterways.
Jobs for the RNLI are advertised both internally and via the public media. They are always looking for support!
RNLI crew members are trained in a classroom format, aboard lifeboats, and dinghies, and undergo survival training under the most extreme weather conditions in all seasons.
They also have training in first aid and work closely with the emergency services and coast guards/lifeguards.
Do you know any interesting or fun facts about the RNLI?  Share them in the comments below!
This page was last modified on July 28, 2021. Suggest an edit