16 Sensational Facts about The Solomon Islands
Fancy a trip out to deepest Oceania? Close to New Zealand, the cluster of Solomon Islands remain some of the most vibrant natural landscapes in the Southern Hemisphere. While many people travel to Oceania to visit Australia and the like, there are plenty of great reasons why the Solomons should become a bustling tourist resort.
You may have heard of the name, but how much do you actually know about these Islands? Here's 16 interesting facts about The Solomon Islands to help clue you in on everything you need to know.
The Solomon Islands is a vast cluster of almost 1,000 different islands, stretching across almost 250,000 miles to the south-east of Oceania.
However, the archipelago on the whole is home to just 652,858 people (2018), with much of the landscape dedicated to mountains and corals. Can you explore all 992 islands? It might not be possible, but trying to explore as many as you can will make for a fantastic bucket list idea.
The vast majority of people living in the Solomon Islands are Melanesian, with a small percentage of citizens hailing from Polynesia and Micronesia.
The Solomon Islands are predominantly Christian, with around 95% of people here practicing the religion. This splits even further down into Seventh Day Adventism, Roman Catholicism and Anglican. You'll even find people worshipping the Assembly of God and Baha'i Faith.
The official language of the Solomon Islands is English; however, it is thought that only 2% of the country is actually able to speak it. That's because there are more than 70 different local languages spread out across the Islands, making it one of the more curious language distributions on the planet
Divers and deep sea explorers adore the Solomon Islands. It is here where they will find the biggest saltwater lagoon on the planet. It's called the Marovo lagoon, and it is thought to measure up to 700 square km.
The Solomon Islands, due to their incredible clustered nature, boast stunning coastlines which stretch up to a total of more than 5,300km in absolute length.
The Solomon Islands are officially part of a designated 'sovereign democratic state', according to their embassy website. This also states that their head of state is Queen Elizabeth II, though there is a Governor-General in the country who acts on her behalf.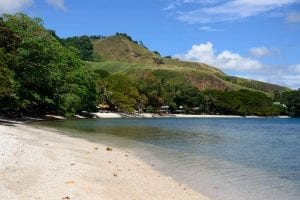 The country's islands, of course, make most of their money from the fishing trade. However, they also make money from timber felling and mining, and export palm oil, as well as harvest coconuts and palm kernels.
The Solomon Islands culture is extremely diverse and is influenced and affected by a huge variety of Oceanian societies and tribal customs. It is not unheard of for you to spot traditional tribes from village to village. The country is proud to continue offering customs and traditions which have weathered the decades and centuries past.
The Solomon Islands revolve around a community concept they refer to as Wantok. Wantok is a cultural aspect which enables people of similar ancestry and language to come together – the embassy refers to it as a support network of sorts.
The exact history of the Solomon Islands, stretching back to ancient times, is fairly unknown. However, experts believe that people first started settling in the region around 6,000 years ago.
It was only in 1893 that the Island fell under the British Protectorate, meaning that it took on British values and laws, preventing slavery import and export across Oceania.
The Solomon Islands, as you may expect, traditionally trade imports and exports with Australia, however, they also have strong trading links across Asia, with the likes of Taiwan, Japan, Malaysia, and South Korea being regular partners.
Do you have any interesting facts about The Solomon Islands that we've not mentioned?  Share them here in the comments section below!
This page was last modified on December 16, 2020. Suggest an edit