21 Vibrant Facts about Venice, Italy
For a variety of reasons, almost everyone I know wants to visit the extraordinary city that is Venice. Whether you're planning a visit or simply want to brush up on your local knowledge, here are 21 fun facts about Venice to whet your appetite…
1. It's the city of water.
The Metropolitan City of Venice is well known for being built on water and is home to 417 bridges, with 72 of them private. These 417 bridges along with over 170 canals and 118 islands make up this incredible medieval city.
2. You won't find any tarmac here.
There are no roads in Venice – just canals – Bellissimo!
3. It's an essential piece of heritage.
In the 10th century, Venice became a major maritime power. The city and lagoon cover 50,000 km² and is a UNESCO World Heritage Site.
4. It was incredibly important as a strategic waypoint.
Venice's strategic position on the shores of the Adriatic Sea allowed the city to become a prosperous and major trading hub for the Silk Road.
5. It's amazingly popular with tourists.
Venice receives more than 20 million tourists every year, and shows no signs of slowing anytime soon. However, this huge number is not appreciated by the locals who believe it's far more than the city can cope with.
6. How many people live in Venice?
The residential population of Venice is 261,905 (2017).
7. You can expect a long, healthy life here.
Life expectancy here is a very healthy 83.42 years (2019) – it must be that famous Mediterranean diet!
8. Venice's airport is named after a very famous explorer.
Looking to book yourself a flight here?  You'll need to buy tickets to arrive at Venice Marco Polo Airport.
9. Venice is sinking!
An analysis is showing that the city is actually sinking by about 1-2mm every year! This is explained by natural causes such as the Adriatic plates and man-made causes, such as the extraction of water continuously from the city over the last century.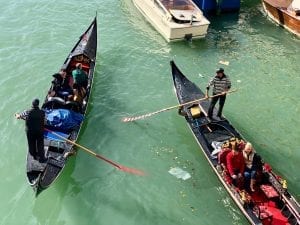 10. Apartments are luxury investments here.
As a visitor, you may feel like the city is a bit on the expensive side. However, you might not have known that an apartment there can cost upwards of £900,000. These prices are mostly driven by tourism, as the houses are typically bought and are then turned into restaurants and hotels.
11. Venice Vegas, anyone?
The first public casino was opened in Venice in 1638.
12. Water can be a hindrance here, too.
Flooding has been a major problem in the city of Venice. As high tides usually occur during December and January in the Adriatic Sea, in combination with the rising sea levels due to climate change, it is a real concern for the locals.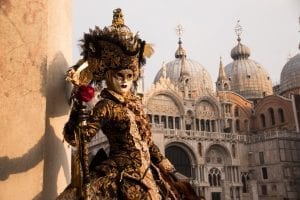 13. You can't cycle here.
Bikes, skateboards, and roller-skates are not allowed in Venice. If you are caught riding them, big fines are in place.
14. Venice led the way for female academia.
The first woman to graduate in the world was Elena Lucrezia Cornaro Loredan Piscopia. She was born in Venice in 1646.
15. There's an important bell tower that's been restored.
Built in the 12th Century and collapsed in the early 1900s, the San Marco bell tower was rebuilt to look exactly like the previous one. It is the 5th tallest bell tower in Italy.
16. There are regular carnivals in Venice!
Every February, Venice holds an amazing 'must see' carnival where locals dress up in exquisite masked costume.
17. How did we forget about gondolas?
Visiting Venice and failing to have a ride a gondola is like visiting Paris and ignoring the Eiffel tower. Venetian gondolas are traditional black boats that have been used to transport people across the narrow waterways over the past 10 centuries. Gondolas are designed to be operated by a highly skilled operative known as the Gondolier.
18. Venetian cuisine is to die for.
Feeling hungry?  Head for one of the many cicchetti establishments favoured by the locals to enjoy an assortment of small dishes and a glass of wine, all for a few euros … delizioso!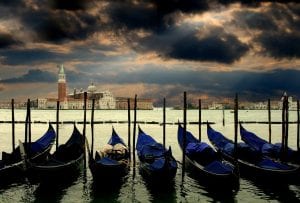 19. Calling Venice is easy.
To call your friends in Venice, you'll need to use the international dial code of +39 041.
20. Why not visit Venice from afar?
You can imagine yourself in Venice, visiting the incredible Piazza Sam Marco (St Marks Square) with this live webcam.
21. It's a Hollywood landmark.
Numerous well-known movies have been set and filmed in Venice including Casino Royal, From Russia With Love and Moonraker (James Bond), The Talented Mr Ripley, Indiana Jones and the Last Crusade, The Italian Job, Lara Croft: Tomb Raider, The League of Extraordinary Gentlemen, and unsurprisingly, many adaptations of Othello.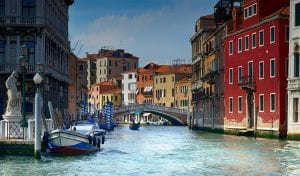 FAQs about Venice
What is Venice famous for?
Venice is largely famous for its waterways, mainly its canals that wind through the city - it's called 'The Floating City' for a reason!
Is Venice's water dirty?
It's never a good idea to bathe in or drink the water in Venice, as there's a chance some of it might be wastewater from local toilets!
Are there crocodiles in Venice?
No - a famous viral moment from early on in the coronavirus pandemic of 2020 suggested crocodiles were 'taking over the city', but this was disproven.
Do you know any fun facts about Venice?  Share them in the comments below!
This page was last modified on July 26, 2023. Suggest an edit