12 Great Facts about Vincent Van Gogh
We all know Van Gogh cut off his ear, but what else did the great man get up to during his lifetime? Let's take a look at some truly amazing things he did, some little known facts you won't find anywhere else, and a few other incredible facts along the way.
1. Van Gogh's name was not his own.
Vincent Van Gogh was named after his stillborn brother who he tragically would never get to grow up with.
2. He was a complex man.
He is widely thought to have suffered a complex range of mental illnesses which included schizophrenia and severe depression.
3. He came to the art game late.
Van Gogh never did a thing that could be considered artistic until he was 27! He was a failed art dealer, bookstore clerk, teacher, and even a pastor.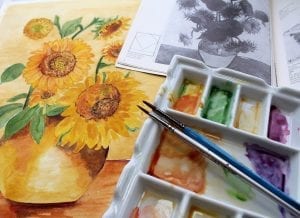 4. Art was his hobby.
Drawing was his salvation and he was fortunate to receive his first set of paints from his brother, Theo, at 28. This only happened because he was kicked out of the family home.
5. He led a lonely life.
After leaving home and moving to The Hague he frequently made friends with prostitutes as he searched in vain for companionship.
His favourite was a woman called Siem who he drew and painted dozens of time.
6. Van Gogh paintings likely looked very different back in his time.
The gentle browns used in a number of his paintings would have been beaming yellows but have faded due to the unstable pigments used at the time.
7. Rumor has it…
It is thought he was in a relationship with fellow painter Paul Gauguin.
Gauguin is also rumoured by some scholars to be the man responsible for cutting off Van Gogh's ear.
8. The origins of some of his best-loved work come from dark places.
His most famous work, Starry Night, was painted whilst he was committed to an asylum following a severe mental breakdown.
9. He had a tragic end.
He shot himself in the stomach whilst painting in a field before walking a mile back to the inn he was staying at so he could lie down and die.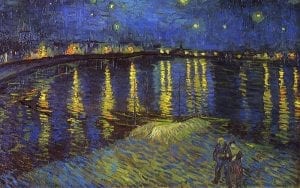 10. Many didn't know of his genius while he was alive.
Van Gogh's career only sprang into life after his untimely passing thanks to the energy and vigour with which his sister-in-law promoted his work.
11. He painted still life to save cash.
His lack of money is the main reason he tended to paint sunflowers, self portraits and landscapes — he could rarely afford to pay a model.
12. Van Gogh was seriously prolific.
He painted more than 900 paintings in just 10 years — nearly 2 a week!
FAQs about Vincent Van Gogh
What genre of art was Van Gogh famous for?
Van Gogh's paintings are normally referred to as post-Impressionist.
How much is Starry Night worth?
Starry Night is said to be worth in excess of more than $100 million!
Who owns the most Van Gogh paintings?
Fittingly, the Van Gogh Museum is home to more of his works than anywhere or anyone else.
Do you know any fun  facts about Vincent Van Gogh?  Share them in the comments below!
This page was last modified on September 14, 2021. Suggest an edit