17 Fascinating Facts about Yorkshire
Yorkshire is a huge expanse of land covering much of the north of England. It's home to some of the north's most popular cities as well as some of the most gorgeous landscapes and national parks. What's more, it's split into four – North, South, West and the East Ridings – with each region offering its own history and character for you to explore. Yorkshire folk are some of the friendliest you'll find, too!
But just how much do you know about Yorkshire's counties and historic streets? Let's take a look through a fact file to intrigue you.
Inspired by the Tour De France, Yorkshire decided to set up its own cycling marathon up in the north of England. Since 2015's maiden three-day event, the Tour De Yorkshire has become a four-day celebration of cycling greatness. Across Yorkshire, you can see yellow bicycles pinned up to the outside of walls where the route has previously followed.
Some of the most-followed towns and cities in the UK fall within Yorkshire. Amongst them are York, Leeds, and the seaside staple of Scarborough.
In fact, there are streets in York which have won awards. Specifically, the world-famous Shambles has won a Google Street award for being the most picturesque British lane.
Outside of London, there are no counties with more Michelin Star restaurants than Yorkshire. You're always guaranteed of a tasty, filling meal or two up here!
Yorkshire performed brilliantly at the London 2012 Olympic Games. So much so, that if the county had competed separately to the UK, it would have finished 12th on the global medal table! Stars such as the cycling Brownlee brothers helped to bring home stacks of medals for the region, with seven golds, two silvers and three bronzes shared between all the Yorkshire athletes who took part.
Yorkshire is, of course, famous for its unique food and drink. It is well-known for its local stouts and ales, and particularly for Yorkshire Pudding, a savoury dish traditionally served with meat, vegetables, and gravy on a Sunday evening.
York is also home to some incredible buildings. Amongst them is York Minster, which is actually the biggest cathedral of its kind in the north of Europe – in terms of Gothic architecture.
In fact, building the Minster took a real toil – it was a job that endured over 252 years to get right!
The oldest pub in the UK can be found in the heart of Yorkshire – The Bingley Arms, up in Leeds, has been a part of the landscape for over a millennium. It's thought to have played host to Viking invaders!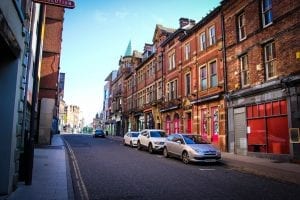 The county is, of course, home to some truly stunning views. The Yorkshire Dales national park stretches on for miles around. However, tying it back into pubs – you'll actually find the highest pub in the country up here, at the Tan Hill Inn.
Believe it or not, there are two UNESCO World Heritage Sites up in Yorkshire. Saltaire & Salts Mill in Bradford, West Yorkshire, and Fountains Abbey up in North Yorkshire have the honors.
Yorkshire is no stranger to historic sport. Doncaster Racecourse in South Yorkshire, for example, is home to the oldest horse race in the world. The St Leger has been run since 1776, and it's also the longest race of its kind at more than a mile and six furlongs in length.
The oldest city in the UK is up in Yorkshire, too – Ripon was given city status as far back as 886, and it was Alfred the Great who bestowed the honor.
The UK's first-ever children's museum, Eureka, can be found in the town of Halifax in West Yorkshire.
The biggest shopping centre in Europe is in Sheffield! Namely, it's the Meadowhall Shopping Centre, and it even has its own train platform between the city and nearby Barnsley.
Speaking of trains, you will also find the longest steam railway in the country up in the North York Moors. You can ride a legitimate steam train for over 18 miles while taking in the beautiful scenery as you ride.
Do you know any interesting or fun facts about Yorkshire that we've missed?  Share them here in the comments section below!
This page was last modified on November 25, 2021. Suggest an edit