22 Delicious and Fast Meals to Cook on a Budget
When you're juggling a career, family, hobbies, and a social life, it can be difficult getting a quick, delicious meal on the table. Sometimes it seems like there just isn't enough time in the day to do everything we want. Eating on a budget doesn't have to leave you confined to mostly processed foods. If you use the tips and ideas below, you'll not only enjoy delicious hearty meals but you'll also save money and nourish your body.
Here are a 22 basic but delicious, quick and easy meal ideas that will save you from spending a fortune on fancy ingredients…
1. Oatmeal and banana
Extremely nutritious and easy to make! Cook up a bowl of steel-cut oats and add any fruit you have on hand, or some cinnamon and raisins. This healthy meal doesn't take much time to make but packs a ton of energy to help us get through the day.
2. Scrambled eggs and toast
All you need to whip up this cheap and easy meal is scramble a couple of eggs and toast some bread.  Simple!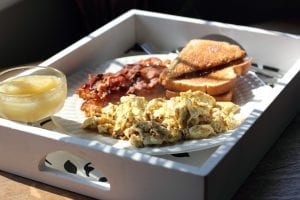 3. Egg and black bean burritos
Start by heating some tortillas on the griddle. While they're getting heated, scramble a dozen eggs and heat a can of black beans on the stovetop. Once your eggs are scrambled, assemble your breakfast burritos and add any extras you might want. Toppings like shredded cheese, sour cream, and salsa or hot sauce all work really well.
4. Lentil and vegetable soup
Who says you have to eat junk when you're strapped for cash? This delish, healthy meal is packed with proteins and vitamins from the lentils and vegetables and is an absolute lifesaver when you're trying to make ends meet. This soup is made with a handful of ingredients and is without a doubt, a mouthful of flavor!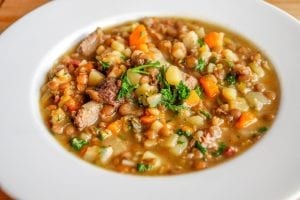 5. Sticky rice, vegetables, and soy sauce
All you have to do is steam some rice, empty a can of vegetables (or a bag of frozen veggies) in a microwave-safe bowl and heat, then mix the vegetables and rice with just the right amount of soy sauce. These three ingredients may not make a flashy meal, but the concoction is fairly healthy, cheap, and easy.
6. Mediterranean pasta salad
Simply boil a few handfuls of pasta, drain it, and add a can of diced tomatoes, a can of sliced black olives, a can of chickpeas, and some Italian dressing (or olive oil, balsamic vinegar, salt, and pepper).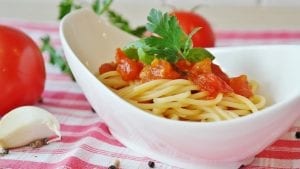 7. Pizza on bagels, thick toasts, or English muffins
Take a bagel, English muffin, or slice of bread, load it with all the toppings you'd use on a pizza, and bake it in the oven for 7-8 minutes.
8. Pasta with peas
This yummy pasta dish is an easy 1 pot, 10 minutes dish, and is super simple and affordable to make!
9. Easy pizza potatoes
If your family loves pizza and you still want to eat something hearty, you can't go wrong with these super-sized potatoes stuffed with pizza fillings. Feel free to use what you have already on hand to make your pizza spuds and this tasty cheap and easy meal will be even lighter on your budget.
10. Instant pot spaghetti with meatballs
This comforting cheap and easy meal is light on the wallet and super easy to make. Of course, you will need a handy instant pot to make it, put it to good use. If you have enough, portion your leftovers into some takeaway style containers to last you the rest of the week for lunch, or freeze to make handy meals you can reheat when you don't fancy cooking!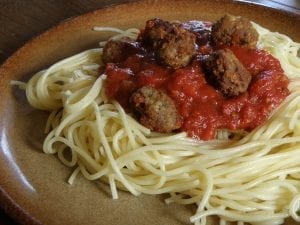 11. Sausage, peppers, and onions
Just slice up some sweet Italian pork sausage (or chicken sausage), a sweet onion, some colorful bell peppers, and a couple of cloves of garlic, and sauté them all in a large pot with a generous amount of olive oil, salt, and pepper.
12. One-pan chicken veggies bake
This recipe is easy, budget-friendly, and is a one-pan dish, making clean up a breeze! This chicken and veggies are packed full of nutrition and are delicious!
13. Smoked haddock & creamed corn curry
Everyone will love this creamy fish curry, cooled down with coconut and sweet corn. It's budget-friendly too!
14. Mushroom, ricotta & rocket tart
This puff pastry slice requires minimum fuss. Use Italian cheese as a simple base and top with garlic mushrooms and salad leaves.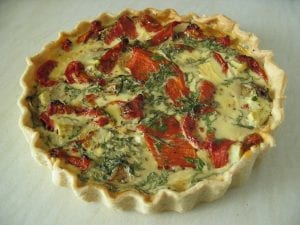 15. Shepherd's pie
The main ingredients of this dish are lentils and potatoes – the ultimate budget foods. This version of the traditional British dish is hearty, healthy, filling, and satisfying.
16. Braised bacon with colcannon cakes
A bacon joint can stretch a long way. Serve with potato and Savoy cabbage cakes, plus a fried egg and optional tomato ketchup.
17. Ravioli Soup
Ravioli soup is one of those easy cheap meal ideas. This recipe only takes 5 vegetable ingredients on your choosing and ravioli to make. The best part is the leftovers!
18. Tuna melts
Canned tuna is a protein-packed staple of a cheap diet, but plain old tuna salad on rye can get old after a while. To heat things up a bit, just start like you're making grilled cheese sandwiches, but add tuna salad and tomato slices.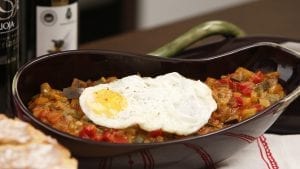 19. Ratatouille
This classic meal is made of onions, eggplant, zucchini, tomatoes, basil, and oregano with rice.
20. Oven Tacos
Tacos are one of those foods that are not only loved by almost all families but are also cheap meals for your entire family. You can make the tacos in bulk and eat them later in the week.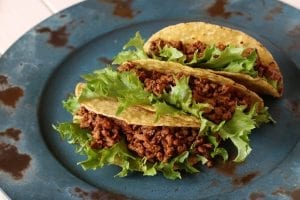 21. Beef & lentil cottage pie with cauliflower & potato topping
Try a new topping for your comforting bake by adding cauliflower and a little cheddar cheese – there'll be some leftover for a second meal, too!
22. Grilled chicken and sweet potato fries
In any kind of weather, grilled chicken and sweet potato fries are sure to please the palate!
Do you know any delicious recipes that are quick and cheap to make? Share them in the comments section below!
This page was last modified on September 13, 2023. Suggest an edit