11 Magical facts about Minnesota
Minnesota is well known for its cold winters, sparkling lakes and its polite residents. However, there's always something new to learn about this fascinating state. Here are 11 interesting facts about Minnesota, the northernmost mainland state in the USA
The state of Minnesota carries out the production of more turkeys annually than there are people living in California.
For every six people, Minnesota has one recreational boat. This brings the number of boats available in Minnesota to a staggering 909,528. This is more than the population of South Dakota!
Located in Bloomington, the Mall of America is large enough to hold around 32 Boeing 747 planes.
The Minnesota State Fair has more than 1.7 million visitors in 2015.
Prince and Bob Dylan are some of the most famous musical acts that come from Minnesota. In addition, famous figures such as Chris Pratt, Winona Ryder and Judy Garland were all born in Minnesota. A fun fact is that the town of Winona, Minnesota inspired Ryder's name.
The Gopher State, the Bread and Butter State and the North Star State are some of the nicknames given for Minnesota.
It is interesting that Minnesota refers to mosquitoes as their unofficial state bird, but there is a reasoning behind this. Minnesota is home to over 50 different species of mosquitoes. It is advised to take bug sprays with you if and when you decide to go camping or canoeing in one of the state parks. The official state bird of Minnesota, however, is the loon.
Hull – Rust – Mahoning Mine is one of the planet's largest open-pit mines and is located in Hibbing, Minnesota.
Theodore Roosevelt, the Vice president back in 1901, gave the famous speech "Speak Softly and Carry a Big Stick" in the Minnesota State Fair.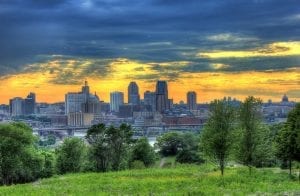 Jesse James, the notorious outlaw back in 1876, along with his gang were prevented from robbing a bank in Northfield, Minnesota. Several members of this gang were caught and executed, and the group slowly dissolved before Robert Ford killed Jesse James back in 1882. This historic event is celebrated for 5 days each September, and this celebration is known as "The Defeat of Jesse James Days". The films "The Long Riders" (1980) and "The Great Northfield Minnesota Raid" (1972) immortalised the showdown.
Darwin, Minnesota is home to the world's largest ball of twine made by one person.
Do you have any interesting, fun or strange facts about Minnesota that we've missed?  Share them here in the comments section below!
This page was last modified on December 15, 2020. Suggest an edit