8 Natural Medicines You Didn't Know Were in Your Garden
Anyone who knows a little bit about the history of medicine will likely know that herbology and cultivation from nature are to thank for modern breakthroughs. After all, to be able to combat strange, new illnesses, we as a species have learned to adapt and remedy using the world around us. The natural world of medicine really is fascinating! However, did you know that there are still likely to be a few medicinal plants growing in your own back garden right now?
In this fact file, we will be taking a look at a few common plants and natural medicinal sources which are actually likely to be persisting in your undergrowth this very second. However, do keep in mind – you should not use this fact file in place of any medical advice! Before you decide to plant or harvest any flowers or natural resources to treat your own conditions, always consult medical advice from a doctor or nurse. Pharmacists, too, may be able to help you!
Simply use this guide as a fascinating resource – and without further ado, let's start taking a look at a few of those fantastic garden medicinal marvels!
Rosemary is a very common herb which is used in cooking, mainly to add a floral flavor and extra kick to many dishes. However, did you know that it can actually help to aid healthy digestion, too? It's all the more reason to start growing it in your garden, or in a window box in your kitchen. It is even thought to help improve your concentration – if you're still with us!
On a similar note, parsley is another popular herb used in cooking, but which actually has anti-inflammatory properties. Not only is parsley tasty, it's really easy to grow, and regular consumption may help to prevent you from breaking out in allergic hives. Parsley is also thought to be beneficial to those who might have weak bones.
Valerian is a plant which is thought to have many benefits. However, it's the root you are going to need to look for. Valerian root is used in a variety of products which are used to soothe and ease. For example, many over the counter medicines use valerian to help enhance sleep quality. However, you might also find that you can grow and buy valerian for stress and anxiety.
Aloe vera, of course, is a juicy plant which has long been a part of skin creams and beauty products for decades. However, it is a multi-talented piece of greenery which you'll love to grow and harvest. It's supposedly great – again – to help people suffering with poor quality sleep. It may even help to keep your digestive system regular.
Chamomile is a very popular plant which is super-sweet, and you might already have tried it in a tea or two over the years! It's great for helping to beat stress, improve sleep quality, and to relieve pain – it's popular with people who suffer with arthritis and joint pain, for example.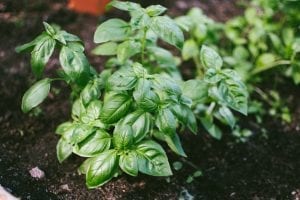 Believe it or not, dandelion has fantastic medicinal properties! It's not just a pesky weed which loves to cover the lawn if you don't trim it enough – it's actually really beneficial for kidney health in the long term. Believe it or not, you can actually eat the roots, roasted, and even the leaves – and the best part is, this detoxifying plant is all over the place. It's hardly endangered!
Peppermint is popularly found in many modern gardens, thanks to how supremely easy it is to cultivate and grow! Peppermint is spicy and is used to add flavor to sweets and treats. However, it's actually great at helping to keep your digestive system on balance and may even help with menstrual cramping.
Basil, another popular herb used in cooking, is actually an amazing mood-booster. Just plucking some basil and planting it in a pot in your kitchen or bedroom may be enough to help to improve your happiness levels. That's thought to stem from linalool, commonly found in the plant, and a very big driver in the way that basil smells. Of course, it also adds a tasty kick to many dishes!
Do you know any natural medicines that can be grown in the garden?  Share them in the comments below!
This page was last modified on October 21, 2021. Suggest an edit