13 Seriously Fun Facts about the Jeep Wrangler
The Jeep Wrangler has attracted a worldwide cult following – after all, it's one of the coolest looking vehicles on (or off) road!  Here's 13 interesting facts about the Jeep Wrangler for all you Jeep lovers out there…
Some Jeep History
The first and original Jeep design was penned in just two days by the American Bantam Car Company in July 1940 for the US Army that was preparing for WW2 and desperately in need of a lightweight four wheel drive vehicle.
Ford and Willys started production in 1941, making Jeep the oldest known mass produced 4×4.
It was actually Ford that designed the Jeep's iconic and instantly recognisable grill.
Jeep inspired Land Rover, the Toyota Land Cruiser and the Ford Bronco.

 

Built in 1947, the first Land Rover prototype had a Jeep chassis.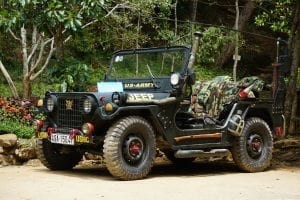 The definition of Jeep was derived from Ford's "G.P.", meaning General Purpose.
The first Jeep built for civilians was named the CJ-2A – CJ means 'Civilian Jeep'.
It was only after 1987 when the Jeep brand was bought by Chrysler that the Wrangler name was introduced.
Present day Jeep
The name, Jeep is now so synonymous with off roading, it's often used as a way of describing any off road vehicle.
The current Jeep Wrangler, the JL, is the fourth generation of the off-roader.

 

It was unveiled at the LA Auto Show in 2017.
It's available in three trim levels… Sahara, Overland and Rubicon.
Jeep are so sure that its seven-slot grill design is an instantly recognisable logo, there is no other badging on the front of their cars.
Bonus Jeep fun facts
Jeep are unlike any other vehicle on (or off) the road – they have a removable roof, doors and even the windscreen folds down on a Jeep Wrangler – roll on Summer!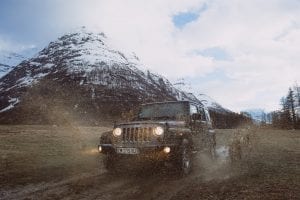 There are lots of 'Easter egg' mini Jeep silhouettes hidden all over a modern Wrangler – including a Jeep climbing a corner of the windscreen … but can you find them all?!
Do you know any fun or interesting facts about Jeep that we've not mentioned?  Share them with us in the comments section below!