15 Happy Facts about Hungary
Do you know someone who lives in this wonderful country or are you looking to move here?
Impress your friends with your wealth of local knowledge with these 15 fun facts about Hungary!
1. Where is Hungary?
Hungary is a small landlocked country in Central Europe.
It is bordered by Austria to the northwest, Slovakia to the north, Ukraine to the northeast, Romania to the east, Serbia and Montenegro to the south, Croatia to the southwest and Slovenia to the west.
2. It's easy to find with a compass.
Are you heading over to Hungary? Head for the coordinates of 47.4333° N, 19.2500° E to find yourself in this wonderful country again!
3. The topography in Hungary varies.
Hungary consists mostly of flat to rolling plains, whilst on the Slovakian borders there are hills and low mountains.
4. Hungary is only just bigger than the Republic of Ireland.
The total land area of Hungary is 35,919 square miles (93,030 square kilometers)…that's slightly larger than Ireland (entire island).
5. However, Hungary has a lot more people!
Hungary's population was 9.773 million in 2019…that's around 1.5 times the population of Northern and Southern Ireland combined.
6. What's the capital of Hungary?
The capital is Budapest; it covers an area of 203 square miles (525 square kilometers) and had a population of 1.752 million in 2017.
7. The weather is pretty pleasant in Hungary.
Hungarians enjoy a temperate climate with cold, cloudy winters and warm summers.
8. Here's a no-brainer…
The official language of Hungary is… drum roll… Hungarian!
9. What can you spend here?
Hungarian Forint is the official currency here.
10. Hungary is a hub for rock fans.
Since 1993, Budapest has played host to one of Europe's largest rock festivals! The Sziget Festival has seen as many as 390,000 music fans congregate to watch more than 1,000 performances each year!
12. The life expectancy here is pretty healthy.
Hungarians live for an average of 76.07 years (2018).
12. A famous toy originated here.
Did you know the Rubik's Cube was invented by Hungarian engineer, Erno Rubik? The ball point pen is also a Hungarian invention, created by László József Bíró!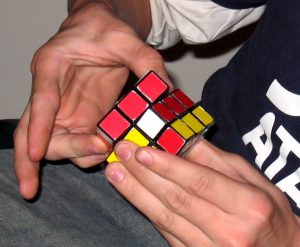 13. There's an odd naming strategy here.
In Hungary, people are introduced by their surname, then their first name! It's important to note, however, that you would still use their first name whilst talking to them.
14. Naming kids in Hungary has strict rules.
When Hungarians have children, they must choose a name from a pre-approved list set out by the government! If your chosen name isn't on the list, you must submit an application for it to be accepted.
15. Hungary's produce and industry is really varied.
Hungary grows corn, wheat, potatoes, sunflower seeds and sugar beets; it also rears pigs.
Its industry consists of mining, metallurgy, processed foods, construction materials, textiles and chemicals. Hungary exports machinery and equipment, food products and raw materials.
FAQs about Hungary
Do people in Hungary speak English?
Yes - plenty of people speak English in Hungary - just under two thirds of the population.
What is some famous Hungarian cuisine?
One of the most famous Hungarian dishes is goulash, the national meal - as well as fisherman's soup and sweet bread.
What is the central religion in Hungary?
The most dominant religion in Hungary is Roman Catholicism.
Do you know any fun facts about Hungary? Share them in the comments below!
This page was last modified on September 29, 2021. Suggest an edit