🇱🇦 22 Lovely Facts about Laos
Fancy boosting your knowledge of this truly fascinating country? Take a look at these 22 fun facts about Laos!
Geographical stats…
Laos is a mountainous, landlocked country in southeast Asia.
In fact, it is the only landlocked country in southeast Asia!
Previously under French rule, Laos gained full independence in 1954.
It is bordered by China to the north, Vietnam to the east, Cambodia to the south and Thailand and Myanmar (Burma) to the west.
Looking to set up camp in the wonderfully dense forests of Laos? Head for the coordinates of 17.9667° N, 102.6000° E for your very own Laotian adventure!
The terrain here is mostly mountainous and rugged, intersected by plains and plateaus.
The total land area of Laos is 91,429 square miles (236,800 square kilometers)…
…that's slightly smaller than the UK.
Laos' population was 7.276 million in 2020…
…that's around 1/10th the UK population!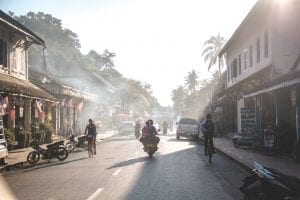 Residents here are known as Laos or Laotians.
The capital is Vientiane; it covers an area of 1,514 square miles (3,920 square kilometers) and had a population of 997,000 in 2015.
Laotians enjoy a tropical monsoon climate with a dry season from December to April and a rainy season from May to November.
Laos boasts a variety of wildlife, including elephants, turtles, rhinos, tigers, tortoises, snakes, leopards, gibbons, pheasants and even beetles!
The Khone Phapheng waterfall on the Mekong River is the widest waterfall in the world, measuring up to 14km (8.7 miles) wide during the monsoon season!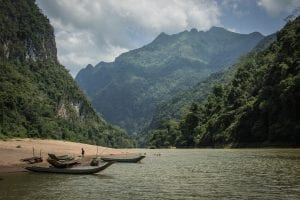 Social intricacies
The official language of Laos is Lao, although French and English are also spoken here, amongst lesser known ethnic languages.
If you fancy a drop or two of Lao Lao (rice whisky), you'll need to exchange your spending money for Laotian Kip, the official currency here.
Laotians live for an average of 67.92 years (2019).
In Luang Prabang, bars and restaurants close at 11.30pm every night and most guesthouses operate a midnight curfew for tourists; this is in place so that locals and visitors can rise early in the morning to distribute alms (offerings such as money or food) to the monks!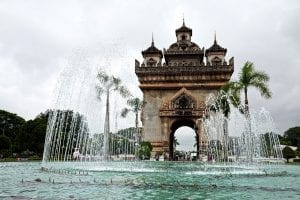 Industry insights…
Laos grows vegetables, sweet potatoes, tobacco, cotton, peanuts, corn and coffee; they also rear water buffalo, cattle, poultry and pigs here.
Its industry consists of timber, copper mining, tin mining, gypsum mining, tourism, agricultural processing and electric power.
Laos exports wood products, electricity, coffee, tin, gold, copper and garments.
Do you know any fun facts about Laos? Share them in the comments below!