22 Mystical Facts about Morocco
Morocco is a North African country bordering the Atlantic and Mediterranean Sea, made famous by its architecture, souks and cuisine. Here you can discover 22 mystical and interesting facts about Morocco.
Morocco is a vibrant and colourful country in North Africa.
It shares a border with Algeria to the east and south east and Western Sahara to the south west. It also has a coastline along the Atlantic Ocean to the north west and the Mediterranean Sea to the north east.
This stunning country has an area of 274,461 square miles (710,850 square kilometres).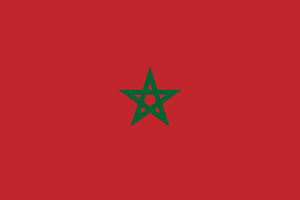 Morocco's population was 36.03 million in 2018.
The capital city is called Rabat; it covers an area of 45.2 square miles (117 square kilometres) and has a population of 577,827 million (2014).
The terrain here is flat coastal plains to the east, with mountains and valleys on the northern coast and inland.
Morocco is the world's largest exporter of sardines!
Should you wish to have an authentic cultural experience in this beautiful country, the coordinates are 32.0000° N, 6.0000°
Moroccan's enjoy a Mediterranean climate on the coastline, with the temperatures higher inland
Despite this beautiful weather, Morocco is actually home to Africa's highest ski resort (Africa doesn't exactly come to mind when we plan our skiing holidays either!). Oukaimeden village stands at 2,600m above sea level with the highest peak rising to 3,258m!
The average life expectancy here is 75.82 years (2016).
In order to buy your goodies in one of the amazing souks, you'll need to bring some Dirham (often referred to as 'flous'), the currency of Morocco.
Vegetarians beware – if you are offered meat with a meal it is considered impolite to refuse it!
Couscous is the national dish of Morocco and is usually served with a rich vegetable and meat stew, whilst sweet mint tea is the national drink. Lovely!
We're sure you'll want to take lots of photos on your journey through Morocco, but be warned that snake charmers and street dancers will expect payment for the photo opportunity! People will even charge you for directions!
Apparently, the standard treatment for toothache in Morocco is extraction! There are even 'tooth-extraction specialists' that can be found in souks with their pliers at the ready!
Morocco is one of only three countries to have a coastline along both the Atlantic Ocean and Mediterranean Sea. The other two are Spain and France.
Arabic is the official language of Morocco.
They grow barley, wheat and citrus fruits, rear livestock, catch fish and produce wine here.
The country's industry consists of food processing, leather goods, textiles and phosphate rock mining and processing.
Morocco exports fish, clothing, transistors, crude minerals, inorganic chemicals and fertilisers.
Want to call your friends in Morocco?  You'll need to use the international dialling code +212.
Do you know any fun, strange or interesting facts about Morocco you'd like to share here?  Share them here in the comments section below!