13 Beguiling Facts about Belgrade
Ancient and imposing in places, Belgrade is a stunning city that's growing ever-more popular with tourists. Here are some fun facts about Belgrade worth remembering.
1. Where is Belgrade?
Belgrade is the capital city of Serbia.
2. It's a pretty big city!
The total land area of Belgrade is 139 square miles (360 square kilometers)…that's around 5 times the size of Leicester, England!
3. It's amazingly dense.
Belgrade's population was 1,182,000 in 2015…that's roughly 3.6 times the population of Leicester…and gives it a population density of around 8,504 residents per square mile.
4. It's not far from the sea.
Belgrade is located 384 ft above sea level.
5. Belgrade is impressively hot!
Serbians living in Belgrade enjoy a humid subtropical climate with almost 1 in every 3 days reaching 30°C and over. Despite this, it boasts an average annual temperature of only 12.5°C.
6. Here's the compass details.
Looking to fly yourself to Belgrade? You'll need the co-ordinates of 44.8167° N, 20.4667° E to get there.
7. Belgrade's museum scene is incredible.
Make sure you visit one of the many museums if you're in Belgrade; you'll discover a wealth of knowledge from this awe-inspiring city and its wonderful history.
8. What's the local lingo?
The official language of Belgrade is Serbian.
9. It's truly an ancient city.
Did you know that people have inhabited Belgrade for the past 7,000 years, making it one of Europe's oldest cities? Incredible!
10. It's never been the same city for too long.
During its vast history, Belgrade is alleged to have been destroyed and rebuilt 40 times!
11. Change up that cash!
Serbian Dinar is the official currency here.
12. It's fast becoming a tourist paradise.
Serbia welcomed 922,000 tourists into the country in 2013, many of whom visited Belgrade for its ancient fortress, luscious green parks and cosmopolitan lifestyle.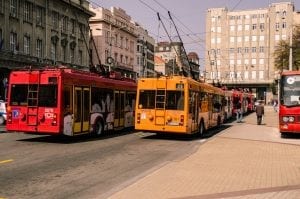 13. Sok it to me!
Fancy ordering a refreshing fruit juice whilst in Belgrade? 'Sok' is the word you're looking for!
FAQs about Belgrade
Is it considered safe in Belgrade?
Modern Belgrade is considered very safe, however, it always pays to be safe rather than sorry!
Which country was Belgrade the capital of before Serbia?
Before Serbia split away, Belgrade was once the capital of Yugoslavia.
Is it expensive to live in Belgrade?
Not really! It's said to be 60% more expensive to live in New York, by comparison!
Do you know any fun facts about Belgrade? Share them in the comments below!
This page was last modified on August 3, 2023. Suggest an edit