17 Brilliant Facts about Botswana
Looking to boost your knowledge of the countries of the world and increase your chances of being crowned the next pub quiz champion? Why not start by learning these interesting facts about Botswana!
1. Botswana is pretty much surrounded.
Botswana is a landlocked country in Southern Africa; it borders Zimbabwe, South Africa, Namibia and Zambia.
2. Change up your cash!
The currency is called the Botswana 'Pula'.
3. What is the official language of Botswana?
English is the official language but Setswana is also a major language here.
4. Many people call the country home.
In 2018 the population of Botswana is reported as 2.254 million.
5. However, there's a reason why it's not exactly packed.
The country is sparsely populated because it is simply so dry.
6. What is Botswana's capital?
Gaborone is the capital of Botswana; over 10% of the population live here.
7. Life averages here are low, but higher than some African expectancies.
Life expectancy is relatively low here – an average of 68.81 years (2017).
8. Botswana trades in all kinds of things.
Botswana's export market consists of diamonds, copper, nickel and beef.
9. They specialize in beef for a reason.
Because the country is so dry, the ground is too arid to support anything agricultural apart from cattle.
10. Diamonds have helped to stabilize Botswana.
As a highly successful producer of diamonds (the world's biggest diamond producer, that is!), this country is now a middle-income nation.
11. Animals and green life are widely protected here.
Botswana protects some of Africa's largest areas of wilderness; nearly 40% of the land here is national parks and wildlife reserves.
Botswana is home to endangered specials such as cheetahs, brown hyenas (Piri), Kori bustards, and Pel's fishing owls.
Other animals include the rhino, bushbaby, giraffe (Thutlwa), baboon (Tshwene), hippo (Kubu), leopard (Nkwe), lion (Tau) and elephant (Tlou)… to name just a few!
12. Botswana safaris make big money.
Such wildlife supports a popular safari-based tourism industry which is another important source of income.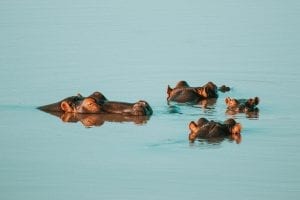 13. It has its own desert.
Botswana is home to the Kalahari Desert; a diminishing number of bushman hunter-gatherers live here.
14. Tune in!
Incredibly, state-run TV only arrived in 2000, with the launch of Botswana Television!
15. Botswana is gradually getting connected.
In December 2011, there were around 167,000 internet users – thats only about 7% of the population.
16. What do people eat in Botswana?
The national dish of Botswana is called 'Seswaa'. It's a stew of boiled meat, maize meal and greens. Sounds yummy.
17. Grab your phone!
Want to call your friends in Botswana?  You'll need use the international dialling code which is +267.
FAQs about Botswana
Do sausages grow on trees in Botswana?
Yes - but not literally! Thy grow on the indigenous 'sausage tree' which bears sausage-shaped fruit that can weigh up to 15 pounds!
Is Botswana a poor country?
Before the 1960s, Botswana was once considered a poor nation. However, thanks to interest in their exports, the nation has grown in wealth and prosperity.
Is Botswana safe to visit?
Botswana is actually considered one of the safest countries in Africa for tourists to visit, however, petty crime is still a concern.
Do you know any fun facts about Botswana?  Share them in the comments below!
This page was last modified on July 26, 2023. Suggest an edit