Downton Abbey, first aired on ITV during the New 10s, was something of a TV revolution. This hugely popular look at the lives of Lords and Ladies in middle England has found fans all over the world. Creator Julian Fellowes even brought the series to the big screen in 2019, with a feature-length movie having sealed off the original series' run.
While the series has now ended, there have been plans to bring more Downton stories to the small screen, for example in the form of a prequel. However, while we likely will see Downton Abbey again in some form or other in future, it remains massively popular on streaming platforms. But how much do you actually know about the Granthams and Crawleys? Here's a full fact file to help clue you in.
Highclere Castle is the famous location for the filming of Downton Abbey. It's an estate based in Hampshire and has belonged to the Carnarvon family for generations.
In fact, Downton creator Julian Fellowes wrote the series with Highclere in mind and is a close friend of the Earl and Countess of Carnarvon.
Believe it or not, while Harry Potter saw an increase in interest for owls, Downton Abbey actually increased interest in butlers – and not just in the UK. It's thought that a massive spike in trained butler positions occurred between 2010 and 2012, with territories as far and wide as China and Russia getting into the service game.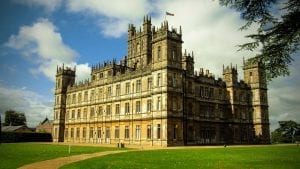 In fact, it's thought that Downton Abbey was indirectly responsible for encouraging China to open its first ever butler school by 2014!
Highclere Castle itself has been many things over the years, including a recovery hospital of sorts for soldiers during World War I. This inspired events during season two of Downton Abbey, where the house was also used to help treat wounded soldiers across storylines on the show.
Julian Fellowes is actually thought to have taken a lot of inspiration for Downton's format from US TV shows. In particular, he cites formats for shows such as ER, Thirtysomething and Chicago Hope as being clear inspirations – in the sense that he liked 'all those stories going at once', typical of Downton Abbey's multiple character arcs and storylines operating alongside each other.
Believe it or not, the production tried to stay as close to the time period as possible by enforcing a 'no wash' rule regarding period clothing. The costumes were thought to smell pretty bad after a time – and were even patched up!
Downton Abbey is thought to have a variety of famous fans, though there are perhaps viewers of the show no more famous than the Queen, who, reportedly, loves 'picking out mistakes'.
Jim Carter, who plays Carson, is a prolific actor beyond Downton, and actually practices magic in his spare time, too.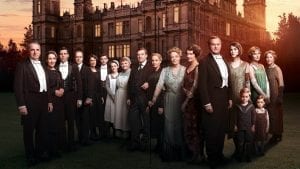 Many will also recognise his famous wife, Imelda Staunton, who appeared in the Downton Abbey movie, and who is best-known to a generation as the monstrous Dolores Umbridge in the Harry Potter film series.
Elizabeth McGovern was not the first actor to be approached for the role of Cora Crawley. Gillian Anderson was actually offered the chance to take the role, though she would eventually turn it down. Anderson is perhaps most famous as Dana Scully in The X-Files.
Downton Abbey has grown to become nothing short of a TV phenomenon. It is thought that at least 120 million people around the world have seen at least one episode. It's been broadcast in more than 250 million countries, too.
Some of the series' scenes were actually filmed on a separate sound stage. The servant's quarters, in particular, were filmed outside of Highclere as a result of the quality of quarters at the castle itself. Many of the bedrooms were filmed in a studio, too.
In fact, there was actually only one set for the bedrooms – it was redecorated again and again depending on the scenes being shot at the time. "If you're very smart, you'll look out the window and it's always the same view," production designer Donal Woods revealed. So now you know – worth taking a look back? Most likely!
Do you have any interesting or fun facts about Dowton Abbey that we've missed?  Share them here in the comments section below!