14 Wonderful Facts about Windsor Castle
Windsor Castle is, of course, one of the most iconic royal landmarks in the UK. In fact, it remains an official residence of the British royal family.
It's become a hugely popular site of interest for tourists visiting the Windsor area, and has a remarkable history behind it.
Of course, you will learn more about its history if you plan a visit – but let's get you started with a stack of fun facts about Windsor Castle, and what you can expect to find here.
1. It's been a part of the English landscape for a long time!
Windsor Castle has stood for more than a millennium. It was built as a fortress for William the Conqueror. Fascinatingly, it has endured centuries of sieges and attacks, making it one of the most successful fortified strongholds in England. No wonder the Queen enjoys staying here!
2. Is the Queen home?
The Queen will always let you know when she's in – as the Royal Standard will be flying. When the Queen isn't in residence, you'll normally see a Union Jack flying above the tower instead.
3. Days of wine and dollies?
You'll find that Queen Mary's dollhouse is a popular fixture here. It is thought to be one of the biggest of its kind, offering a full wine cellar, running water and energy supplies. There's even a library you can actually read from, too!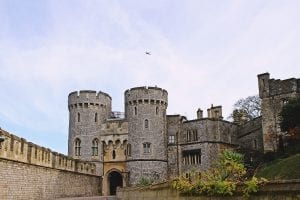 4. Monarchs are laid to rest here.
Windsor Castle is actually a popular burial site for monarchs over the years. It's thought that at least ten former kings were buried here, including Henry VIII, who lies in St George's Chapel.
5. Art lovers rejoice!
The Castle is a fantastic employer for fans of art, literature, and culture. There are many people who work in the Castle to help curate and look after its extensive libraries, as well as to help welcome guests on guided tours.
6. It's impressively secure.
Windsor Castle is fully guarded due to its establishment as a royal place of residence. It is here where you can watch the 'changing of the guard', a ceremony which takes place daily throughout spring and summer.
7. Training matters!
Believe it or not, all the guards employed at Windsor Castle are trained, regimented soldiers. Their roles at the Castle are purely temporary. However, it is likely to be one of the most precise jobs they will ever take on. It is also a great honor!
8. It's a major employer in the area.
Windsor Castle is also home to 150 attending staff who wait on the royal family when in attendance. They have homes at the Castle to ensure they can be on hand at all times.
9. It's withstood all manner of attacks.
Windsor Castle, as stated, is a pretty mighty fortress. It saw off attacks through the 1200s and 1400s as well as operating as a defensive keep throughout the ages. In enlightened times, it is of course now a residence and a fascinating place to tour.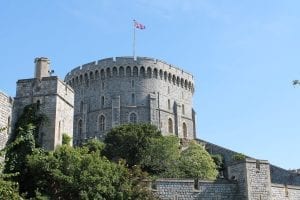 10. Windsor Castle is a record-holder, too.
There is no other palace or castle in Europe which has been occupied for as long as Windsor Castle. It's been a royal residence for centuries, dating back to the reign of King Henry I.
11. A holiday home to end them all!
Henry VIII, of course, used it as a lavish residence to host entertainments and to create stunning renaissance works of art across the walls. The king was thought to have spent millions on the opulent designs.
12. King George used it as a vantage point.
King George III was fascinated by nearby Windsor, and while staying at the castle, would often head out to explore the countryside. He was well-known with the locals, who he would check in on and show great interest in.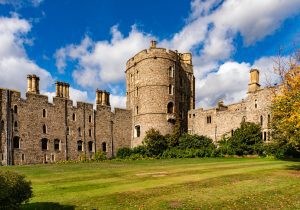 13. The castle named the family!
The royal family's elusive last name comes from the castle. 'Windsor' is their official surname; however, their official name was 'Saxe-Coburg-Gotha' leading up to the First World War.
14. Her Majesty is taxed on Windsor Castle.
The Queen voluntarily pays tax on Windsor Castle. This comes following a fire at the fortress in 1992, when the funding of repair fell to the taxpayer. However, the tax the Queen actually pays on the property – is likely to be less than you might think. She is thought, for example, to only need to shell out for up to £2,400 per year on council tax on the property. However, don't think it's cheap to move in there just yet – there's also capital gains and income tax to take into account, too!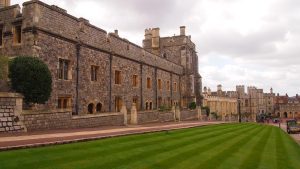 FAQs about Windsor Castle
Who lives in Windsor Castle now?
Windsor Castle is occasionally home to the reigning monarch, though their main residence remains Buckingham Palace in London.
Is it free to visit Windsor Castle?
You can tour some of the outside grounds for free, but otherwise, you need to pay a fee to explore Windsor Castle's main grounds.
How much is Windsor Castle actually worth?
Windsor Castle is worth a staggering $600 million - better start digging deep if you want to make an offer!
Further reading
https://factcity.com/tag/the-royal-family/
https://www.windsor.gov.uk/things-to-do/windsor-castle-p43983
https://www.royal.uk/virtual-tours-windsor-castle
Do you know any fun facts about Windsor Castle?  Share them in the comments below!
This page was last modified on July 26, 2023. Suggest an edit