13 Luxurious Facts about Harrods
Harrods is a department store quite unlike any other. It's one of the biggest, classiest and most famous shopping centres of its kind, standing out as one of London's most popular landmarks. Not only is it popular with shoppers and retail therapy enthusiasts, it's also one of the first points of interest for any tourists new to the city.
But how much do you actually know about the opulent shopping experience at Harrods? Here are some spectacular facts about Harrods we've pooled for your perusal.
1. Harrods is bigger than you think.
Harrods' current centre was built in the early 20th century, and at present, it's said to stretch across 1,000,000 square feet. It's truly huge!
2. Many, many people shop here.
With such a wide floor space, come thousands of customers. In fact, Harrods plays host to around 100,000 different shoppers each day! Head to the store over Christmas, and these figures are known to triple.
3. A famous bear was born here.
It's thought that AA Milne found inspiration for his popular character, Winnie the Pooh, after seeing his son playing with a Harrods' bear in-store.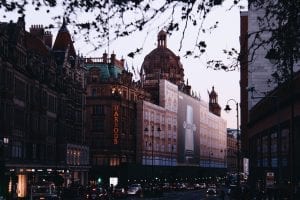 4. It's a bright experience!
Harrods is just as famous for its lighting as it is for its shopping. At night, you can see up to 12,000 bulbs illuminate the store!
However, it's thought that around 300 of these bulbs need changing each day, meaning there's always someone on hand to change things over.
5. Photography is banned in some corners of the store.
Harrods has 'Visitor Guidelines'. This means you won't be able to wear specific clothing or take photos in certain areas of the store.
6. There are plenty of rules to follow.
One of the most intriguing rules states that you must not wear crash helmets in store at any time! As an added security measure, you must carry all backpacks by hand or on your front, not on your back.
7. It was a trailblazer.
Harrods was the first building in England to benefit from an escalator. While you'll find them up and down the UK nowadays, it was unique in 1898, where the experience was thought to leave visitors feeling somewhat dizzy!
8. There's been an interesting security guard or two here.
Harrods is one of the most secure buildings in London. However, did you know that it was once home to a security cobra? A colossal snake once helped to guard a pair of sandals – no joke – encrusted in diamonds and rubies. At £62,000, they were worth protecting!
9. How's that for a booby prize?
Harry Gordon Selfridge, owner of Selfridges department store, once had a replica of Harrods built in silver. Why? It was a gift after Selfridge lost a bet over which store would make the biggest profit.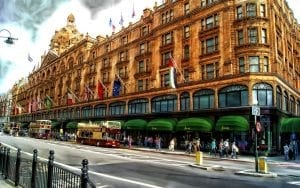 10. It used to house a domestic zoo.
Harrods used to offer pet shop facilities. In fact, it was only recently when the store stopped selling live animals. Until 2014, you could buy exotic pets – and it's said that you were once able to buy tigers, alligators and even elephants here.
11. Times have changed!
Until 1916, even cocaine could be bought in Harrods!
12. It's a haven for foodies.
Harrods offers over 20 different restaurants and cafés, with afternoon tea and Eastern cuisine available as standard.
13. You can buy pretty much anything you want here.
The store lives by its motto – Omnia Omnibus Ubique. This translates to 'All Things for All People, Everywhere'. Essentially, the store believes you should be able to buy anything you want from inside their coveted, colossal departments!
FAQs about Harrods
Are you able to walk into Harrods without an appointment?
Yes, generally - however, you may only be able to browse at certain times of day.
Can you wear jeans in Harrods?
No - ripped jeans are off the dress code, as are sandals and even 'dirty' clothes! Better scrub up!
What does Harrods pay staff well?
Harrods staff can earn anywhere between £23,000 and £95,000 per year, as of 2021.
Do you know any fun facts about Harrods?  Share them in the comments below!
This page was last modified on September 12, 2021. Suggest an edit