🇵🇰 17 Interesting Facts about Islamabad 🇵🇰
Like to know a little more about the capital cities of the world? Take a look at these 17 interesting facts about Islamabad!
Geographical stats…
Islamabad is the capital city of Pakistan.
Wondering how to say the name of this wonderful city? It's pronounced Is-la-muh-bad.
The total land area of Islamabad is 350 square miles (906 square kilometres)…
…that's nearly twice the size of Leeds.
Islamabad's population was 1.015 million in 2017…
…that's slightly less than double the population of Leeds…
…and gives it a population density of around 3,900 residents per square mile.
Islamabad is located 1,770 ft above sea level.
Residents of Islamabad are known as Pakistanis.
Founded in 1960, Islamabad is a very green and luscious city, surrounded by beautiful mountains.
Despite being founded as a city a mere 56 years ago, Islamabad is actually one of the earliest known human settlements in Asia and boasts some of the earliest stone age artefacts in the world, dating back more than 500,000 years!
Pakistanis living in Islamabad enjoy a humid subtropical climate with five seasons (winter, spring, summer, rainy monsoon and autumn) and an average annual temperature of 21°C.
Looking to make your own way to Islamabad? You'll need the coordinates of 33.7167° N, 73.0667° E to get there.
Make sure you visit Pir Sohawa if you're in Islamabad; it's the city's highest tourist spot, delivering breathtaking views across the city. There's also an eatery providing delicious lunches and even wild monkeys who are free to roam around!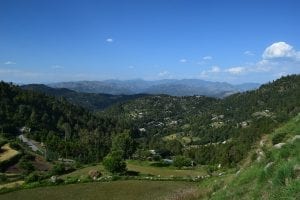 Social intricacies
The official language of Islamabad is Urdu, although English, Punjabi and Pashto are also spoken here.
Pakistani Rupee is the official currency here.
Pakistan welcomed 966,000 tourists into the country in 2012, many of whom visited Islamabad for its cosmopolitan vibe and urban-meets-countryside lifestyle.
Do you know any fun or interesting facts about Islamabad?  Share them in the comments below!