Like to know a little more about the capital cities of the world? Take a look at these 18 interesting facts about Bangkok!
Geographical stats…
Bangkok is the capital city of Thailand.
Wondering how to say the name of this wonderful city? It's pronounced Bang-cock.
The total land area of Bangkok is 606 square miles (1,569 square kilometres)…
…that's the same size as Greater London!
Bangkok's population was 9,270,000 in 2015…
…that's almost 1,000,000 more people than Greater London…
…and gives it a population density of around 15,297 residents per square mile.
Bangkok is located 5 ft above sea level.
Residents of Bangkok are known as Bangkokians.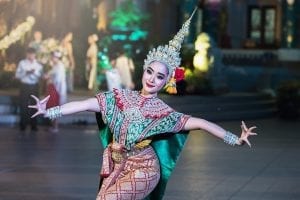 Bangkokians enjoy a Tropical Savanna climate with three seasons (hot, rainy and cool) and an average annual temperature of 29.1°C. In fact, temperatures can soar as high as 40.2°C and rarely drop below 20°C!
Looking to fly yourself to Bangkok? You'll need the coordinates of 13.7563° N, 100.5018° E.
For an experience like no other, make sure you visit the floating market if you're in Bangkok; as the name suggests, locals moor up their craft and sell fresh fruit, vegetables, coconut juice and local food on the riverbank!
Social intricacies
The official language of Bangkok is Thai.
Thai Baht is the official currency here.
Although you probably know this incredible city by the name 'Bangkok', its actual name is, wait for it… Krungthepmahanakhon Amonrattanakosin Mahinthara Yutthaya Mahadilok Phop Noppharat Ratchathani Burirom Udom Ratchaniwet Mahasathan Amonphiman Awatansathit Sakkathattiya Witsanukamprasit… and breathe!
Thailand welcomed 24,810,000 tourists into the country in 2014, many of whom visited Bangkok for its vibrant nightlife, excellent value-for-money tailoring and unforgettable culture.
In fact, according to the MasterCard Global Destinations Cities Index 2015, Bangkok is the 2nd most visited city, after London!
You may be presented with 3 different gender options when going to the washroom in Bangkok. Confused? Thailand has begun introducing separate toilets for those who identify as transgender as a step toward accepting all genders.
Do you know any interesting or fun facts about Bangkok that we've missed? Share them here in the comments section below!