Looking to boost your local knowledge of this spectacular country? Take a look at these 24 interesting facts about Cyprus to see how much you already know…
Geographical stats…
Cyprus is a sunny island nation in the eastern Mediterranean.
Its nearest neighbours are Turkey to the north, Syria and Lebanon to the east, Israel and Egypt to the south and Greece to the west.
Whether you're looking to chill out on the beach or explore the wonderful sights this unique country has to offer, head for the coordinates of 35.0000° N, 33.0000° E to discover Cyprus for yourself!
Cyprus is the most easterly island in the Mediterranean.
The central plain is surrounded by stunning mountains to the north and south; there are also plains scattered along the southern coast.
The total land area of Cyprus is 3,572 square miles (9,251 square kilometres)…
…that's almost three times the size of Cornwall.
That makes it the third largest island in the Mediterranean after Sicily and Sardinia!
Cyprus' population was 1.7 million in 2018…
…that's a little over twice the Cornish population.
Residents here are known as Cypriots.
The capital is Nicosia; it covers an area of 43 square miles (111 square kilometres) and had a population of 251,000 in 2014.
Cypriots enjoy a mediterranean climate with hot, dry summers and cool winters – perfect!
Interestingly, the island is divided into two divisions; the northern part of the country is ruled by Turkey, whilst the south is independent. The division even runs through the capital city, which both divisions share.
Cyprus boasts a UNESCO World Heritage Site that encompasses an entire town! History lovers will be excited to learn that Paphos features ancient tombs, fortresses and palaces!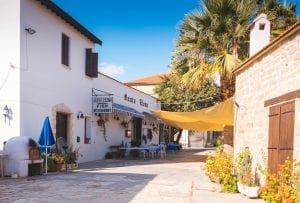 Adrenaline junkies will be pleased that, believe it or not, Cyprus is home to Europe's most southerly ski lifts!
Cyprus boasts around 140 endemic species of plant!
Social intricacies
The official languages of Cyprus are Greek and Turkish.
Like many European countries, the official currency here is the Euro.
Cypriots live for an average of 79 years.
Foodies rejoice – Cyprus is the home of halloumi! Yum! An application has been lodged with the EU to recognise the delicious cheese as a traditional Cypriot product and thus can only be called halloumi if it has been made in Cyprus!
Industry insights…
Its industry comprises tourism, food and beverage processing, ship repair and cement and gypsum production.
The main exports consist of potatoes, pharmaceuticals, citrus fruits, clothing and cement.
Do you know any interesting facts about Cyprus that we've not mentioned?  Share them here in the comments section below!