12 Sensational Facts about Cyprus
Cyprus is a natural wonder. Not only is it one of the absolute sunniest countries on the planet, it's absolutely ripe with fantastic history and is steeped in legend! Did you know that you can even ski in the morning in Cyprus and sunbathe in the afternoon? Here are some more fun facts about Cyprus well worth clueing up on for that next big pub quiz.
1. Cyprus is the product of volcanic eruption.
Cyprus exists after volcanic activity under the sea 90 million years ago brought the island to the surface. There is a brilliant natural rock formation in the shape of an amphitheater underwater!
2. It's a huge source of copper.
Geologists have long known that Cyprus has important mineral deposits. Troodos, a hilly mountain region in South Cyprus, is the home of one of the top five sites for copper in the world.
3. The country is famous for its unique cheese!
Halloumi is native to Cyprus but now eaten all over the world. It is a white semi hard salted cheese – eaten raw in salads, it is delicious cooked for use in soups, with pasta or stuffing vegetables!
4. In fact, you can only ever get halloumi from Cyprus!
Halloumi is so revered by the islanders, it has been 'patented'! Other countries are forbidden from making it – it has become a valuable export.
5. The country is famous for its sweet snacks, too.
Sold in coffee shops and by vendors on streets, loukoumades are popular sweet treats!  Covered in melted honey, these crispy golden pastries are formed from small dough balls which are fast fried. Scrumptious!
6. Cyprus has been hot property for a very long time.
Phoenicians were the first to colonize Cyprus. They were followed by Assyrians, Egyptians and Persians. The Ottomans ruled Cyprus until the British arrived in 1914 – Cyprus became a British Colony in 1925. It's been taken over by just about everybody, it seems!
7. Cypriot tipples are famous the world over.
Famous Cypriot drinks include the cocktail especially made for Egypt's King Farouk –
the Brandy Sour! It can be ordered all over the globe these days, but it originated in the Forest Park Hotel. A mix of Cypriot brandy with lemon squash or lemonade and a dash of bitters, it is served over ice.
8. Cyprus produces all kinds of things!
Cyprus has a firm place in international export. Its popular exports include pharmaceuticals, clothing, cement, citrus fruits, potatoes and halloumi cheese!
9. The church system here helps to run the banks.
Cyprus' strong links with religion go all the way to its main source of finance. The biggest bank on the island is actually owned by the Orthodox Church!
10. There's a north-south divide.
Cyprus has seen some division over the years, and there is still a 'green zone' in the middle of the island. Greek settlers live in the south, while Turkish settlers generally live in the north. They are both governed separately, though some territories do not officially recognize North Cyprus.
11. Be careful with cabbies!
You'll never get change from a cab driver in Cyprus – it's just part of the local way of things! Instead, they'll take your extra cash left over as a tip! So, if you don't want to be extra generous – pay in exact money!
12. Cypriot wine is genuinely ancient.
Cyprus plays a fabulous host to the oldest wine in the world – Commandaria. Commandaria is older than the modern calendar – locals were drinking it back in 3,000 BC!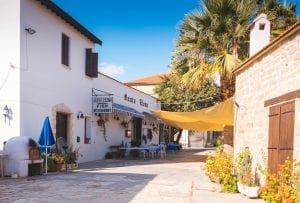 FAQs about Cyprus
How big is Cyprus, exactly?
Cyprus covers an area of 9,251 square kilometers. However, it crams a lot into that space!
What is the capital of Cyprus?
Nicosia is the capital of Cyprus. Also called Lefkosia, it is unique for still having an ancient border wall highlighting how Cyprus was divided into two sides.
Is Cyprus Greek or Turkish?
It's a good question - and it is generally a mixture of both, if not purely 'Cypriot'! There are both Greek and Turkish influences here. However, a Turkish invasion in recent history has continued to divide the nation, with most Turkish islanders living in the north of Cyprus. It's wise to avoid talking about this topic with local people to avoid upsetting anyone!
Do you know any fun facts about Cyprus? Share them in the comments below!
Are you fascinated with the islands of the Med? Check out these fun facts about Malta!
This page was last modified on July 30, 2023. Suggest an edit