12 Astounding Facts about Ancient Rome
Rome is well-known for being one of the most beautiful cities in the whole world. Its incredible cuisine, stunning architecture, and rich history make it one of the most popular tourist destinations ever! Yet, we all have quite a lot left to learn about the Eternal City! Here are some seriously fun facts about Rome you'll want to retain.
1. Where is Rome, anyway?
Rome is the world-famous capital city of Italy, situated in the heart of the central-western edge of the Italian Peninsula. It is surrounded by the Apennine Mountains.
2. Starting roaming around Rome!
Rome covers an area of about 1,285 km2, or 496 square miles. That makes it slightly bigger than New York City!
3. How many modern Romans are there?
As of 2022, there were 4,298,000 people living in Rome! And, as we all know, people living in Rome are known as Romans, not to be confused with the Ancient Romans!
Keeping in mind that statistic about NYC – more than eight million people live there – meaning Rome is half as dense! Plenty more room to "roam," then!
4. Rome is an ancient city.
If you ever feel old, think how Rome feels! The city is actually 2,774 years old – older than our modern calendar measures. No wonder there's so much history to take in here!
5. It's a true tourist haven.
Rome is one of the most visited cities in all of Europe. In fact, the city receives between 7-10 million tourists every year! Better start looking into a quiet period or two if you want to beat the crowds!
6. The Eternal City is older than its country.
What's really strange about the Eternal City (as it's known to many) is that it's actually been around for longer than Italy has as a nation. That's a serious accolade we don't think has been beaten elsewhere!
7. Living history!
Rome is known for its incredible touches of history visible throughout the city streets! In fact, if you would like to see some of its most iconic monuments, check out the Colosseum, the Pantheon, the Vatican City, or the Trevi Fountain for some instant wonder!
8. From ancient to tiny record-breakers!
Speaking of Vatican City, did you know that it is, in fact, the smallest country in the world by area and population? While Rome surrounds it, Vatican City is actually an independent city-state! Followers of the Catholic faith will already know the Vatican is home to the Pope, and is therefore an important pilgrimage site for millions of Christians.
9. Its heritage is well-recognized.
If you do ever get the chance to see Rome, know that you'll be visiting an enormous UNESCO World Heritage Site! The city is home to more than just the monuments mentioned above but also art galleries, museums, and stunning ancient ruins.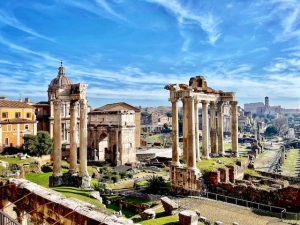 10. It's a city of churches.
Given the city's importance in the Catholic faith, it stands to reason that there are many sites of worship across Rome for people to visit. In fact, it has more churches than any other city worldwide – more than 800 at last count!
11. Let's go shopping!
We pretty much have the Romans to thank for modern shopping experiences and lazy Saturdays hanging around not doing much! That's because the world's first shopping mall of sorts came to prominence in Rome back in 107 AD. You can even see some of the ruins of the 150+ market rooms to this day!
12. Lovely weather!
Rome has a Mediterranean climate. This means that it gets hot summers and only mild winters. So, it's pretty much the perfect spot to visit at any time of the year!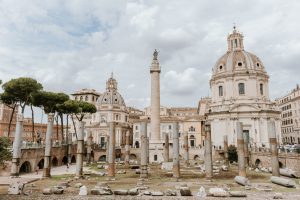 FAQs about Rome
What is Rome famous for?
Rome is world-famous for its stunning architecture, tourist attractions, amazing food, vibrant nightlife, and more! It is also known for its incredible history, thanks to it being at the center of the Roman Empire for its duration!
How many days do you need to enjoy Rome?
One could argue that you can never get enough time in Rome! However, if you can visit the city on holiday, then ideally, you should be there for no fewer than four to five days. That should give you just enough time to visit the main tourist attractions and feast on plenty of pizza, pasta, and gelato!
Is Rome worth visiting?
Yes, Rome is definitely worth seeing for yourself. If you can, visiting it out of season is a great way to avoid the bustling crowds and will make seeing the tourist attractions far more memorable!
Further reading:
https://factcity.com/tag/Italy
https://romesite.com/
https://www.rome.net/
Do you know any fun facts about Ancient Rome? Share them in the comments below!
This page was last modified on July 26, 2023. Suggest an edit