35 Brilliant Facts about Bangladesh
Bangladesh, is a country in South Asia that's known for its lush green hills, rivers, tasty food, and vibrant folklore. Located on the Indian subcontinent, it lies between the Himalayas and the Bay of Bengal.Walk down the world's longest natural beach, or travel to the Sundarbans Reserve Forest, which includes the largest mangrove.
Besides its natural beauty, Bangladesh is also recognized for its artistry and traditions. But, is that all? On a contrary, here are some interesting facts about Bangladesh that'll show you what this colorful country has to offer…
1. Bangladesh has plenty of borders.
Bangladesh's neighbors are India to the West, North and East, Myanmar (Burma) to the south-east and the Bay of Bengal to the south.
2. It's a fairly large country.
It has a total area of 56,977 square miles (147,570 square kilometers).
3. Want to find it on the map?
The coordinates for Bangladesh are 23.7000° N, 90.3500°
4. There's barely any elbow room!
It has a population of 164.7 million (2020), which works out as a population density of 2890 people per square mile, more than 4 times that of the UK, making it the most densely population country in the world!
In fact, Bangladesh is such an extremely densely populated country – the majority live in an area the size of Pennsylvania.
5. Its population is mostly home-grown.
Over 98% of the people are Bengalis, predominantly Bangla-speaking people.
6. It's also predominantly Muslim.
Bangladesh has the 4th largest Muslim population in the world.
7. What's the capital of Bangladesh?
Bangladesh's capital is Dhaka, which has an area of 315 square miles (816 square kilometers) and a population of 8.906 million (2011).
Dhaka is the 5th largest city in the world and the world's most densely populated city with 44,500 people per square kilometer.
8. Seriously – Dhaka is packed!
Dhaka's density is 10 times that of Madrid, and four times higher than the 9th city on the same ranking, Singapore.
9. What does "Bangladesh" mean?
The name "Bangladesh" is composed of 2 words; "Bangla," the native name of the Bengali language, and "desh", country.
10. Do people speak English in Bangladesh?
Bangladesh has its own language called Bangla – Bangla (Bengali) and English are the official languages of Bangladesh.
11. The life expectancy is fairly impressive.
The average life span here is 72.32 years (2018).
12. The country's mother tongue is very important to its citizens.
There were many heroic sacrifices in Bangladesh's history for the preservation of their native language. On the 21st of February, 1952, many courageous citizens fought to establish "Bangla" as the official language of Bangladesh.
UNESCO declared the 21st of February the International Mother Language Day on the 17th of November, 1999. As of the 21st of February, 2000 this day is officially celebrated worldwide.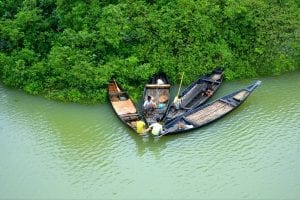 13. It had a different name in ancient times.
The earliest reference to the region was to a kingdom called Vanga, or Banga (1000 BC).
14. Different religions took center stage.
Buddhists reigned for centuries in the region, but by the 10th century, Bengal was primarily Hindu.
15. It only officially became a country in the 1970s.
Bangladesh as a country did not exist before 1971. In the past, the region of Bengal was ruled by a list of Indian, Turkic, and Mughal dynasties as well as the British.
16. Islam started emerging here in the 16th century.
In 1576, Bengal became part of the Mogul Empire, and the majority of East Bengalis converted to Islam.
17. Bengal was British-ruled until post-World War II.
Bengal was ruled by British India from 1757 until Britain withdrew in 1947, and Pakistan was established out of the two main Muslim regions of the Indian subcontinent.
18. It has a long history with Pakistan.
For almost 25 years after independence from Britain, the country's history was part of Pakistan's.
West and East Pakistan were unified by religion (Islam), but their people were divided by culture, physical features, and 1,000 miles of Indian territory.
Until its independence in 1971, Bangladesh was "East Pakistan".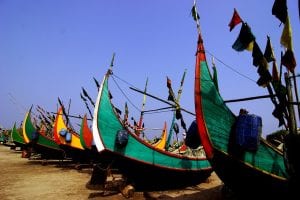 19. Bangladesh has some amazing landmarks.
Under the Mughal rule, in the south-western part of Dhaka, the beautiful fortress Lalbagh Kella (or the Fort Aurangabad) located on the banks of the river Buriganga was built.
Some of the main attractions of this historic fortress include the spectacular Lalbagh Mosque, the Audience Hall, the Hammam Khana which was Nawab Shaista Khan's bathing place, and the grand Tomb of Pari Bibi.
20. Its religious architecture is truly stunning!
Dhaka is also known as "the City of Mosques," as there are numerous gorgeous mosques in the town.
Some of the most stunning mosques are the Baitul Mukarram National Mosque, the Chawk Mosque, the Musa Khan Mosque, the Saat Masjid, and the Sitara Mosque.
21. Bangladesh is largely flat.
Bangladesh is mostly made up of incredibly flat, low-lying land which is subject to annual flooding from melting snow from the Himalayas.
Its landscape is made up of 67% arable land, 16% forest and woodland, 4% meadows and pastures, 2% permanent crops and 11% 'others'.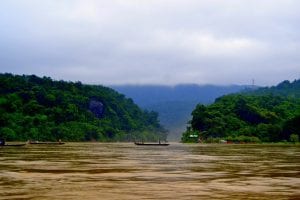 22. It's a nation of farmers.
An incredible 95% of the population here are farmers! Despite this however, more money is made from exporting garments than agriculture.
23. Howzat?
Despite Kabaddi (Ha-Doo-Doo) being the national sport, cricket is by far the most popular sport here.
24. Bangladesh has a famous beach.
Bangladesh is home to Cox's Bazar, the world's longest uninterrupted beach at an amazing 77 miles (125 km) long! Let's go!
25. Choose right, not left!
You must always pass things or shake hands with your right hand as using your left is considered rude!
26. What can you spend in Bangladesh?
The Bangladeshi Taka is the currency here.
27. Bangladesh has a varied industry.
Bangladesh produces rice, tea, jute, wheat and beef…and has an industry consisting of cotton textile, jute, garments and tea processing.
Bangladesh exports jute and jute goods, garments, leather, frozen fish and seafood.
To call your friends in Bangladesh, you'll need to use the international dialling code +880.
28. UNESCO has recognized architecture here.
A famous Bangladesh attraction is the Sixty Dome Mosque, affirmed as a World Heritage Site by UNESCO in 1985. It's the biggest mosque from the Sultanate period in Bangladesh.
29. One man was responsible for bringing much of the country's infrastructure to life.
Khan Al-Azam Ulugh Khan Jahan, or simply Khan Jahan Ali, was a celebrated Sufi saint as well as the ruler of the southern part of Bangladesh. He built many mosques, madrasas, roads, and bridges in Bagerhat, Khulna, and Jessore.
30. Bangladesh's seasonal calendar is fascinating.
Bangladesh is sometimes called "the playground of seasons" because it has six fully distinct seasons.
The country's seasons are summer, monsoon, autumn, late autumn, winter, and spring. Every season comes with different crops, fruits, lifestyles, and festivals. Each season is celebrated with a different festival.
31. Bangladesh is a natural paradise.
When it comes to nature Bangladesh has numerous gorgeous natural attractions. Forests, rivers, mountains, animals, beaches, and many others.
32. Things flow fast here!
Bangladesh has the second-fastest river in the world, right after Amazon. Its name is "Padma".
33. There are many, many rivers in Bangladesh.
There are also more than 700 rivers located in Bangladesh. Padma, Jamuna, Meghna are some of the most scenics.
34. The forestry here is always worth exploring.
Bangladesh's prime touristic attraction is the World's biggest single block of a tidal halophytic mangrove forest called the Sundarbans. You will find this stunning forest in the south-western part of Bangladesh.
The Sundarbans provides a unique ecosystem and a rich wildlife habitat. The forest is home to the Royal Bengal Tiger, in addition to lizards, crocodiles, boars, jungle fowls, monkeys, and a variety of beautiful birds.
35. Better get running!
One last little known fact – you can hear the roar of a Royal Bengal Tiger from 3 km away!
FAQs about Bangladesh
Is Bangladesh a safe country?
Yes, on the whole, Bangladesh is seen to be safe for travelers, however, it can be rather cramped if you're used to wide open spaces!
What is Bangladesh famous for?
Bangladesh is famous for its stunning mosques, its long, winding rivers, and its busy market scenes.
Do you know any fun facts about Bangladesh?  Share them in the comments below!
This page was last modified on July 29, 2023. Suggest an edit