🦀 35 Clever Facts about Crabs
Crabs, also known as 'spiders of the sea' can walk slowly in any direction, but when they need to hurry, they usually move sideways.
Whether slowly or in a hurry, they help coral reefs to survive by cleaning away debris that might otherwise kill the reefs.
Crabs are very important to the environment and an important source of food for a wide range of other creatures, including humans. With over 6,700 species of crab worldwide, their overall numbers are considered large but unknown for most species. We know so little about these tasty and environmentally friendly creatures! Why wait any longer! Let's start browsing through these facts on Crabs!
Crabs have been around since Jurassic times, more than 200 million years ago.
Crabs are decapod crustaceans which have a very short tail and are covered with a thick shell, or exoskeleton and are armed with a single pair of claws.
Crabs are invertebrates (animals without a backbone). Their exoskeleton protects them from predators and provides support for their bodies.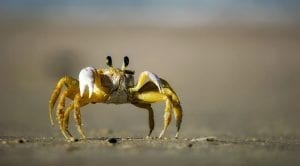 They have flattened bodies, two feeler antennae, and two eyes located on the end of stalks, and they are 10-legged animals.
Crabs can be as small as the pea crab which is only a few millimetres wide to the Japanese spider crab which can have a leg span up to 4 m (about 13 feet).
The brush-clawed shore crab is a recently introduced non-native crab species, first found in the Netherlands in April 2000. The crab has tufts of hair on its claws, which looks like hair from a paintbrush. Despite its much smaller size, it competes with the shore crab for food.
The Asian shore crab is an exotic species that lives on the Wadden Seaside.
The lifespan of a crab varies according to species. A blue crab lives one to eight years, while a Japanese Spider Crab lives 50 to 100 years.
Crabs kept as pets can live longer than crabs in the wild when they are properly cared for.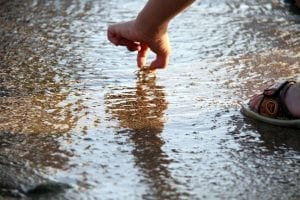 Crabs are also known as decapods. The first pair of legs is modified into claws, called chelae which the crab uses to catch its prey.
Crabs are omnivores (eats both plants and animals) and some feed primarily on algae, others feed on mollusks, worms, crustaceans, fungi, bacteria, and organic non-living material.
Most crabs have very soft feathery mouths, so they need a way to break up all the food they ingest. Instead of chewing and breaking up food in their mouths, they do this in their stomachs.
Marine crabs breathe underwater using gills. Land crabs have two cavities that act like lungs and allow them to breathe air.
Male and female crabs can be distinguished by looking at their abdomens. In most male crabs, the form of the abdomen (pleon) is narrow and triangular, while the females have a broader, rounded abdomen. Additionally, female crabs have smaller claws than male crabs.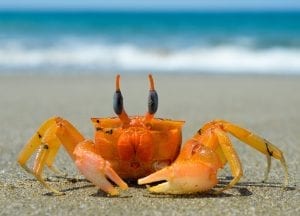 Crabs attract a mate through chemical, visual, acoustic, or vibratory means.
All species of crabs reproduce by laying eggs, but the females and males still need to mate to fertilize the eggs.
After they mate, the blue crab and others deposit two million eggs and in a two week period, the eggs will develop into larva.
Crabs cannot grow in a linear fashion like most animals. Because they have a hard outer shell that does not grow, they must shed their shells, a process called molting.
Most crabs molt six or seven times during their first year of life, and then they molt just once or twice a year.
Most crabs have many natural enemies or predators.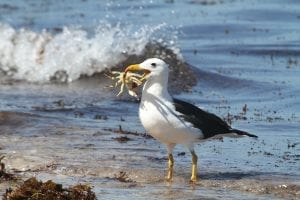 Organisms bearing similar names such as hermit crabs, king crabs, porcelain crabs, horseshoe crabs, and crab lice are not true crabs.
Crabs are widely eaten by humans, making up 20% of all marine crustaceans that are farmed or caught around the world.
1.5 million tons of crabs are being eaten annually in restaurants and homes all over the world.
Crabs are prepared and eaten as a dish in several different ways all over the world. Some species are eaten whole, while others just the claws and/or legs.
Crabs are often boiled alive. In 2005, Norwegian scientists concluded that crustaceans could not feel pain.
A study by Robert Elwood and Mirjam Appel of Queens University in Belfast found that hermit crabs reacted to electric shocks. This may indicate that some crustaceans are able to feel and remember the pain.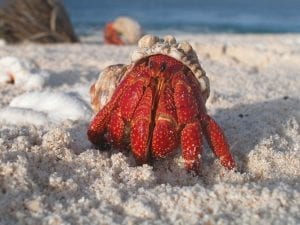 Crabmeat is very high in vitamin B12. Just 2-3 ounces of crab meat will supply an adult with the daily B12 requirement.
Crabs are mostly active animals with complex behaviour patterns. They can communicate by drumming or waving their pincers.
Some species of crabs are solitary, while others live in the group. The collective name for the group of crabs is "cast".
They live in all the world's oceans, in freshwater, and on land. But most crab species are found in the shallower ocean waters where the crabs tend to inhabit rocky pools and coral reefs.
Rangers at Christmas Island, Australia built a bridge over a busy road to help the nearly 50 million crabs make their annual migration to the sea to spawn.
The word "cancer" is related to the word "crab" in Latin. Greek physicians Hippocrates and Galen, among others, noted the similarity of swollen tumours with crab's veins.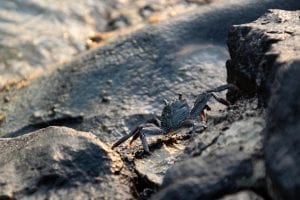 Both the constellation Cancer and the astrological sign of Cancer are named after the crab and depicted as a crab.
Are you familiar with Mr. Krabs, owner of the Krusty Krab on SpongeBob? Crabs are important characters in many shows and movies!
Do you know any fun facts about crabs?  Share them in the comments below!
This page was last modified on September 14, 2021. Suggest an edit