10 Cheerful Facts about Crete
Crete is one of Greece's most famous island resorts – but did you know that it's home to more than just sandy beaches and wonderful weather?
Crete is absolutely ripe for history and mythology dating back centuries – meaning that it's always likely to be a major draw for history buffs as well as sunshine lovers.
Here are some fun facts about Crete you'll want to remember before your next trip!
1. What's the capital of Crete?
Crete's capital city is Heraklion – and it's said to be home to more than 151,000 people at the last count. Plenty bustling, then!
2. It's truly massive!
Crete has the honor of being Greece's biggest island, a key reason why it remains so popular with tourists and locals alike. In terms of Mediterranean islands, Crete is actually the fifth-biggest. The islands of Corsica, Cyprus, Sicily, and Sardinia are bigger.
3. Break out the lyrics!
Crete is thought to be an amazing hub for poetry and the written word. In fact, the region has its own specific style of poetry known as 'mantinada'! These are poetic songs that you may find performed up and down the island.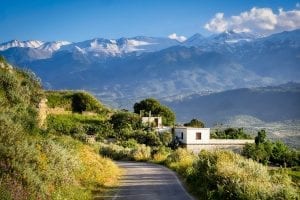 4. Gods are born here.
The island of Crete is extremely important to Greek mythology. Did you know, for example, that the almighty God Zeus is said to have been born here? How's that for local celebrity?
5. It's absolutely teeming with people.
As well as being the largest island in Greece, Crete is the most populated, too. It's thought that the island is home to more than 630,000 people in total. If added to mainland Greece, the overall population would increase by 6%.
6. Snow… in Crete?!
The weather in Crete is famously hot and sunny. However, did you know that you could actually witness snow down in the island reaches, too? You're only ever likely to witness this up in the mountains thanks to their height – but take a trip in winter, and you'll get to trek through a festive wonderland of snow.
7. There's a unique tongue here, too.
Crete has its own language, Cretan, which is actually spoken far beyond the island. It's said to be a local variation on the standard of Greek – which is easy enough to appreciate!
8. Breathe in, feel great!
Crete's air itself is the stuff of legend. The quality of the air is said to be invigorating on the island – to the point where its health-improving benefits are actually the stuff of legend. Come breathe some for yourself!
9. Name changes are common.
The island wasn't always known as Crete, going back years. It's said to have been known as Keftiu and Kaptara, too. The name's changed over the years thanks to different empires in control of the colony. However, the name Crete is said to emanate from Creta, a Latin word meaning 'chalk', or 'home'.
10. Global influences!
Crete's culture is a fascinating mash-up of various other regimes and influences. For example, you'll find some cultural ties to nearby Italy, as well as those based in Northernmost Africa. These influences are rife thanks to the island's key position between Europe and Africa.
FAQs about Crete
What is Crete most famous for?
Crete is perhaps most famous for its incredible lines of sandy beaches, as well as its mythological history. It's also very popular with traveling historians who wish to take in the ancient ruins, and to learn more about the empires that have ruled and fallen along the way.
Is Crete safe to visit?
Generally, yes - Crete is very safe to visit as a tourist. Therefore, you only really need to worry about petty crime - which is the same advice you'd receive when traveling anywhere new!
Is it cold at night in Crete?
Sometimes it can get very cold in Crete after the sun goes down. In fact, you may even find that the island climate reaches freezing point at around 32 F! This is mainly thanks to the fact that it's subject to southern winds, and is therefore significantly chillier than other islands in the Med - while still getting plenty of sunshine.
Do you know any fun facts about Crete?  Share them in the comments below!
This page was last modified on August 3, 2023. Suggest an edit