23 Interesting Facts about Hong Kong
Perhaps not a country per se, Hong Kong became a special administrative region of China in 1997 when Britain's 99-year lease of the New Territories (north of Hong Kong Island) had expired. Check out these 23 interesting facts about Hong Kong…
Hong Kong is officially known as the 'Special Administrative Region of the People's Republic of China'.
It is (currently) governed under the principle of 'one country, two systems', whereby China has agreed to give the region a high degree of independence and to preserve its economic and social systems for 50 years from the date of the handover.
The coordinates for Hong Kong are 2783° N, 114.1747° E.
Hong Kong has a total area of 426 square miles (1,104 kilometres square).
With 24 country parks, woodlands, reservoirs, hills and coastline, approximately ¾ of Hong Kong is rural.
In 2018 Hong Kong had a population of 7.451 million.
Hong Kong is becoming eco-friendly – all retail businesses were required to charge a minimum of KH$0.50 for each plastic carrier bag from 1st April, 2015.
Mongkok (situated in the Yau Tsim Mong District, on the western part of the Kowloon Peninsula) has the highest population density in the world, with an average of 130,000 people per 0.4 square mile (per square kilometre)!
Hong Kong was one of the stops in Jules Verne's 'Around the World in 80 Days', published in 1873.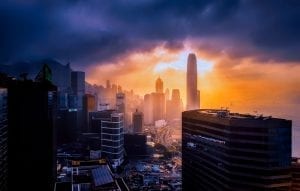 92 million visitors arrived in Hong Kong and spent an estimated whopping £22.7 billion in 2011! Blimey!
Whilst we're on the subject of money, Hong Kong is the world's most expensive place to buy a home – HKD1.5 million (£130k to you and I) will only buy you 500 square feet (2015).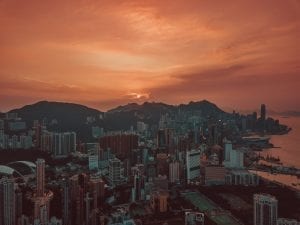 Hong Kong has the most skyscrapers in the world; 355 are taller than 150m (492ft) as of August 2019. That's more than Dubai and Tokyo combined!
Unbelievably, the shortage of land in Hong Kong has meant that residents have had to consider online burial plots as a way of commemorating their loves ones!
In 2013 Hong Kong had the third highest average IQ in the world, at 107.
The people of Hong Kong like their tea more than we do – the country as a whole consumes triple the world average of tea at a total of 9.8 million kilograms annually.
Mostly inhabited by 'Hakka' people and once one of the most affluent villages in the north-eastern New Territories, Lai Chi Wo is home to one of the oldest Feng Shui woodlands in Hong Kong.
Feng Shui means a lot to the people of Hong Kong, so much so that the government once had to compensate residents living around civil construction projects for disturbing their Feng Shui!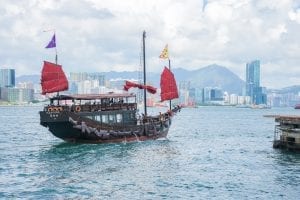 Built to protect the inhabitants from rival clans, pirates, bandits and even tigers, Kat Hing Wai is a walled village situated just outside of the town Yuen Long in the New Territories. Dating back to the Ming dynasty (1368-1644), the walls of this village are built mostly of blue bricks. To this day it is still inhabited by the descendants of those who built it!
This country is home to… *drum roll* Hong Kong Disney! Opened in 2005, it's the first Disney theme park in China and the third Theme park outside of America (Tokyo, Paris and Shanghai are the other Disney Resorts).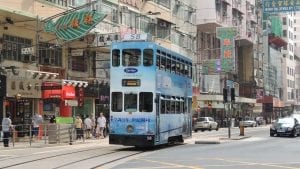 It has the world's most affordable Michelin star rated dishes… we're packing our bags!
Professor Charles Kao, the inventor of fibre optic communications and winner of the 2009 Nobel Prize in Physics comes from Hong Kong.
Want to call your family and friends in Hong Kong?  You'll need to use the international dialling code +852.
With a rich and extensive history, including the Eastern Han dynasty's (dating back to 25 – 220AD) tombs, 13thcentury ancestral halls, elegant Victorian architecture and even WWII relics (not to mention Disneyland, an abundance of delicious food and copious amounts of tea), Hong Kong has lots to offer visitors of any age.
Do you know any interesting or fun facts about Hong Kong?  Share them in the comments below!
This page was last modified on April 21, 2021. Suggest an edit