10 Mesmerizing Facts about Madame Tussauds
Madame Tussauds is by far one of the most famous tourist spots in all of the UK – it's something of an entertaining oddity, but it's immensely popular all over the world for its incredible exhibits. If you're completely new to Madame Tussauds and wonder what all the wax-flavored fuss is about, we're here to help. Here are some fun facts about Madame Tussauds to help inspire a future visit!
1. What is Madame Tussauds?
Madame Tussauds is a famous wax museum! It originated in London, England, and was founded by Marie Tussaud, a French sculptor, in 1835, hence the name of the museum!
2. "It's like its eyes are following me!"
Madame Tussauds is known for its lifelike wax figures of celebrities, historical figures, sports stars, and other notable personalities. Each figure is meticulously crafted to resemble the person it represents. So, if you've ever wanted a selfie with your favorite celebrity but can't seem to cross paths with them, this is a great place to go!
3. They're here, they're there, they're everywhere!
If you can't travel to London, then you will be glad to know that Madame Tussauds has expanded beyond its original location! It now has exhibits and branches in several major cities worldwide, including New York City, Los Angeles, Sydney, Tokyo, and Hong Kong!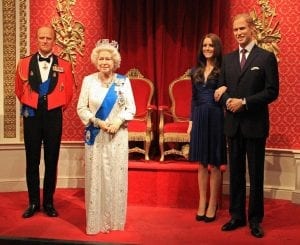 4. Who's who at Tussauds?
If you're wondering what kind of figures you might look forward to seeing, there's pretty much every A-lister you can think of! These include Elvis Presley, Marilyn Monroe, Albert Einstein, Barack Obama, and Queen Elizabeth II, among many others!
5. There are interactive exhibits here, too!
Unlike other museums where you're mostly separated from the art and sometimes even asked not to take photos, Madame Tussauds is highly interactive! They allow visitors to take photos with the wax figures, pose alongside their favorite celebrities, and even touch and interact with certain exhibits!
6. It's a painstaking process!
As you might imagine, taking serious time to make these lifelike figures is a long process! It involves detailed measurements, photographs, and hours of meticulous sculpting and hair insertion. But, in the end, look at those wonderful waxy results!
7. There's more than just wax here.
Not only do you get chance to interact with the wax figures, but there are also plenty of other attractions! These include 4D theaters, interactive experiences, and behind-the-scenes tours that provide insights into the art of wax sculpting! You get some serious bang for your buck here, for sure!
8. It's a hit with millions.
As you can imagine, Madame Tussauds has become a very popular tourist attraction! In fact, around 2.5 million visitors each year come to be able to get up close to their idols and experience a sense of connection with famous personalities.
9. Pick a theme!
Don't worry about having to trail through all of Madame Tussauds to find your favorite personality! In fact, Madame Tussauds provides themed sections and exhibits that reflect local culture and history!
10. They're always relevant.
You also don't have to worry about only seeing public figures that your grandparents and parents know! Madame Tussauds constantly updates its collection to reflect current popular culture and trends. New figures are regularly added to keep the museum's displays fresh and relevant to visitors, so you're bound to find the ones you're looking for!
FAQs about Madame Tussauds
How much does it cost to make a Madame Tussauds waxwork?
Including all of the materials and artist labor it takes to make a Madame Tussauds wax figure, it costs about $212,500 every time! That's a heck of an investment!
Where is the most famous Madame Tussauds?
Given that it is the original museum and the place that kick-started the waxwork revolution, the London Madame Tussauds is generally considered to be the most famous of them all. However, some do consider the New York establishment to be equally if not more famous.
Can you take your own pictures in Madame Tussauds?
Yes, you can! In fact, visitors are encouraged by Tussauds to bring their own cameras, selfie sticks, and more to make their own memories!
Further reading:
https://factcity.com/tag/Museum
https://www.madametussauds.com/london/
https://www.findingtheuniverse.com/madame-tussauds-london/
Do you know any fun facts about Madame Tussauds? Share them in the comments below!
This page was last modified on September 1, 2023. Suggest an edit