62 Sensational Facts about Singapore
This city-state is one of the world's most popular travel destinations! Officially known as the Republic of Singapore, the country symbolizes a melting pot of culture and history and an extravaganza of culinary delights.
Singapore is one of the world's most prosperous countries, a financial centre, and achievement in urban planning. To see why this city-state serves as a model for developing nations, read these 62 interesting facts about Singapore…
Geographical stats…
Singapore is an island city-state in Asia.
Despite being a city-state, Singapore also includes more than 60 islets, although most of these are uninhabited.
Its nearest neighbours are Malaysia to the north and Indonesia to the east, south and west.
To explore this wonderful country and all that it has to offer, head for the coordinates of 1.3000° N, 103.8000° E.
The country is located 137 km (85 miles) north of the equator, and just south of Peninsular Malaysia. Singapore's Strait in the south divides the island from Indonesia's Riau Archipelago.
Singapore is the smallest state in Southeast Asia occupying an area of 728 km².
Making it one of the 20 smallest countries in the world.
The terrain here is low lying and gently undulating.
Singapore's population was 5,704 million in 2019…
That makes Singapore one of the most densely populated countries in the world with more than 20,000 people per square mile!
Residents here are known as Singaporeans.
As a city-state, Singapore is both the country and the capital.
Singaporeans enjoy a tropical climate with little temperature variation and two monsoon seasons; the northeastern monsoon season is from December to March, whilst the southwestern monsoon season runs from June to September.
The lowest temperature ever recorded in Singapore was 19.4°C on the 31st January 1934!
The tallest building in Singapore is the Tanjong Pagar Centre at 290 meters.
The tallest indoor waterfall in the world is located in Singapore at the Gardens by the Bay, and it stands at a height of 35 meters.
The Complex Food Centre in Chinatown, with over 260 food stalls, is the largest seller centre in all of Singapore.
There are only 3 city-states that exist in the world, and Singapore is one of them, other than Monaco and Vietnam.
Singapore boasts the world's first nocturnal zoo, where it is possible to go on night safari to fully immerse yourself in the world of nocturnal animals!
The Fountain of Wealth in Singapore is the largest fountain in the world and reportedly cost US$6 million!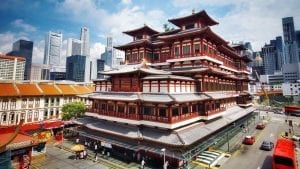 You are not allowed to build a structure higher than 280m in Singapore due to the low-flying air traffic.
The tallest natural point in Singapore, Bukit Timah Hill, is only 164 meters high.
There are over 3000 kilometres of roads in Singapore.
Social intricacies
The official languages of Singapore are English, Mandarin, Malay and Tamil. A fifth local lingo, Singlish is also widely spoken by locals.
A total of 27 Singlish words have actually made it to the Oxford dictionary.
Since 1905, Singapore has changed its time zones 6 times! Now, just to be in sync with Malaysia its time zone is GMT+8 even though it should be in the GMT +7.5 time zone.
The Palembang prince, Sang Nila Utama, thought he saw a lion on the island, hence the name Singapura, which means "lion city" in Sanskrit.
Singapore is the least corrupt city in Asia and the 5th least corrupt in the world.
If you hope to buy a Singapore Sling (an alcoholic cocktail) or a couple of jars of Coconut jam whilst in Singapore, you'll need to exchange your spending money for Singapore Dollars – the official currency here.
This signature drink, the Singapore Sling was first served at the Long Bar in Raffles Hotel in 1915.
Singaporeans live for an average of 83.15 years (2018).
Military service is mandatory for all men in Singapore for two years after finishing high school. And every year, servicemen need to return to train till they are 40 years of age.
One out of every six people in Singapore has assets worth 1 million USD or more.
The Singapore government heavily discourages using private vehicles,. Car owners in Singapore have to pay a tax 1.5 times the value of the car to get their vehicles certified!
Not sure what the words of the national anthem are? They can be found on the back of each S$1000 note!
You can enjoy free movie screenings 24/7 at Singapore's Changi Airport.  Terminals 2 and 3 for 2D movies, and Terminal 4, for 4D cinema.
Random facts
Only those with medical prescription can chew gum in Singapore, otherwise, it's banned!
The largest size of Yakult bottles in all of Southeast Asia can be found in Singapore.
Collectively, Singaporeans are the fastest walkers in the world, at a speed of about 6.15 km. per hour!
There's an official Tintin shop in Singapore's Chinatown.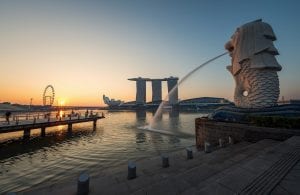 There is an actual law against not flushing the public toilet after using it in Singapore, and you will be fined 150 SGD if you get caught.
In the 1970s, the government imposed a ban on long hair for males, afraid of the growing hippie culture across the globe.
There's a National Tree Planting Day in Singapore. It's officially celebrated on the 7th November.
Beating is still a legal form of punishment in Singapore.
Standing 165 meters high, the Singapore Wheel is the second-highest in the world, losing first place ranking to 'The High Roller' in Las Vegas, USA by only 2 meters!
The mythical creature Merlion, the ambassador of Singapore, is a half lion and a half fish.
The first-ever park devoted exclusively to gardening is the HortPark in Singapore.
The Singapore Grand Prix Racing Circuit is not only the first one in all of Asia but also boasts of having held the first-ever F1 night race in 2008.
The entire economy of Singapore is based on shipping, and everything from sand to freshwater is imported.
The Changi Airport in Singapore has been voted as the World's Best Airport … not once, but eight times in a row!
The highest homeownership rate in the world is in Singapore at 92%!
Today, about 80% of the Singaporean population is living in government-subsidized houses.
Singapore is the 5th largest arms importer in the entire world, according to the Stockholm International Peace Research Institute.
Singapore has the biggest retractable dome in the world, with a diameter of 312 meters, and the ability to easily shelter 55,000 spectators from sun and rain.
On average, two new restaurants open every day in Singapore.
Citizens of Singapore do not need a VISA to go to China, South Korea, North Korea, or the United States.
Littering is a huge offence in Singapore. If found littering small items, you will have to pay 300 SGD as a fine.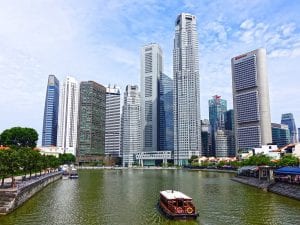 Certain topics are out of bounds for discussion in the public, and you will land in trouble if you choose to speak about them, like criticizing the government.
The only Singaporean feature film to have been awarded the Camera d'Or award at the Cannes Film Festival is Ilo Ilo, directed by Anthony Chen.
Industry insights…
Singapore grows fruit, copra, rubber and orchids; they also rear poultry.
Its industry consists of chemicals, electronics, oil drilling equipment, petroleum refining and financial services.
Singapore exports machinery and equipment, chemicals, consumer goods and mineral fuels.
Do you know any fun, strange or interesting facts about Singapore that we've missed?  Share them here in the comments section below!