14 Powerful Facts about St Paul's Cathedral
St Paul's Cathedral is a grand Anglican cathedral and one of the most famous landmarks and popular tourist attractions in London. Read on to learn 14 fun facts about St Paul's Cathedral.
1. People have worshipped here for centuries!
There has been a place of worship on the site of St Paul's Cathedral in Ludgate Hill, London since 604 AD.
2. The old St Paul burned to a crisp.
The Great Fire of London (from Sunday, 2 September to Thursday, 6 September 1666) reducing two-thirds of the City to a smoking desert and old St Paul's to a ruin.
3. The new St Paul is a designer build!
The new St Paul's Cathedral is now a Grade 1 listed building and was designed by the famous architect Sir Christopher Wren (Born 30 October, 1632).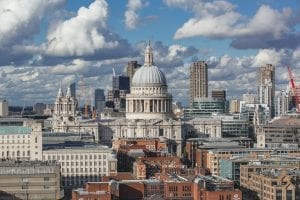 4. It was a labor of love over four decades.
Construction of the existing St Paul's Cathedral started in 1675 and took 40 years to build.
5. Its architect has a special place there.
Sir Christopher Wren became the first person to be buried at St Paul's Cathedral, after he died in March, 1723 aged 90.
6. In fact, it's a popular burial ground for many!
Many other famous names are buried here and include Horatio Nelson, Florence Nightingale, Lawrence of Arabia and George Washington.
7. One of the most famous weddings of all time took place here.
St Paul's Cathedral is one of the most iconic wedding venues in the UK, hosting Prince Charles and Princess Diana's wedding in 1981.
8. The Cathedral is gargantuan!
The dome of St Paul's reaches the impressive height of 111 meters (366 ft) and weighs an equally impressive 66,000 tons! It was actually the tallest building in London for over 250 years.
9. Better get those steps in!
259 steps leads up to the magnificent Whispering Gallery, a circular walkway that hugs the base of the dome offering a view of the cathedral floor below.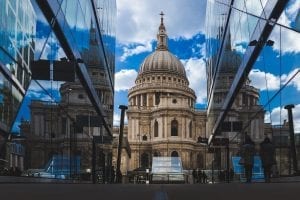 10. St Paul has been seen in many a movie.
St Paul's Cathedral has appeared in numerous films, including Skyfall (James Bond), Mission Impossible, Harry Potter and the Prisoner of Azkaban, Mary Poppins, and Lawrence of Arabia.
11. You can get to St Paul on the tube.
Visiting St Paul's?  You'll want to use the London Underground Central Line.  The stop is imaginatively named "St. Paul's Station".
12. It's an affordable day out.
There is an admission fee to explore St. Paul's Cathedral – it currently costs £17 for adult tickets that are bought in advance. (Price correct as of 2021).  Click here to check up-to-date information.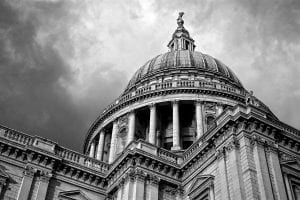 13. The bells, the bells!
Cast in 1878, there are 12 huge bells that hand in the north west tower of St Paul's. The largest 'tenor' bell weighs over 3 tons!
14. …no, really, the bells!
There are also three clock bells. The largest, Great Tom, weighs over 5 tons, and as well as striking the hours, is tolled on the death of senior members of the Royal Family, the Archbishop of Canterbury, the Bishop of London, the Dean of St Paul's or the Lord Mayor of London.
FAQs about St Paul's Cathedral
How long did renovations and repairs at St Paul's Cathedral take before completion in 2011?
Renovations, repairs and cleaning took 15 years to complete before scaffolding was finally removed in 2011!
Can I get married in St Paul's Cathedral?
You can only marry in the Cathedral if you have a family link - it's an exclusive club!
Is it free to visit St Paul's Cathedral?
Yes, but only if you intend to worship - it's open to a free service every day.
Do you know any interesting facts about St Paul's Cathedral?  Share them in the comments below!