18 Sensational Facts about Sweden
Located in Scandinavia bang in-between Norway and Finland, Here's 18 fun facts about Sweden…
1. Sweden is more than just a country.
Sweden is a Scandinavian country in Northern Europe, with thousands of tiny islands surrounding the mainland.
2. What are people from here called?
Residents here are known as 'Swedes' (noun), or 'Swedish' (adjective).
3. Sweden has plenty of neighbors, as well as a coast.
It is bordered by Norway to the west and Finland to the northeast. It also has a coastline along the Gulf of Bothnia to the east and the Baltic Sea to the south.
The coordinates for Sweden are 59.3500° N, 18.0667°.
4. It's a generally flat country.
The terrain here is mostly flat or gently rolling lowlands with mountains in the west.
5. Sweden is probably bigger than you think.
The total land area of Sweden is 173,732 square miles (449,964 square kilometers).
This makes Sweden the third largest country in the EU after France and Spain!
6. However, it's not that jam-packed!
Sweden's population was 10.35 million in 2020.
Because of its large stature and relatively low population, Sweden has one of the lowest population densities in the EU!
7. What's the capital of Sweden?
Stockholm is the capital; it covers a total of 73 square miles (188 square kilometers) and has a population of 965,232 (2017).
8. There are many islands to Sweden.
Stockholm is actually built upon 14 islands and is surrounded by the Stockholm Archipelago which consists of an incredible 30,000 islands and islets!
9. You'll live for a long time in Sweden.
The average life span here is a very healthy 82.56 years (2018) – this is one of the highest in the world!
10. It's generally pretty cold here.
The climate in the north is subarctic, whilst the south is temperate with cold, cloudy winters and cool summers… sounds like the UK!
11. Look to the skies!
Sweden is one of the few countries in the world where it is possible to experience the 'Northern Lights'!
12. What's the lingo?
The official language of Sweden is Swedish – a North Germanic language that closely resembles Norwegian and Danish.
13. Sweden doesn't use the Euro as currency.
The Swedish Krona is the official currency here; make sure you take lots of spending money to buy your odd flavor ice cream…
14. There's a unique golfing experience in Sweden.
The Green Zone Golf Club is the only golf course in the world to straddle not only two countries, but two time zones as well! 9 holes are located in Sweden, whilst the remaining 9 are in Finland!
15. It's a nation of inventors.
Allegedly, the pacemaker, refrigerator, astronomical lens and safety match were all invented either in Sweden, or by Swedes who weren't living in Sweden!
16. Who needs a 99?
Salty Liquorice is apparently one of the most popular flavors of ice cream in Sweden! Don't forget your spending money!
17. Plenty of produce emanates from Sweden.
Sweden grows barley, wheat and sugar beats, rears livestock and produces dairy products.
Its industry consists of iron and steel, precision equipment, processed foods, wood pulp and paper products.
Sweden also exports motor vehicles, pulp and wood, paper products, iron and steel products, chemicals and machinery.
18. It's easy to get in touch with Sweden.
Want to call your family or friends in Sweden?  You'll need to use the international dialling code +46.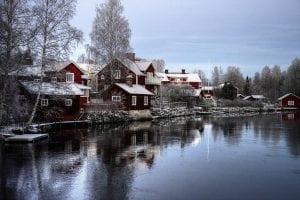 FAQs about Sweden
Is Sweden safe to visit?
On the whole, yes, Sweden is safe to visit - however, if you are a tourist, you need to keep as safe as you would anywhere else!
Is English widely spoken in Sweden?
Around eight out of ten people in Sweden speak English, though it is not always a guarantee you'll find people speaking it amongst themselves.
Is it expensive to live in Sweden?
As one of the most desirable places to live in Europe, the cost of living in Sweden is quite high - so you'd better save those pennies!
Do you know any interesting or fun facts about Sweden? Share them in the comments below!
This page was last modified on August 3, 2023. Suggest an edit