🇲🇸 18 Monumental Facts about Montserrat
Looking to boost your knowledge of the big wide world? Why not start with these 18 fun facts about Montserrat!
Montserrat is a British Overseas Territory located in the Caribbean Sea.
Its nearest countries are St. Kitts and Nevis to the North West, Antigua and Barbuda to the North East and Guadeloupe to the South East.
It has a total area of only 39.4 square miles (102 square kilometers).
For the explorers amongst you, the coordinates for Montserrat are 16.7500° N, 62.2000°
Montserrat's population was 5,215 in 2019. This figure is so low because an estimated 8,000 people fled in 1995 due to an unfortunate volcanic eruption.
Plymouth was the capital before the volcano erupted, but Brades has since become the new capital. Brades has an approximate population of 1000.
The terrain here is mostly mountainous with an active volcano in the South of the island.
Montserrat enjoys a tropical climate with little temperature variation throughout the seasons.
The average life expectancy here is 74 years.
The currency of Montserrat is the East Caribbean Dollar, making it nice and easy should you wish to hop across to any neighboring islands for the day!
Montserrat is the only country other than Ireland to recognise Saint Patrick's Day as a public holiday!
If you're a food lover like us then you'll be in heaven here! You can walk over to a beach shack and order delicacies such as lobster burgers, coconut cream pie and garlic shrimp all whilst listening to live reggae music and sipping ginger beer. Bliss!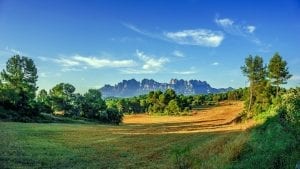 Montserrat's official language is English.
The island is often referred to as the 'Emerald Isle of the Caribbean' because of its similarity in shape to Ireland!
They grow carrots, cabbages, tomatoes, cucumbers, onions, peppers and produce livestock products here.
Perhaps unsurprisingly, the country's main industry is tourism. It does, however, also produce rum, textiles and electronic products.
Montserrat exports electronic components, clothing, plants, vegetables, livestock and plastic bags!
The international dialling code for this sunny country is +1664.
Do you know any interesting facts about Montserrat? Share them in the comments below!
This page was last modified on November 4, 2021. Suggest an edit