10 Mystical Facts about Mustique
Ever fancied a trip to the Caribbean? If you have your heart set on a paradise getaway for your next vacation, there's a good chance you've heard of the island of Mustique before. It's a sunny spot that lives up to its name – in that it's a gorgeous island with lots of mystique to uncover. How much do you know about this celebrity hideaway? Here are some fun facts about Mustique you might want to keep in mind.
1. The island is part of Saint Vincent.
Mustique is an island that's technically part of Saint Vincent and the Grenadines, which is an island nation in the eastern Caribbean. It is a privately owned territory, and it's managed by the Mustique Company, a consortium of homeowners on the island.
2. It's pretty small compared to other Caribbean hideaways.
Mustique is relatively small, covering an area of about 1,400 acres (5.7 square kilometers). However, it is still home to plenty of villas! In fact, the island has around 100 private villas available for rent!
3. Colin Tennant bought the island and turned it into a private paradise.
Mustique was purchased by Scottish aristocrat Colin Tennant in 1958. He then developed it into a private retreat for the rich and famous, which it has remained since then!
4. It's an exclusive resort that's highly private.
Since the island is so well-known for welcoming celebrities, it also has a reputation for exclusivity and privacy. The island has very strict rules to adhere to in order to maintain the privacy of its residents and visitors.
5. It is home to many wild animals.
Celebrities are not the only ones who frequent Mustique. In fact, the island is home to diverse wildlife, including sea turtles and a wide variety of bird species. In fact, a part of the island is designated as a nature preserve, where visitors can explore its natural beauty. The animals benefit from the privacy and protection, too!
6. Mustique is home to Macaroni Beach.
One of the most famous areas on the island is Macaroni Beach. The beach is known for its stunning white sand and turquoise-blue waters, and you'll find it nestled between the local mountains.
7. It's popular among watersports enthusiasts.
One of the main reasons people visit the island is for the variety of water sports that unfold here. Visitors can often enjoy a range of water activities, including snorkeling, scuba diving, sailing, and deep-sea fishing!
8. There's even a music festival or two that take place each year on the island.
Every year, Mustique hosts the Mustique Blues Festival. The festival brings renowned blues musicians and music enthusiasts from around the world.
9. There are exclusive clubs and attractions for exclusive guests, too.
Mustique welcomes its guests with its beautiful views and friendly people, but also with its incredible amenities. Some of the most famous attractions on the island include the Cotton House, which is a luxury boutique hotel, and Basil's Bar, known for its lively atmosphere, music, and cocktails.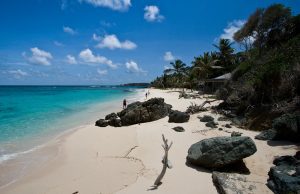 10. The golf course has unforgettable views.
Even those who do not enjoy golf tend to visit the island's famous nine-hole golf course. This is because of the beautiful views of the Caribbean Sea that the course provides!
FAQs about Mustique
Who lives in Mustique?
Mustique has multiple residents and many famous people who own homes on the island. Some of the most famous homeowners include Mick Jagger, Tommy Hilfiger, Bryan Adams, and more! It certainly costs more than a pretty penny to live out here, so better start saving now!
What is Mustique known for?
Mustique is known for having beautiful views, beaches, and outdoor activities. However, it is mostly known for having many famous residents and visitors. That said, as a highly private and exclusive resort, it's not too often you'll meet someone who has legitimately visited the island.
What is the climate in Mustique?
Mustique has a tropical climate. It has no dry season and enjoys hot and bright days year round! This means that visiting the island at any time of the year is ideal. Just make sure you have access to the exclusive resort first!
Further reading
https://mustique-island.com/
https://www.travelandleisure.com/trip-ideas/mustique-saint-vincent-and-the-grenadines
Do you know any fun facts about Mustique? Share them in the comments below!
This page was last modified on September 11, 2023. Suggest an edit