21 Beautiful Facts about the Bahamas
Looking to boost your knowledge of the Caribbean? Why not start with these 21 interesting facts about the Bahamas!
The Bahamas is an archipelago of about 700 islands, 2,400 islets and cays located in the Atlantic Ocean.
Its nearest neighbours are USA to the West, Cuba to the South West and the Dominican Republic to the South East.
It covers a total area of 5,382 square miles (13,940 square kilometres), consisting of 3,865 square miles of land and 1,494 square miles of water.
Should you wish to aim your boat for paradise, the coordinates for the Bahamas are 25.0667° N, 77.3333° W!
Bahamas' population was 385,640 in 2018.
Nassau is the capital and covers an area of 80 square miles (207 square kilometres) and has a population of 266,100 (2016).
The terrain here is mainly low, flat coral formations with stunning sandy beaches and tropical foliage.
Bahamas enjoys a semi-tropical climate with warm weather all year round, with the summer months being more humid and susceptible to rain and warm waters lapping onto its shores. Let's head off right now…!
With a highest point of only 206 feet (63 metres), the Bahamas are easy to navigate, meaning you can choose a different beach each day! We can think of worse decisions to make!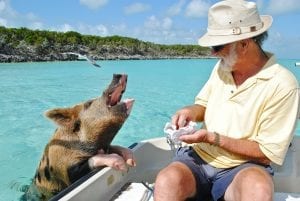 The average life expectancy here is 73.55 years (2017).
The name 'Bahamas' comes from the Spanish words 'baja mar', which translates as shallow water or sea.
This stunning country is home to the deepest blue hole in the world, Dean's Blue Hole, at an unimaginable 202 metres deep!
The currency of Bahamas is the Bahamian Dollar and is equivalent to the US Dollar, which is also widely accepted here.
If swimming with pigs takes your fancy, just head down to Pig Beach!
Bahamas official languages are English and Creole.
Plant lovers unite! There are 120 species of plants that are found exclusively in Bahamas!
If you love diving, you'll be spoilt for choice because there's a network of caves underneath the islands, created by acid rain when the sea levels were far lower than they currently are. Oh how we want to explore!!
They grow citrus fruits and vegetables and rear poultry here.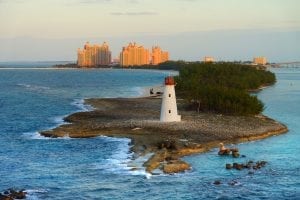 Not surprisingly, the country's main industry is tourism. It does, however, have other industries including banking, e-commerce and oil refining and transhipment.
Bahamas exports fish, salt, rum, chemicals, fruits and vegetables.
Want to call your friends in the Bahamas? The international dialling code for this beautiful group of islands is +1242.
Do you know any interesting or fun facts about the Bahamas that we've missed?  Share them here in the comments section below!