A Sensational Rum and Chocolate Chilli con Carne Recipe!
Serves: 4
Preparation time: 25 mins
Cooking time: 30 mins
The South American country of Guyana produces some excellent brands of rum that includes the famous Eldorado rum. The accessible coastal regions and river banks of Guyana were once replete with plantations many of which grew sugar cane which provides molasses to create this mesmeric alcoholic nectar.
Over 70% of todays cocoa beans are produced in West Africa but they originate in the Amazonian rainforest of South America.
I have chosen to use both rum and chocolate in this adapted chilli con carne recipe both to honor my own Guyanese heritage but also because it is a super-yummy change to the classic version!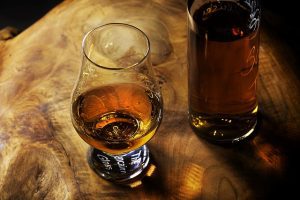 Trivia
Q: Where can you buy Guyanese rum?
A: Most good supermarkets and specialist spirit sellers market at least one type of Guyanese rum.
Q: How does ageing affect the flavour of rum?
A: Barrel aged rum benefits from further development of flavor, becomes more intense in color and viscidity.
Q: What is the difference between light and brown rum?
The ageing. Light rum has the same alcohol content but is aged for less time. It's lighter flavour is best suited to cocktails.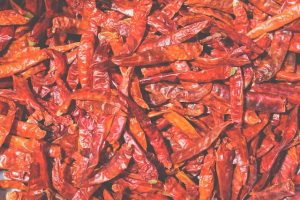 Rum and Chocolate Chilli: Ingredients List
454g Minced Beef (about half a pound)
2-3 tsp Virgin Coconut Oil 
1 inch piece of fresh Ginger sliced into matchsticks
1 Onion roughly chopped
1 Carrot cubed 
1 Aubergine cubed
1 Garlic clove (or more if you like it garlicky)
2 tsp Paprika
1/2 tsp Garlic Salt
1/2 tsp ground Cinnamon
2 tsp whole black Cumin seeds or 1tsp of powdered cumin
1 tsp dried Chilli flakes (or more if you can handle it)
1 good pinch dried Oregano
1 good pinch dried Marjoram
1 Tin Tomatoes
150 ml Beef stock
3-4 capfuls of dark Guyanese Rum 
2 squares of Dark Chocolate 
1 Tin Red Kidney Beans
On the side
Generous dollop of plain Yoghurt or Sour Cream
1 deseeded Sliced Green Chilli
1 deseeded diced Fresh Tomato
Zest of 1 Lime
Method
Heat a large shallow pan to a medium heat. Empty the fresh or frozen beef mince into the dry pan. Allow the meat to cook by moving and turning it now and again. If you agitate it too frequently the juices will escape and the meat will steam/boil instead of frying. Fluctuate heat strengths up and down to ensure the meat browns well without burning. Remove from pan and empty into a bowl. Put to one side.
Add the oil to the meat pan or a pressure cooker pan and heat on medium again for a few moments.
Fry the ginger in the oil for 2-3 minutes until fragrant.
Add the onion to the pan and fry for a couple of minutes more then add all of the vegetables to the pan and stir well to coat the vegetables in the oil. If this is cooking too fast then turn the heat down a little. Cook for a few minutes stirring frequently.
Add the spices, herbs and garlic and keep stirring.
Place the set aside cooked meat in the pan with the vegetables and stir.
Add the rum to the pan and stir again for a min.
Add the beef stock and tin of tomatoes to the pan.
Bring to the boil.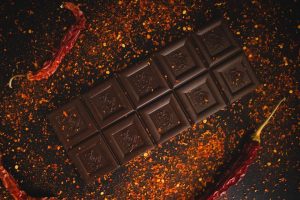 Cover the pan with a lid and simmer for 30 mins or until the meat is soft.
If using a pressure cooker, cover with lid, heat to high pressure and maintain for about 11 mins. Remove from the heat.
Now add the chocolate to the chilli con carne and stir in until melted.
Drain the tin of kidney beans and add to the mix. Let the beans absorb the heat of the dish for a moment then it is ready to serve.
Into a bowl of fresh plain yoghurt or sour cream add the fresh sliced chillies and diced tomato. Zest a lime on top of the bowl to serve with the chilli.
Serve with tortilla chips, cornbread, rice or baked potatoes and veg/salad/salsa of your choice.
This page was last modified on September 13, 2023. Suggest an edit