9 Brilliant Facts about Bedfordshire
Sausage rolls, rowing, and historic agriculture – for those who don't know about Bedfordshire, you are in for a treat! This is by far one of the UK's most picturesque and well-connected counties, and it has plenty to offer both to tourists and its cherished locals! So, let's acquaint ourselves with this British county together. Here are some fun facts about Bedfordshire!
1. Where is Bedfordshire?
As mentioned above, Bedfordshire is a county in the UK. To be more precise, it is a county situated in the East of England. It borders Hertfordshire, Cambridgeshire, Northamptonshire, and Buckinghamshire.
2. Don't get it twisted!
On your first trip to Bedfordshire, you may come across signs for Bedford. Do not be alarmed, the road sign manufacturers have not decided to start leaving the last parts of words off! Bedford is simply the county town of Bedfordshire. It is based across the River Great Ouse.
3. Let's go wandering!
Bedfordshire is particularly well-known for its picturesque countryside. You can enjoy popular rambling areas such as the Chiltern Hills, the Dunstable Downs, and the Greensand Ridge all in one county area. It's a great region for outdoor photography, too – so be sure to get snapping!
4. The wonderful Woburn Abbey!
If you are super-interested in seeing some of the more culturally interesting highlights of the county, head straight to Woburn Abbey! It's not only home to Bedford's Earls and Dukes, but you'll need to watch out for exotic animals – as it is also a well-known safari park!
5. You're always well-connected in Bedfordshire.
If you're looking for a way into Bedfordshire, then try Luton Airport! It is an international airport with access routes to around 70 different global destinations, too – meaning if you're already in the area and fancy flying abroad, you have tons of options!
6. Wander into Whipsnade!
If you're keen on getting your fill of wild critters in Bedfordshire, then Whipsnade Zoo is your next port of call. It is situated in Dunstable and is known for being one of the biggest zoos of its kind in the UK – and, it's even helped to bring some endangered species back from the brink of extinction. There are more than 10,000 animals here!
7. Back to school…
If you're set on studying in the UK, the University of Bedfordshire is a popular establishment with campuses in both Bedford and Luton. It's particularly popular thanks to its fantastic arts facilities – and law students can even practice in a mock courtroom!
8. Take a step or two into the past.
Bedfordshire has deep connections with its history. Popular tourist spots such as the Luton Hoo estate, the ruins of Houghton House, and the Wrest Park mansion and gardens are particularly great places to visit if you want some insight into England's distant (yet still rather modern) past.
9. Row, row, row your boat!
That being said, Bedfordshire isn't just well-loved for its history! It's also the ideal place for outdoor activities such as boating, fishing, and more, which you'll find particularly pleasing on the River Great Ouse!
10. The Bedford River Festival has it all.
Speaking of rivers, did you know that Bedfordshire holds the Bedford River Festival every year? It takes place in the county town and offers fantastic water-based activities and competitions, live music, and great entertainment for the whole family!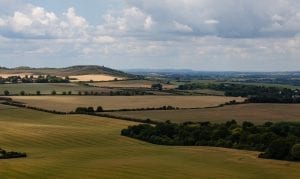 FAQs about Bedfordshire
Is Bedfordshire a nice place to live in?
Bedfordshire is a great place to live in! Thanks to the ample public transport both in and out of the county, the region's stunning natural beauty, rich history and historical landmarks, and quaint little towns and villages, Bedfordshire tends to get "thumbs up" from most residents and visitors.
What is Bedfordshire famous for?
Bedfordshire is known for its educational prowess, stunning views, animal-spotting, and even some local cuisine! While you're in the area, try the traditional Bedfordshire Clanger (it's a type of suet dumpling)!
How far is Bedfordshire from London?
There are approximately 38 miles (just over 61 km) between Bedfordshire and London. By train, it usually takes about an hour and 11 minutes to get from Bedford to London. In fact, it's usually best to take the train, as the route in the car is a little longer and can be a bit of a nightmare during rush hour!
Further reading:
https://factcity.com/tag/UK
https://www.beds.ac.uk/
https://www.experiencebedfordshire.co.uk/
Do you know any fun facts about Bedfordshire? Share them in the comments below!
This page was last modified on July 26, 2023. Suggest an edit