39 Brilliant Facts about Brussels
Brussels, the capital city of Belgium is world famous for its exquisite lace, delicious chocolate, and numerous varieties of beer, but what else is there to know?
Whether you've been to Brussels or you're considering the city as your next European destination, we've rounded up 40 interesting facts about Brussels, which might just surprise you…
Europe's political centre
1. A political powerhouse…
Brussels is home to the European Commission, the European Council, the Council of the European Union, and the European Parliament.
2. Important headquarters
NATO's head office is also situated in Brussels.
3. The political capital
Brussels is in fact the political capital of Europe, and also home to 40,000 EU employees and 4,000 NATO employees.
Brussels' population and languages
4. Population
In 2020, the population of Belgium numbered around 11.5 million, most of them living in the Flemish Region, which is home to nearly half of Belgium's population.
5. Brussels' residents
Around 27% of Brussels' residents are not Belgium citizens.
6. Official languages
Belgians do not share one common language but have three official languages.
7. In Brussels, people mostly speak French
In fact, in Brussels, all public signs and documents are in French and Flemish Dutch. The third spoken language is German.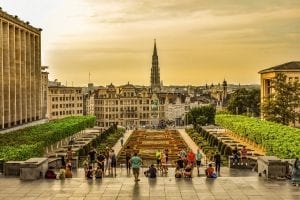 Brussels' architectural landmarks
8. The largest court
At 26,000 square metres (that's 28,000 square feet) the Palais de Justice de Bruxelles, or Law Courts of Brussels, is the largest court in the world. It was designed by architect Joseph Poelaert and is a UNESCO World Heritage Monument.
9. The Galeries Royales Saint-Hubert
The Galeries Royales Saint-Hubert in Brussels is the oldest shopping arcade in Europe. It opened in 1847.
10. The National Basilica of the Sacred Heart
The National Basilica of the Sacred Heart was built at the end of the 19th century is particularly special. It's the 3rd biggest cathedral in Belgium and the 5th on the list of the world's largest churches and is the largest Art Deco-style building in the world.
11. Manneken Pis
A famous statue and one of the most photographed landmarks in Brussels! It's only 61 cm tall! The statue has been repeatedly stolen and is dressed in different costumes based on a schedule posted on the railings around the fountain and online.
12. There's more than one!
There's a second Manneken Pis in Belgium which has been proudly standing since the middle of the 15thcentury in front of the Town Hall of Geraardsbergen, a town in the province of East Flanders.
13. The Royal Palace
This famous palace is open to the public for a couple of weeks annually near the end of August. The Palace is built in a neoclassical style, similar to Buckingham Palace in London. Both are fascinating, but the facade of the Royal Palace in Brussels is 50% longer.
14. The Museum of Natural Science
The Museum of Natural Sciences in Brussels, besides London and Paris, houses one of the most extensive natural history collections. There's a standout Dinosaur Gallery, an exhibition hall known as the largest room in Europe devoted to exploring the lives of dinosaurs through fossils and interactive displays. With a collection representing 37 million species, this museum is worth more than one trip!
15. The Atomium
Originally constructed for the 1958 Brussels World Expo the Atomium is a fascinating landmark building in Brusselssituated on the Heysel Plateau, where the exhibition took place. Today the Atomium is a museum!
16. The Cathedral of St. Michael and St. Gudula
This Cathedral is a Roman Catholic Church in Brussels, built in a Gothic style at the beginning of the 13thcentury. The Cathedral was built on the foundations of a Romanesque church founded in the 11th century. It actually took 300 hundred years to finish building the actual cathedral. It is flawlessly preserved because it was completely restored between 1983 and 1989.
What is Brussels most famous for?
17. A major producer of…
Brussels is famous for its production of beers, waffles, lace and chocolate. The city is a major producer of these products!
18. Join us for a glass of beer! Remember, it's not an easy choice!
There are more than 1000 brands of beer for sale in the city. Look for Café Delirium!
19. The famous chocolate
Brussels' airport is the biggest chocolate selling point in the world!
20. Interestingly, french fries weren't created in France!
Yes, it's well-known, that in fact, chips or french fries were actually created in Brussels.
21. When did it all begin?
Frying potatoes first became popular in Belgium in the late 1600s, so it's really quite misleadingly calling them French fries.
22. Cuisine and gastronomy
Brussels is famous for its restaurant scene. The gastronomic offerings include around 1,800 restaurants and many high-quality bars. That's an impressive 138 restaurants per square mile, and at almost all of them, you can find some variation of french fries on the menu.
23. Brussels sprouts
From chocolate and fries to…Brussels sprouts! Brussels sprouts were cultivated in Belgium in the 16th century, hence the name!
24. The biggest agro-food fair in Europe
Talking of vegetables, Foire de Libramont, the biggest agricultural, forestry, and agro-food fair in Europe is held in Brussels.
25. Different types of waffles
In an average Belgium supermarket you can find more than thirty different types of waffles, but the two most popular types of waffles are the Brussels Waffle and the Liege Waffle.
The National Day
26. National Day celebrations
Belgium's National Day is celebrated on the 21st of July and commemorates its independence from Dutch rule, and the start of the Kingdom of Belgium.
27. Celebration parades
The National Day is celebrated with military and civil parades, an outdoor festival in the Brussels Royal Park, and an amazing firework display.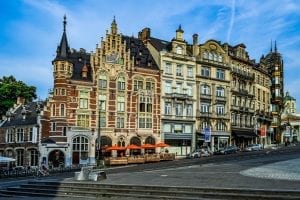 A European art destination
28. Famous actress and fashion icon
Audrey Hepburn, the famous actress and fashion icon was born in Brussels on the 4th of May, 1929. She lived at Rue Keyenveld 48 in Ixelles.
29. Famous figures who found refuge in Brussels
Charles Baudelaire, Auguste Rodin, Karl Marx, Alexandre Dumas, Paul Verlaine, and Victor Hugo are some of the many famous figures who had found refuge in Brussels.
30. An important place in the art world
Brussels is a prime location for stakeholders in the art world.
31. Europe's art destination
With its many art galleries, design and art festivals, museums showcasing the Flemish Primitives and the world of surrealists, or cultural hubs serving as a platform for emerging and established talent, Brussels is a reputable art destination in Europe.
32. An exceptional example of Art Nouveau
The Royal Greenhouses of Laeken is an exceptional example of Art Nouveau and home to a variety of plant life, commissioned by Leopold II and designed by Alphonse Balat in 1873.
33. Famous comic artists
Many famous comic artists come from Belgium, and the city of Brussels is paying tribute to some of our most beloved heroes, like TinTin, Lucky Luke, Gaston, Gil Jourdan, and Marsupilami.
34. Mural paintings
More than 50 colourful murals can be found painted on the sides of buildings and the Brussels' Comic Strip Route is a wonderful way to discover the city.
Fun facts about Brussels
35. How many Brussels are there?
There are some other towns called Brussels: two in America, and two in Canada.
36. The deepest indoor swimming pool
Until 2014, Nemo 33 was the deepest indoor swimming pool in the world. When the Y-40 pool opened in Padua, Italy, it took its title.
37. Popular with scuba divers
Nemo 33 is still a very popular place for ambitious scuba divers, reaching 35 metres in depth and holding several replicated underwater caves. The pool has 2.78787 million litres of non-chlorinated, highly filtered spring water, heated to a temperature of 30 °C (86 °F).
38. Beer again!
Another fun fact about beer! Every family in Belgium has a stack of different beer glasses to match their favourite beer. Cool, right?
39. Are you a Smurfs fan?
Remember Papa Smurf and Smurfette? Besides the other famous Belgium comic strips and characters, probably the most famous ones are The Smurfs.
Do you have any fun facts about Brussels? Share them in the comments below!
Are you interested in learning more about European capital cities? Check out these fun facts about Paris!
This page was last modified on July 12, 2021. Suggest an edit