33 Cool Facts about Central Park, New York
"New York! Concrete jungle where dreams are made of! There's nothing you can't do, now you're in New York!" Start by escaping the concrete jungle and entering the city's manmade oasis that is Central Park. Set in the middle of bustling Manhattan, leafy Central Park is the green heart of the Big Apple.  It's a heaven for athletes, daydreamers, musicians, strollers, and many tourists.
Whether you want to hear a new band at Summer Stage or commune with Lennon fans at Strawberry Fields' Imagine Mosaic, you've come to the right place. To learn a bit more about this manmade heaven in the middle of the 'concrete jungle' here are some facts that you might find interesting!
Central Park is known as America's first major landscaped public park.
It's located between Fifth Avenue and Eighth Avenue and running from 59th Street to 110th
The tree-filled urban oasis stretches for approximately 2.5 miles and receives around 42 million visitors per year.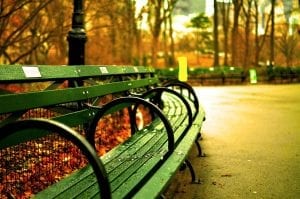 In the mid-19th century, New York City's elite who admired Europe's well-tended public parks proposed a similar space in their crowded city that would provide inhabitants with culture, fresh air, and exercise.
Before Central Park was built, about 1600 people lived on the land. Many of them were residents of Seneca Village, a small community that was founded in 1825 by free African-Americans.
After years of debate, the New York Legislature purchased a swath of land between 59th and 106th
A design contest was held in 1858, and a duo named Frederick Law Olmsted and Calvert Vaux won the competition with their "Greensward Plan."
In 1855, Seneca Village was destroyed to complete the park. Its residents were deemed "squatters," and they were either paid for their land or forcibly evicted by the city.
Central Park might look effortlessly beautiful today, but it was once filled with mud, swamps, and rocks. Trees and plants couldn't grow in its soil, so 500,000 cubic feet of topsoil was imported from New Jersey and dumped onto the grounds.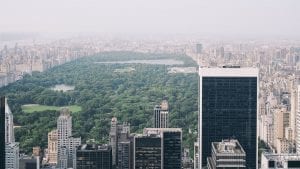 Its swamps were drained, and city water pipes were installed to create its lakes and streams.
The park was also strewn with rocks, which had to be blown up with gunpowder and carted out via carriage.
The project's 20,000 labourers used more gunpowder to rid Central Park of unwanted rocks than soldiers used while fighting the Battle of Gettysburg.
Despite its grand scale, Central Park eventually fell into disrepair thanks to bureaucratic struggles until Mayor Fiorello La Guardia instructed urban planner Robert Moses to clean it up in 1934.
Central Park was declared a National Historic Landmark in 1964 and a New York City Landmark in 1974.
In the 1970s, the Park entered another rough period thanks to budget cuts and mismanagement. Once again, it became downtrodden, dirty, and filled with criminal activity.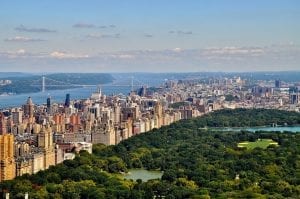 In 1980, a private fundraising body called Central Park Conservancy was created. With time, donations, and the help of volunteers, the Park was gradually transformed into the verdant space we enjoy today.
Central Park's elegant, 57-horse carousel is one of the nation's largest and oldest merry-go-rounds built over 100 years ago.
More than a half-million shrubs, trees, and vines were planted during the building of the Park. Today, there are more than 26,000 trees, including 1,700 American elms.
The Park contains seven man-made lakes and ponds.
Central Park has over 9,000 benches which would stretch 7 miles if placed end to end.
There are 51 sculptures, 36 bridges & arches, 7 ornamental fountains, and 125 drinking fountains.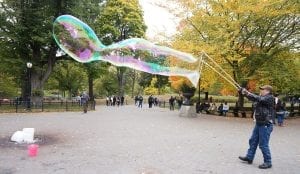 One large sculpture depicts Alice, from Lewis Carroll's 1865 classic Alice's Adventures in Wonderland.
The "Cleopatra's Needle" (a red granite obelisk) in Central Park is one of three. There is also one in Paris and one in London, which is one of a pair with the New York obelisk. Each obelisk is approximately 68–69 feet tall and weighs about 180 tons.
One of the hidden wonders of Central Park is the Conservatory Garden. It is the only formal garden found in Central Park.
Developing Central Park was estimated to cost just over a million dollars, but in the end, the bill was up to $7.39 million.
It's bigger than the country of Monaco! Measuring 843 acres, Central Park is larger in landmass than the principality of Monaco which is just under 500 acres large.
If you get lost in central park, follow the lamp posts! The iron lamp posts throughout the park have four-number codes that tell you where you are.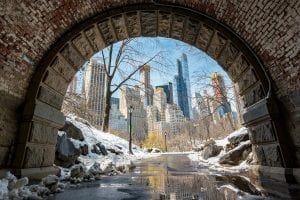 Almost all of the visible bedrock in Central Park was formed by glaciers.
Running and cycling are the most popular activities that can be practiced in Central Park year-round. In summer, you can rent a rowboat or canoe at the Loeb Boathouse and in winter, the lakes, ponds, and paths are dotted with ice skaters, and cross-country skiers.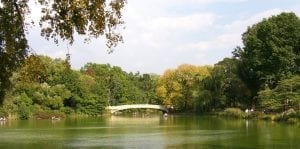 Central Park is home to small forests! The Ramble and The North Woods are small forests with waterfalls, wildlife, ponds, and bridges? You'll forget you're in New York!
Bow Bridge is one of the most photographed and filmed locations in Central Park and it deserves every bit of its star reputation. It was the first cast-iron bridge in the Park (and the second oldest in America), the bridge was built between 1859 and 1862.
Just like the rest of New York City, Central Park has been featured in over 350 films and counting over the years. That's why it holds the title of most filmed Public Park in the world!
Do you have any interesting or fun facts about Central Park that we've missed? Share them here in the comments section below!