36 Confident Facts about Cheshire
The historic, expansive county of Cheshire is, much like the traditional counties of England, replete with wonderful history and heritage. Cheshire has undergone more changes in terms of boundaries and affiliations than most of them! However, it remains a hotbed for delicious food, transport history, and is of course the birthplace of the Manchester Ship Canal.
Do you hail from Cheshire? Maybe you've visited once or twice or are fascinated by the local history. Did you know that its full title is actually Chestershire? Did you also know that the Romans allegedly sought to mark the capital of Britain here?
Regardless of what you might already know about this gorgeous county, here 36 interesting facts about Cheshire which might well surprise you. Yes – the county might not be that well-known for its footballing prowess, but what you can learn about silk production and transport history here would make your head spin. Let's dive in and take a look around Cheshire, shall we?
Cheshire is a county in England. It is bordered by Wrexham County Borough, Merseyside, Greater Manchester, Derbyshire, Staffordshire, and Shropshire.
The area of Cheshire covers 2344 square kilometers (905 square miles) of mostly rural land.
As far back as 980 AD, in an 'Anglo Saxon Chronicle', the name 'Legeceasterscir' was thought to have been given by Edward the Elder to an area. This became known as Chester, and 'Cheshire' was derived from that.
Romans lived in Cheshire for approximately 400 years. They built a town and fort at Chester which was known as 'Deva Victoria' at the time.
Historical records suggest that, as the Roman fort in Chester was 20% larger than those constructed in other parts of England, they intended Chester to become their main stronghold and 'capital'.
The amphitheatre had the capacity to hold 10,000 people and is the largest military monument of its kind in the country.
The Domesday Book records Cheshire as of being mostly 'wasteland'. Following a harrowing Norman invasion, many people fled the area. Much property and land was abandoned.
William the Conqueror replaced the area known as 'Earldom of Mercia' from the 7th century, with the 'Earldom of Chester'.
He built a castle and refortified the city. A succession of Earls ruled the County with independent laws until 1237.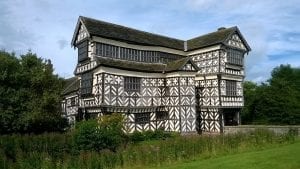 Having no son as heir to the title, when the 7th Earl of Chester died, King Henry III gave it to his son Edward, who later became King.
The 'Earl of Chester' is still a title actively used to this day.
The 'Local Government Act' of 1972 brought about some changes in county boundaries and regulations. Warrington, a 'county borough', became part of the new Cheshire, along with other parts of South Lancashire.
In 2009, Cheshire districts and Cheshire County Council were abolished. They were replaced by two authorities – Cheshire West and Chester, and Cheshire East.
The county of Cheshire is now known as a 'Ceremonial County' operating under the 'Lieutenants Act of 1997'. This is because the area has both a 'High Sheriff' and 'Lord Lieutenant'!
The Trent Mersey Canal was opened in 1777 and immediately paved the way for the now famous 'Cheshire Cheese' and 'Cheshire Salt' to be transported.
George Stephenson and Joseph Locke, design engineers, opened the Grand Junction Railway on July 4th, 1837, bringing important railway transportation to the county.
Agriculture is a primary source of income for the county. Dairy farming is very popular here, and cattle are the main livestock in the area.
The famous 'Cheshire Gap' was formed by glaciers!
The Triassic sandstone uncovered in the region helped form the construction of Chester Cathedral and Liverpool Cathedral.
'Shining Tor' is the name of the tallest peak in Cheshire. It reaches a height of 1,834 feet above sea level.
Cheshire is home to several football teams, though Crewe Alexandra remains one of the most successful in the football league. Others, including Chester and Macclesfield Town, have seen varying success!
Two big Rugby Superleague teams from the county are the Widnes Vikings and the Warrington Wolves.
Several famous musicians hail from Cheshire. Take That's Gary Barlow, who was born in Frodsham, may well be one of the most well-known.
Famous authors from Cheshire include Lewis Carroll, who was born in Daresbury.
Carroll's famous story Alice in Wonderland features the now legendary 'Cheshire Cat' which had an engaging smile!
This gave rise to the expression 'Grinning like a Cheshire Cat'!
A Victorian author called Elizabeth Gaskell wrote about her hometown, Knutsford in the well-known novel Cranford. It was later adapted into a hugely popular TV series.
Daniel Craig, famous for playing James Bond, comes from Cheshire. Other famous actors from the region include Tim Curry, Dame Wendy Hiller, and Lewis McGibbon.
The county flower, adopted after a campaign in 2002, is the 'Cuckoo'. It was chosen following a campaign by Plantlife, a conservation group.
It replaced the earlier illustration of 'Golden Wheat' in the shield of the 12th century Earl of Chester's coat of arms.
The Manchester Ship Canal opened in the area in 1894 – becoming one of the most important trade routes in the north of England.
Macclesfield in Cheshire was well-known for its silk – and companies in the area still employ people in its manufacture.
It's really hard to avoid silk in Macclesfield, actually – and not just in terms of the local produce! There are dental surgeries, a radio station, chip shops and restaurants with the word 'silk' in their name.
The local football team even goes by the nickname 'The Silkmen'!
In 1747, Hannah Glasse detailed how she made her now famous 'Cheshire Pork Pie'.
In a firm crust, the pork meat is layered with apples and the pie traditionally contains up to half a pint of wine! She notes, "'if your pie be large, take a full bottle of wine"!
Do you have any interesting or fun facts about Cheshire that we've missed? Share them here in the comments section below!
This page was last modified on November 5, 2021. Suggest an edit