🇦🇪 23 Delightful Facts about Dubai
Captivating, cosmopolitan, and modern – Dubai is an absolute adventure playground when it comes to tourist destinations. Before you decide to pay a visit to the UAE's finest, read up with our must-know fun facts about Dubai.
1. It's not actually what many people think it is…
Dubai is not a country. It is a city and one of the seven emirates of the United Arab Emirates!
2. It's a major travel hotspot!
Around 14 million tourists a year visit Dubai.
3. It's likely larger than you might think.
The total land area of Dubai is 4,114 kilometers square.
4. No need to change up your money.
Dubai has the same currency, AED, as the rest of the Emirates in the UAE.
5. Land of the young!
Only 15% of Dubai's population is aged over 45, the city has one of the world's youngest populations.
6. It's a city of polyglots.
Although the national language of Dubai is Arabic, tourism has made the city very diverse. There are a number of languages spoken in the city today including English, Urdu, Hindi, Bengali, Persian and even Chinese!
7. It barely rains out here!
Due to its desert location, Dubai has a humid climate and barely receives any rainfall.
8. Bad news if you want to move…
A foreigner can never receive permanent residency or become a citizen of the UAE, no matter how long they live in Dubai.
9. …yet, much of the population is expats!
The city is estimated to have an 85% foreign population. Only about 450,000 people (15%) living in Dubai are Emiratis – natives of the UAE.
10. No tax required!
Dubai is income tax-free for all. Unlike most countries around the world, the UAE does not have any federal income tax. There are absolutely no taxes levied by the government on the income and/or wealth of individuals and companies.
11. The mysterious city of gold…
Dubai is known as the 'City of Gold'. It is home to the gold souk; a traditional market with over 400 retail shops dedicated to gold. You can actually withdraw gold bars from ATM machines in Dubai. Crazy!
12. Zip codes? A fantasy!
Until recently, there were no zip and postal codes in Dubai. Street addresses were not easy to locate in the city prior to the year 2018.
13. A true titan of a building.
Standing at a height of 829 meters, the Burj Khalifa in Dubai is the tallest building structure on Earth. The skyscraper has the highest outdoor observation deck on the 148th floor, at a staggering 1,821 feet in the air.
14. Seven stars!
Dubai has the world's only 7-star hotel, the Burj-al-Arab! If you're hoping to spend a luxurious night in a suite overlooking Jumeirah Beach, you might want to start saving now as it could cost you around $1,200 per night!
15. Grab the lawnmower!
The city has the largest garden in the world, spreading out over an area of 72,000 square meters and has around 60 million flowers on display. What may be of more interest to you, however, is that it is a manmade, natural beauty built on desert land.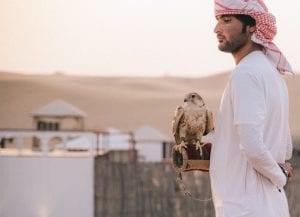 16. Working on a Sunday? You'd better believe it!
Sunday is a working day in Dubai. Friday is the holy day and most of the businesses in the city have it as their only day off each week.
17. It's a male-dominated state.
There are more men than women in Dubai. The ratio calculated in the last census is 3:1.
18. Lose pounds, gain dollars!
Want to lose weight AND get rewarded for it? Move to Dubai! To encourage a healthier lifestyle for the residents, Dubai Municipality launched the 'Your Child in Gold' initiative in the year 2014. Local authorities in the city offer a gram of gold in return to every individual who loses a KG of weight.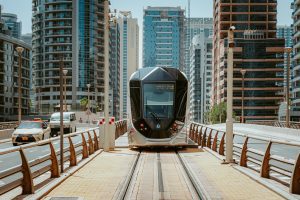 19. Oil or water?
It is easier to get yourself a liter of fuel than that of water in Dubai. Motor-fuel prices have faced an unprecedented drop in their prices in the UAE. One liter of gasoline costs around 40 cents which happens to be cheaper than the price of drinking water.
20. No one's faster on the beat.
The police force in Dubai holds a record for having the fastest police vehicles in the world. Cruising in the metropolitan streets of the city, the Dubai police fleet includes supercars such as Lamborghinis, Bugattis, Ferraris, and Camaros.
21. Shopping heaven awaits!
In Dubai, you can shop till you drop. With over 502,000 square-meter of floor area is the Dubai Mall. It is the second largest mall in the world by total land area.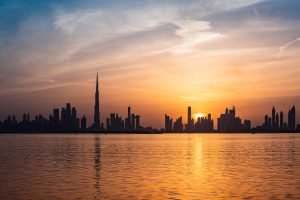 22. You'll need a license for that beer…
Dubai has strict laws regarding the sale and consumption of alcohol. If you want to enjoy a glass of wine, you must obtain a government-issued license first.
23. We built this island!
The Palm Jumeirah Island in Dubai is the world's largest manmade island. It is known for upmarket global restaurants, posh apartments, and high-class hotels. The island is made from 3,257,212,970.389 cubic feet of ocean sand which is said to be enough to fill two Empire State Buildings with sand!
FAQs about Dubai
Is Dubai purely for rich people?
Not at all - it's synonymous with being low-tax and high on business growth, but it's highly popular for people of all incomes and backgrounds to visit.
Is Dubai safe to visit?
Dubai is one of the absolute safest cities in the UAE to visit, largely thanks to its strict laws - it has very low crime rates.
Can women drive in Dubai?
Yes - in fact, no countries currently ban women from driving! Dubai even provides a female-only taxi service.
Sources
https://www.visitdubai.com/en/
https://www.britannica.com/place/Dubai-United-Arab-Emirates
Do you know any fun facts about Dubai?  Share them in the comments below!
This page was last modified on August 27, 2022. Suggest an edit