33 Fun Facts about Franklin D. Roosevelt
There have been many remarkable Presidents of the USA over the centuries. One of the most memorable, of course, was Franklin D Roosevelt, or FDR. He was one of the longest-serving Presidents of all time, serving as Commander for an amazing 12 years! His time in charge was also pivotal for the US' survival through World War II, and for the growth of jobs and unions.
Did you know that Roosevelt and his wife were actually closely related? Did you also know that FDR made changes to his vehicles following debilitating illness? It might also surprise you to learn that FDR's time in charge ended up making big changes to Presidential terms for decades to come. Take a good look through our fun facts about Franklin D. Roosevelt, and clue up on one of the US' most iconic leaders. Even if you've studied him endlessly at school – there might still be one or two things you can learn!
Franklin D Roosevelt was an American citizen, born January 30th, 1882. His full name was Franklin Delano Roosevelt.
Roosevelt became the 32nd President of America in 1933, serving until his death in 1945. He is widely regarded as one of the most iconic Democrat Presidents of all time.
He was an educated and accomplished man, having studied at Harvard, and later having studied law at Columbia College.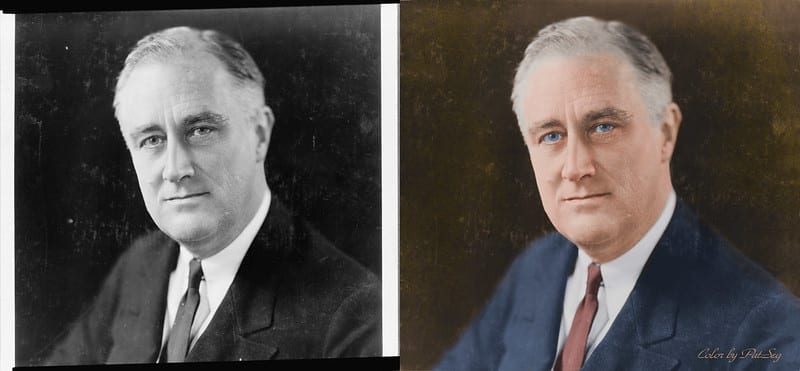 Roosevelt was an oddity in that he won four terms in office as President of the US. He may have been elected for more had he lived longer!
It was only after Roosevelt's passing that new laws were brought in to limit Presidential terms to a maximum of two per candidate. This is now ingrained in the Constitution.
Roosevelt had six children with his wife, Eleanor, who was also his second cousin.
Roosevelt started his Congressional career as a Senator in New York during the years 1910 to 1913.
However, he also became Assistant Secretary for the US Navy in 1913 until 1919.
In 1921, Roosevelt entered a campaign to become Vice President of the US – but was unsuccessful.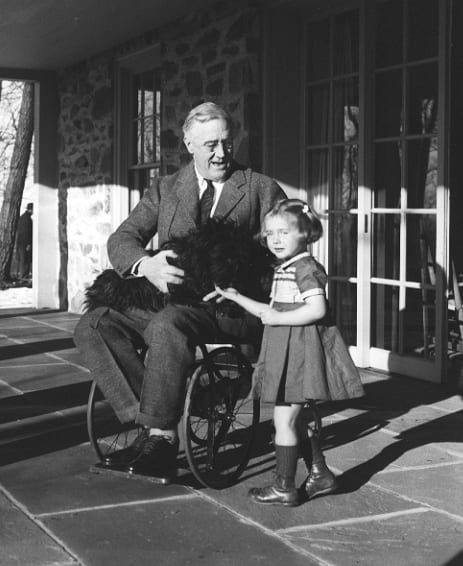 Around the same time, Roosevelt developed a debilitating illness during which he lost the use of his legs. It was reported at the time his illness was likely to be polio, and he underwent treatment and recuperation in the south.
Roosevelt won his Presidential election by a landslide in 1932, with majority votes enshrining him as the new leader for the first of four terms.
On becoming President in the period known as 'The Great Depression', Roosevelt focused on economic reforms.
Industry and farming were part of his focus in a program he called the 'National Recovery Administration'. This period also saw the end of prohibition, whereby alcohol trade and consumption were banned.
Roosevelt was the first President to televise an address to the nation. Previously, he relied on radio broadcasts, preferring to speak to the people 'directly'.
Such was Roosevelt's success in his first term as President, he won a second landslide victory for another term in 1936.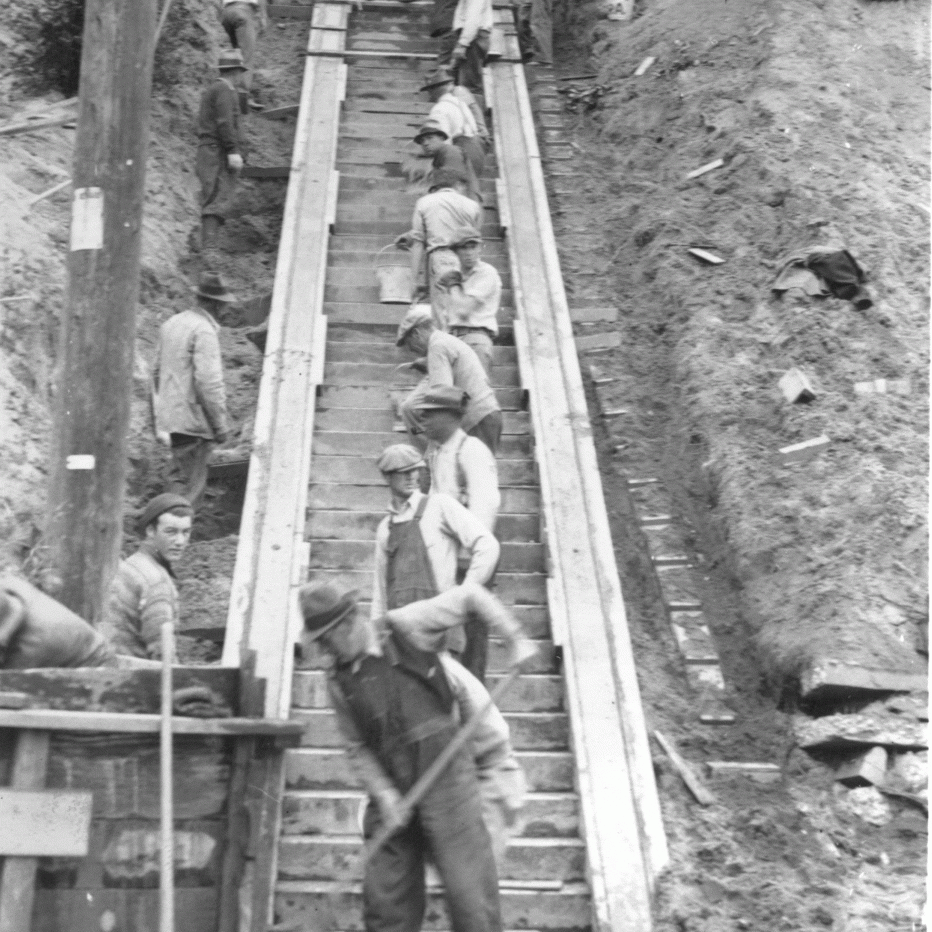 In 1935, President Roosevelt oversaw the passing of the 'National Labor Relations Act'. This was a major turning point, giving employees the right to form unions for the first time.
Back in 1796, George Washington had decided that an 'office of 8 years' should be the maximum a President held office for. Roosevelt, however, contravened this by holding office for 12!
Roosevelt flew in an aircraft to accept his nomination for the Presidency in 1932. This might not sound spectacular, but at the time, air travel was not considered to be the safest method of getting around. It was a big risk to take!
Roosevelt toured several countries, travelling by air again in 1936. He was the first active President to fly out of his country during wartime.
In 1936, Roosevelt, keen to build relations with other countries, visited Trinidad, Brazil, and Gambia.
Eleanor Roosevelt was an active First Lady. She gave her own press conferences and was actively interested in global affairs and women's rights in particular.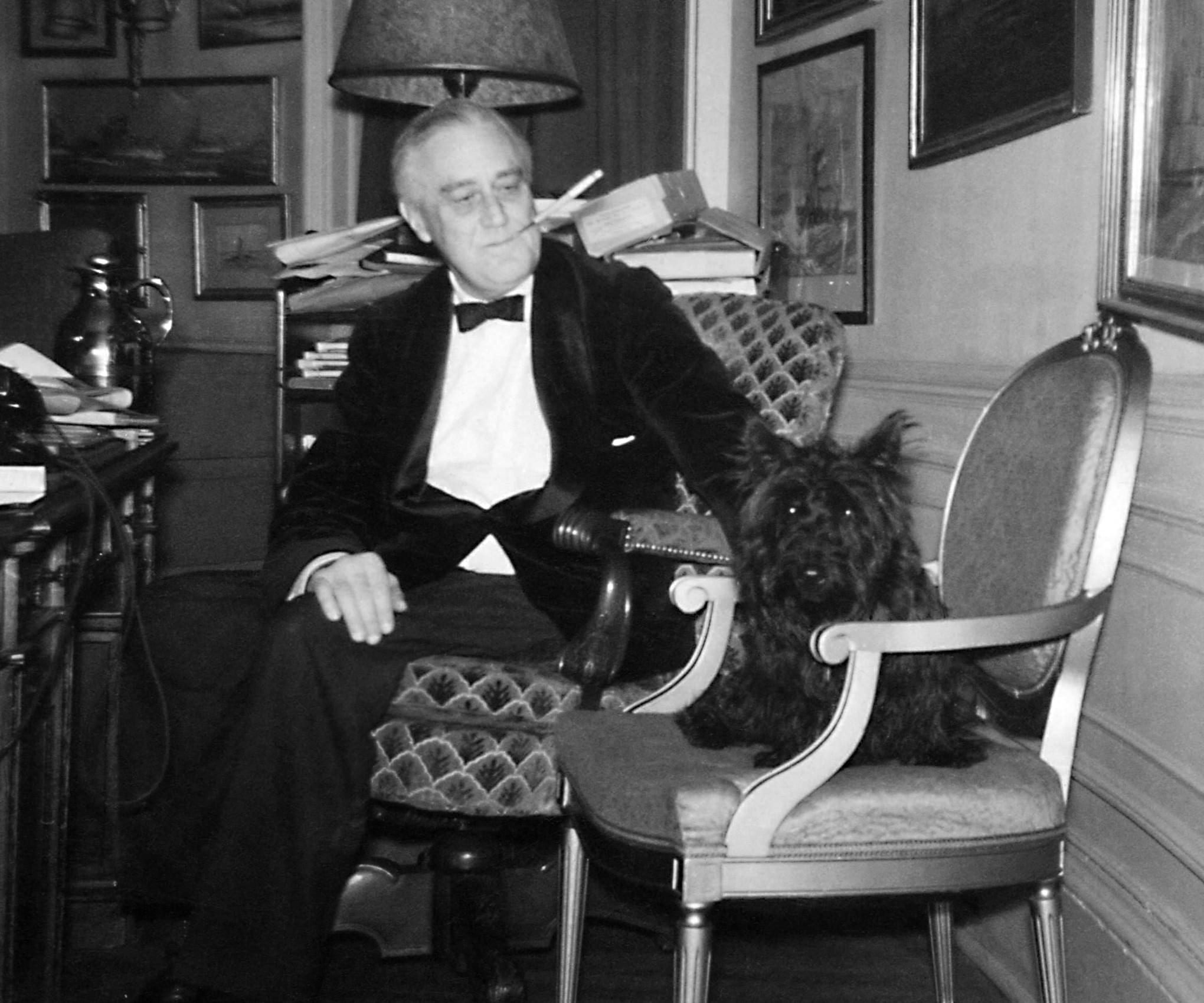 On December 8th, 1941, President Roosevelt made a speech regarding the infamous attack by the Japanese on Pearl Harbor. It is said 81% of the American people tuned in their radios to listen to the President, which is still the largest audience ever recorded for a Presidential radio address.
President Roosevelt was often accompanied by his dog while working. She was a Scottish Terrier called Fala – the name, of native American origin, means 'Crow'.
When Fala died, she was buried next to the President, who had passed away some years before.
In January 1941, President Roosevelt made one of his most famous speeches. It became known as the 'Four Freedoms'.
In this speech, he referred to the fight for four specific human freedoms – those of 'speech', 'religion', 'freedom from 'fear' and 'freedom from 'want'.
Henrietta Nesbit, house keeper of the White House during FDR's reign, said that his favorite type of food was 'something he was able to dig into'.
He reportedly liked hot dogs, fish chowder, scrambled eggs, grilled cheese sandwiches and fruit cake.
Unable to use his legs from the age of 39, Roosevelt had his cars specially adapted so that he could continue to drive. His vehicles had extra hand controls instead of pedals.
He had several cars at his disposal, and, when not chauffeured, he drove his own 1936 Ford Phaeton or his 1938 Ford Convertible Coupe.
President Roosevelt had a number of medical issues. These included heart problems, high blood pressure and bronchitis. His memory was also beginning to fail as he became weak.
Towards the end of World War Two, his frailty obvious, he was still re-elected as President in 1944.
In April 1945, following the stress of war and the election, President Roosevelt went to Warm Springs, Georgia. It was here that the President died while sitting for a portrait.
Do you know any interesting or fun facts about Franklin D. Roosevelt? Share them in the comments below!
This page was last modified on April 1, 2023. Suggest an edit