14 Curious Facts about Queen
Queen is one of the biggest bands in the history of rock music, leaving an indelible mark on the world. If you have even the slightest interest in the music they made, not to mention its enduring legacy, these fun facts about Queen will fascinate you, especially if you're not as knowledgeable about the band as you'd like to be:
1. Queen has been around since the 70s.
Queen as a band was officially formed in 1970.
2. Tim Staffel – Queen's Pete Best?
Before joining Queen, Brian May and Roger Taylor were part of another band called 'Smile'. Their lead singer was Tim Staffel, the man responsible for introducing his bandmates to Freddie Mercury. Staffel was never a member of Queen. But he played a critical role in the band's formation. It was after he left and after he made all the necessary introductions that 'Queen' came into existence.
3. Freddie brought about regal changes.
The name change was Freddie's idea. Precluding the gay connotations, Freddy believed that 'Queen' was a strong and regal name.
4. A mercurial man!
Freddie's birth name was Farrokh Bulsara. He adopted 'Freddie' during his stint at St. Peter's School near Bombay. His passport said 'Frederick Mercury'.
5. Freddie even helped design the brand.
Besides choosing the name, the lead singer is also responsible for the band's crest which features astrological signs (Leo, Cancer, Virgo).
6. Not your average rock band!
Queen initially experimented with a rough, rocky sound. But, they realized that they needed to be more attractive to the radio. So they changed their sound altogether!
The music Queen eventually produced was inspired by the likes of Pink Floyd, The Beatles, and Led Zeppelin.
7. Is this just fantasy?
In 2002, a Guinness World Records survey determined that 'Bohemian Rhapsody' was the UK's favorite song of all time.
8. Queen changed stadiums forever.
"We Are the Champions" and "We Will Rock You" are still some of the most popular songs in sporting history. It wouldn't be an exaggeration to call them sports anthems that are recognized the world over.
9. A confident voice, not so much a pianist!
Freddie Mercury had one of the most iconic voices in music history. But he was never as confident in his piano skills, which is why he always felt some trepidation whenever the band performed 'Bohemian Rhapsody'.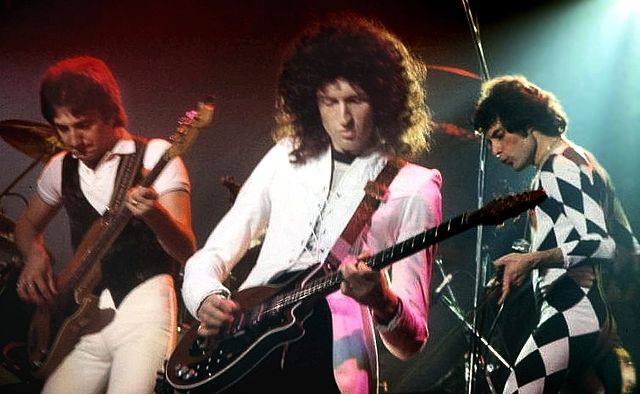 10. Their Christmas hit is an odd case.
"Thank God it's Christmas", which Roger Taylor and Brian May wrote, is a highly popular track that, upon its release in 1984, spent six weeks on the Singles Chart in the UK.
However, not only did the track not appear on any Queen album but they never shot a video for it. That doesn't include its appearance on a 'Greatest Hits' EP in 2011.
11. These fans die hard!
Queen has the longest-running fan club in rock history. The group was created in 1973 and its longevity is recognized by the Guinness World Book of Records.
12. GORDON'S ALIVE!
The band is responsible for the soundtrack of the 'Flash Gordon' movie from 1980.
13. Brian May built his iconic guitar.
Brian May's guitar is seriously old! He made it with the help of his father. The mantelpiece from which the guitar was built is said to be around two centuries old.
14. Michael Jackson helped Queen create an enduring hit.
Queen had no intention of releasing "Another One Bites the Dust" as a single. But then, Michael Jackson convinced them to do just that after a Los Angeles Concert.
FAQs about Queen
What helped to make Freddie Mercury's voice so unique?
It's said that Freddie Mercury had four extra teeth compared to the average person - which may have helped him tackle some incredible notes!
When did Queen break up?
Queen never split up - singer Freddie Mercury tragically died in 1991, and bassist and songwriter John Deacon retired in 1997 (as he didn't wish to continue the band after Mercury's passing). Roger Taylor and Brian May, meanwhile, have continued performing ever since under the Queen name, with occasional guest performers.
Do you know any fun facts about Queen? Share them in the comments below!
Sources:
https://www.queenonline.com/
https://www.instagram.com/officialqueenmusic/?hl=en
This page was last modified on August 3, 2023. Suggest an edit