When it comes to buildings that need to be on your bucket list, this is one that's should be at the top. Forget the Empire State Building and the Eiffel Tower, and turn your attention to a building that was built centuries earlier.  Now sit back and enjoy these 15 interesting facts about Salisbury Cathedral!
It was formerly known as the Cathedral Church of the Blessed Virgin Mary — quite the mouthful!
The building is a key example of Early English architecture.
Salisbury Cathedral is Anglican.
It took 38 years to complete, with work not finishing until 1258.
At 404 ft (123 m) the church spire is the tallest in the UK.
The ancient wooden scaffolding was never taken down from inside the spire.
You can still go on tours to see it in all its glory if that's what you're into!
The cloister and cathedral close measure 80 acres.
This makes them the largest such spaces in Britain.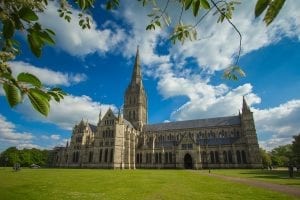 It is home to the world's oldest working clock, which dates from 1386!
Salisbury Cathedral also contains one of the 4 original copies of the Magna Carta.
2008 was the 750th anniversary of its consecration.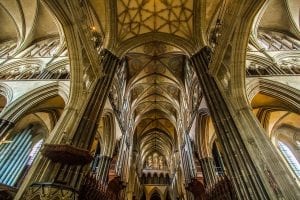 It's the seat of the Bishop of Salisbury and mother church of the Diocese of Salisbury.
The cathedral was originally a replacement for the deteriorating Old Sarum Cathedral.
28th April 1220 marks the day the first foundation stone was laid.
Do you know any interesting or fun facts about Salisbury Cathedral?  Share them here in the comments section below!