15 Seriously Cool Facts about Sana'a
Like to learn a little more about the capital cities of the world? Take a look at these fun facts about Sana'a!
1. Where is Sana'a?
Sana'a is the capital city of Yemen.
2. Here's how to pronounce it.
Wondering how to say the name of this wonderful city? It's pronounced San-eye-ah.
3. It's just bigger than your average English county.
The total land area of Sana'a is 2,144 square miles (5,552 square kilometers)…that's roughly 1.5 times the size of Cornwall!
4. A LOT of people live here.
Sana'a's population was 2.545 million in 2017……that's nearly 6 times the population of Cornwall…and gives it a population density of around 1,187 residents per square mile.
5. It's quite a way above the water.
Sana'a is located 7,380 ft above sea level.
6. What are people called here?
Residents of Sana'a are known as Yemenis.
7. The climate rarely varies.
Yemenis living in Sana'a enjoy a Semi-arid climate with little annual temperature variation and an average annual temperature of 16.2°C.
8. Here are the compass stats.
Looking to fly yourself to Sana'a? You'll need the coordinates of 15.3694° N, 44.1910° E.
9. Sana'a's sauna scene is incredible.
Make sure you visit one of the many hammams if you're in Sana'a; not only are these wonderful saunas a great place to relax, unwind and recharge your batteries, they're also perfect for meeting locals!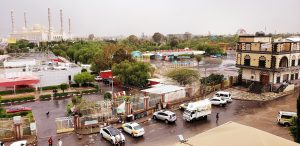 10. UNESCO has recognized Sana'a.
The old city of Sana'a is actually a UNESCO World Heritage Site thanks to its incredible buildings, all of which were built before the 11th century!
11. What do people speak here?
The official language of Sana'a is Arabic.
12. We've been living here for centuries.
Sana'a has been inhabited for more than 2,500 years!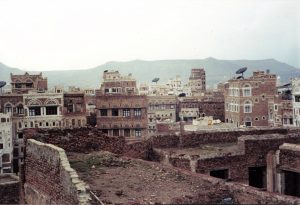 13. Change up that spending money!
Yemeni Rial is the official currency here.
14. It was a post-flood creation!
It is said that Shem, the son of Noah, built Sana'a following the floods!
15. Sana'a has some tourist pull.
Yemen welcomed 990,000 tourists into the country in 2013, many of whom visited Sana'a for its amazing food, beautiful hammams and rich culture.
FAQs about Sana'a
What is Sana'a known for?
Sana'a is perhaps best known for its Islamic history and for its amazing valley surroundings.
What does Sana'a mean?
Sana'a roughly translates into 'fortified place'.
Is Sana'a safe?
While some people choose to visit Sana'a as tourists, it is still regarded as a volatile area - so travel here is not advised.
Do you know any fun facts about Sana'a?  Share them here in the comments below!
This page was last modified on July 29, 2023. Suggest an edit