15 Sensational Facts about Senegal
Looking to boost your knowledge of the world and improve your chances at the next pub quiz? Make a start by taking a look at these fun facts about Senegal!
1. Where is Senegal?
Senegal is a beautiful and wildlife-rich country in West Africa.
It is bordered by Mauritania to the north, Mali to the east, Guinea to the southeast, Guinea Bissau to the southwest and The Gambia to the west. It also has a coastline along the North Atlantic Ocean to the west.
2. Here's your compass details.
Heading off on safari or simply to enjoy the sun and sand? Follow the coordinates of 14.6667° N, 17.4167° W to find yourself in Senegal.
3. There's a rolling landscape here.
The terrain here is dominated by low, rolling plains, rising to foothills in the southeast.
4. It's double Portugal's size.
The total land area of Senegal is 75,955 square miles (196,722 square kilometers)…that's a little more than twice the size of Portugal.
5. But the country's packed!
Senegal's population was 16.74 million in 2020…that's around 1.5 times the population of Portugal.
6. What do citizens call themselves?
Residents here are known as Senegalese.
7. What's the capital of Senegal?
The capital is Dakar; it covers an area of 32 square miles (82 square kilometers) and had a population of 3,520,000 in 2015.
8. There are two basic seasons in Senegal.
Senegalese enjoy a tropical climate with a hot and humid wet season (May to November), followed by a hot dry season (December to April).
9. It's a safari paradise.
Senegal boasts a variety of wildlife including lions, elephants, leopards, cheetahs, panthers, jackals, crocodiles, warthogs, and manatees.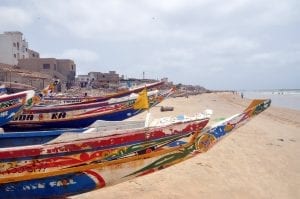 10. It's also been UNESCO recognized!
Fancy a Senegalese safari? The Niokolo-Koba National Park is actually a UNESCO World Heritage Site thanks to its varied flora and fauna!
Senegal boasts a total of 7 UNESCO World Heritage Sites, including the Stone Circles of Senegambia, a collection of over 1,000 monuments in a 100km wide band along 350km of the banks of the River Gambia!
11. There's French influence here.
The official language of Senegal is French, although there are several indigenous languages spoken here too.
Senegal gained independence from France in 1960 after 300 years of rule!
12. Now that's an exchange rate.
West African CFA Franc is the official currency here; amazingly, $1 USD equals almost 600 CFA Francs as of 2021!
13. Life expectancy here is fairly reasonable.
The average life span here is 67.94 years (2019).
14. Get grappling!
Senegalese wrestling is a national sport in Senegal and was traditionally an exercise in preparing for war!
15. Here's a bit about Senegal's industry.
Senegal grows peanuts, corn, millet, and sorghum (a cereal); they also rear cattle and catch fish.
Its industry consists of phosphate mining, agricultural processing, fish processing, fertilizer production, and petroleum refining.
The main exports consist of fish, peanuts, phosphates, petroleum products, and cotton.
FAQs about Senegal
Is Senegal safe for visitors?
On the whole, tourists are safe to visit Senegal - however, as always, you should be careful.
Is Senegal a poor country?
Unfortunately, Senegal is considered a poor country - with around half of the country in poverty.
Is Senegal a Muslim country?
On the whole, many people in Senegal follow Sunni Islam.
Do you know any fun facts about Senegal? Share them in the comments below!
This page was last modified on July 26, 2023. Suggest an edit