10 Striking Facts about Stockholm
We have all heard of Stockholm, although it is usually linked to the word "syndrome" nowadays, which does not give it the best reputation! However, it is not deserved as Stockholm is a fascinating and beautiful city! So, let's get to know it better together. Here are some fun facts about Stockholm you'll want to remember.
1. Where is Stockholm?
To learn more about Stockholm, it is probably best to learn where it is first! Stockholm is the capital and by far the largest city of Sweden, located on the eastern coast of the country.
2. It has an archipelago.
Stockholm is partly known for its stunning archipelago! It consists of around 30,000 islands, islets, and rocks! The archipelago provides opportunities for boating, island hopping, and enjoying nature, which is why so many people adventure from all over the globe to experience it!
3. The Venice of the North?
Stockholm is also well-known among travelers as the "Venice of the North." This is due to the numerous waterways and canals that traverse the city. And, let's face it, they do make the city pretty stunning!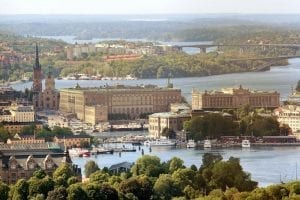 4. Fancy a trip to Gamla Stan?
The historic heart of Stockholm is known as Gamla Stan, which translates to "Old Town." It is also known as Staden mellan broarna. It features narrow cobblestone streets, colorful buildings, and iconic landmarks such as the snappable Royal Palace and Stockholm Cathedral, which is why so many people come to see it!
5. It's the home of the Nobel Prize.
Stockholm tends to be the capital for Nobel Prize awards! The Nobel Banquet takes place in Stockholm City Hall, and the Nobel Prize ceremonies for Physics, Chemistry, Physiology or Medicine, Literature, and Economic Sciences are held across various points in the city.
6. Its royal palace is stunning.
Stockholm is also famously home to the Royal Palace, known as Kungliga Slottet. It is one of the biggest palaces in all of Europe! It further serves as the official residence of the Swedish royal family. Visitors can explore the palace and witness the changing of the guard ceremony, just as you might in London!
7. It's a major design hub.
Did you know that Stockholm is known for its modern and minimalist design aesthetic? The city has a strong design culture, and you can find numerous design boutiques, furniture stores, and museums dedicated to design, such as the Swedish Centre for Architecture and Design (ArkDes)!
8. It's all about ABBA!
If Stockholm is famous for anything, even more than everything mentioned above, it is the ABBA Museum. Stockholm is the birthplace of the famous Swedish pop group ABBA, so it is only right that it be here that the ABBA Museum celebrates the band's music, history, and memorabilia.
9. A green city!
Stockholm is absolutely committed to sustainability and green initiatives! It has a comprehensive public transportation system, extensive cycling infrastructure, and numerous green spaces, including Djurgården, a large park and recreation area. So, the perfect place for those who care about the environment!
10. They go big on tech here.
Stockholm also has a thriving tech scene! It is home to numerous tech companies, startups, and co-working spaces, earning it a reputation as a hub for innovation and entrepreneurship. So, it's green, it's modern, it has great designs, and great music. Pretty cool!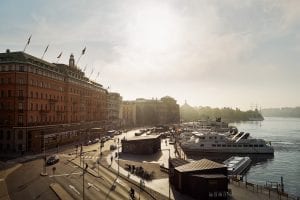 FAQs about Stockholm
Is Stockholm very expensive?
Stockholm can be a pretty expensive city to visit. However, if you look up some of the better low-cost things to do in the city, you can still have a superb trip on a budget!
Is Stockholm a walkable city?
Stockholm is indeed a walkable city! In fact, you should always be able to get around very easily on foot. And, if you get tired, or need to go quite some distance, there is a great public transport system in the city!
Is Stockholm worth visiting?
Thanks to its incredible landscapes, architecture, and culture, Stockholm is absolutely worth visiting! In fact, it could take you quite some time to see everything there is, so if you can, try and make a trip last a while!
Further reading:
https://factcity.com/tag/Sweden
https://www.visitstockholm.com/
https://www.timeout.com/stockholm/things-to-do/best-things-to-do-in-stockholm
Do you know any fun facts about Sweden? Share them in the comments below!
This page was last modified on July 26, 2023. Suggest an edit