🇮🇷 13 Top Facts about Tehran
Tehran is the vibrant and politically charged capital of Iran. As an ancient stronghold, the capital Tehran has a mixture of old and modern architecture – it is truly fascinating! It is situated at the foot of the Elburz mountain range, giving spectacular views – and here are some more fun facts about Tehran that might just surprise you.
1. Tehran is wonderful for shopping.
The world famous bazaar of Tehran stretches 10 kilometers. Along its path, shops and street vendors combine to offer locals as well as tourists a great shopping experience!
2. It became the capital of Iran a long time ago.
Agha Mohammad Khan, leader of a dynasty called Qajar, chose Tehran to become the capital of Iran. This was all the way back in 1796!
Agha Mohammad Khan chose Tehran to be the capital due to its perfect geographical location, and most importantly, its close proximity to the Caucasus territories.
3. It was made a capital relatively quickly.
Tehran was technically founded in the year 1794, though people have lived in the region for centuries. That means it was only made a capital two years after its founding – impressive stuff!
4. Tehran is home to one of the oldest universities in the world.
The government-funded University of Tehran has nine campuses, 25 faculties and 11 research centers. It was designed by French architect Roland Dubrille – and established in 1851 as one of the oldest universities in the world!
5. The sky's the limit!
Tehran's famous Milad Tower is a true scraper of the skies! Standing proudly at 435 meters (1,427 feet), it is a famous landmark – mainly because it's in the top ten tallest towers on the planet! It first opened back in October 2008.
6. Tehran is proud of its clean streets and promenades.
Tehran's streets are cleaned overnight. There is generally great pride in the cleanliness of streets as well as public buildings.
7. Which buildings in Tehran are worth visiting?
There are some beautiful Mosques in Tehran as well as truly stunning, ancient buildings. The Azadi Tower, the Jewels Museum, and the famous Golestan Palace are all well worth visiting!
8. What do people speak in Tehran?
Farsi, originally known as Persian, is the main language spoken in Tehran and in fact throughout Iran. Other languages spoken include some Indo and European languages. 95% of the Iranian population speaks at least one other language than Farsi, too!
9. People have lived here for millennia.
The area of Tehran dates back to the Elamite kingdom of the 4th millennium BC – the oldest civilization known in the region.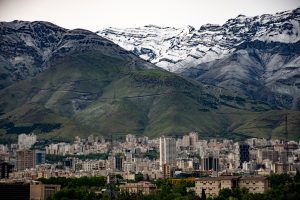 10. Tehran is not unsafe, by and large.
The city itself is considered to be relatively safe. As the country of Iran borders with some comparatively unstable nations, visitors are normally advised to be careful.
11. What's the food like in Tehran?
Persian cuisine is renowned for being delicious. Kebabs are a firm favorite and several spicy meat dishes served with rice. Sharbat Khakshi is a wonderfully refreshing drink made from lemons, saffron, rocket seeds and syrup. Feeling hot? Give doogh a try! It's a yummy chilled yogurt drink.
12. You can't walk pets in the city.
In line with government legislation published in 2021, it is forbidden for owners to walk their pets in public places, including parks in Tehran. It is also officially considered unclean to keep dogs and cats inside the home here.
13. There's a choice in cuisine.
Chinese and Indian food are on offer, but are less popular than Persian dishes handed down through generations.
FAQs about Tehran
Is Tehran a dirty city?
Despite the fact that Tehran is cleaned every night, it actually suffers from a lot of pollution. In fact, a working average of 27 people a day die from pollution related illness in the region.
Is English taught in Tehran?
Yes - in fact, many children growing up in Iran, whether in Tehran or elsewhere, generally learn English while in high school.
Do you know any interesting or fun facts about Tehran? Share them in the comments below!
This page was last modified on December 8, 2021. Suggest an edit