10 Fun Facts about the Zaha Hadid Airport
Believe it or not, the Zaha Hadid Airport is a truly spectacular sight – it's more than just a transport terminus! This one-terminal wonder took a long time to bring to fruition, and if you ever find yourself flying to or from Zaha Hadid in future, you may want to glance around before you continue your vacation. Before you go anywhere, here are some fun facts about Zaha Hadid Airport!
1. The Zaha Hadid Airport doesn't… technically exist.
First things first – if you Google "Zaha Hadid Airport," you may have a little difficulty finding it! That is because, technically, the Zaha Hadid Airport does not exist.
Zaha Hadid Architects, named for its lead designer Dame Zaha Mohammad Hadid, is a world-famous architecture company that designed and built the Daxing International Airport in Beijing – which, to some, is known as the Zaha Hadid Airport!
2. When did the airport first open?
The Zaha Hadid Airport is, surprisingly, a fairly recent build, having only opened on September 25th, 2019! Sadly, Zaha Hadid herself passed away over three years before the airport finally opened to the public.
3. Tick tock!
Although the airport is huge and is relatively complex, it did not take as long as you might think to build! In fact, it took under five years to complete the construction of the Zaha Hadid Airport – all the more impressive if you get to see it up close.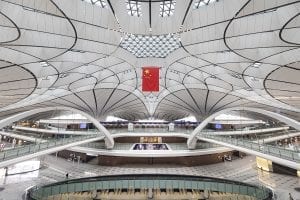 4. It took an army!
As you can probably imagine, it took plenty of hard-working hands for such a huge complex to come to life. In fact, at one point during construction, there were at least 40,000 workers on site – many hands do make light work, it would seem.
5. It's built into a fairly unique shape.
If you find yourself wandering around Daxing International Airport, you may find that it has quite an odd shape! The terminal building is actually built to resemble a starfish.
6. In the heart of the starfish!
A super-simple way to find your way around Daxing International Airport is by finding the center of the starfish! Right in the heart you will find a general meeting place for visitors, allowing people to choose the corridor they need to follow all from one central spot. It's not easy to get confused here, thankfully.
7. We're living in the future!
Have a question about your flight? You might want to talk to the walls! Robotic guidance systems are built into the starfish to help provide details on flights, connections, and general services within the airport.
8. Got eight minutes?
No one likes running from one end of the airport to the other just to catch a flight! That is why Daxing allows people to walk no more than eight minutes to get to their respective gates! Trust us, your feet will thank you for it, or rather, they will thank Zaha Hadid!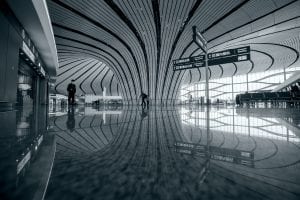 9. How big is Zaha Hadid Airport?
Given how speedy it is to get to your gate, you might assume that Zaha Hadid Airport is small, but no! The area of the passenger terminal alone covers 7.5 million square feet! That's around 696,772 square meters.
10. Let it rain down on me now!
One of the best things about Daxing International Airport is the way it uses water! It collects rainwater, filters it, purifies it, and uses it! The system can handle the natural treatment of up to 2.8 million cubic meters of rainwater (around 98.8 million cubic feet)!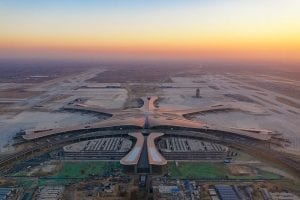 FAQs about Zaha Hadid Airport
How do you get from Daxing Airport to Beijing?
There are bullet trains that leave Daxing Airport and arrive in Beijing frequently. They only take 20 minutes to complete the journey, and you can easily purchase your tickets online or from the train station.
How many terminals does Daxing International Airport have?
Daxing International Airport famously only has one terminal! But, as you might imagine, it is one of the biggest terminals in the world!
Why was Beijing Daxing International Airport built?
Daxing International Airport came to fruition to help manage the congestion at the Beijing Capital International Airport. It ended up replacing that airport entirely.
Further reading:
https://factcity.com/tag/Airport
https://www.zaha-hadid.com/architecture/beijing-new-airport-terminal-building/
https://www.stirworld.com/see-news-beijing-daxing-international-airport-by-zaha-hadid-architects-zha-opens-in-china
Do you know any fun facts about the Zaha Hadid airport? Share them in the comments below!
This page was last modified on July 26, 2023. Suggest an edit